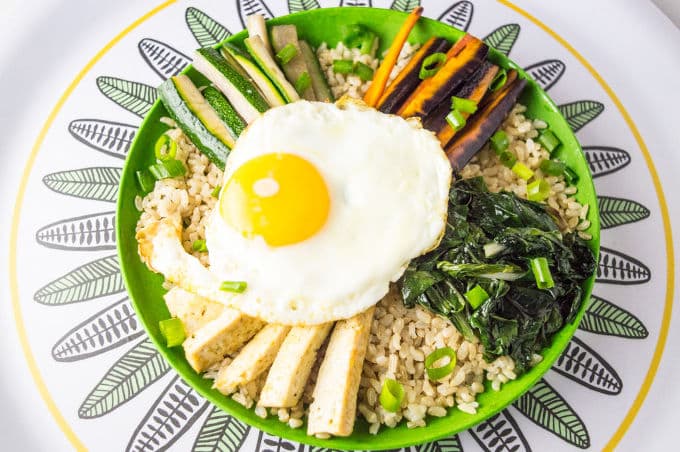 Bibimbap, that literally means mixed rice in Korean, is a rice bowl packed with veggies, a protein source and topped with a sunny side up egg. This one-bowl wonder is the ultimate comfort food and the perfect thing to warm you up as the cold weather hits.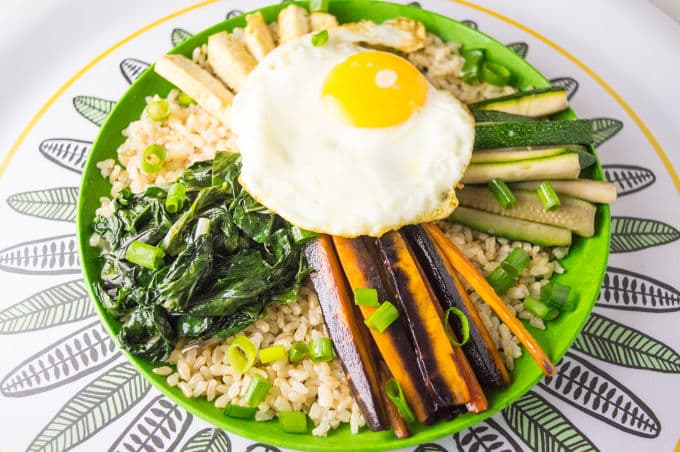 Besides, this nourishing bowl is a great way to get all the nutrients you need without harming your digestive health. So, for this special low FODMAP bibimbad I´ve chosen brown rice, swiss chard (green parts only), rainbow carrots, zucchini and sautéed tofu. You can use spinach instead of the chard and regular carrots instead of the colorful ones.
If you like this recipe, make sure you also try my low FODMAP rejuvenating bowl.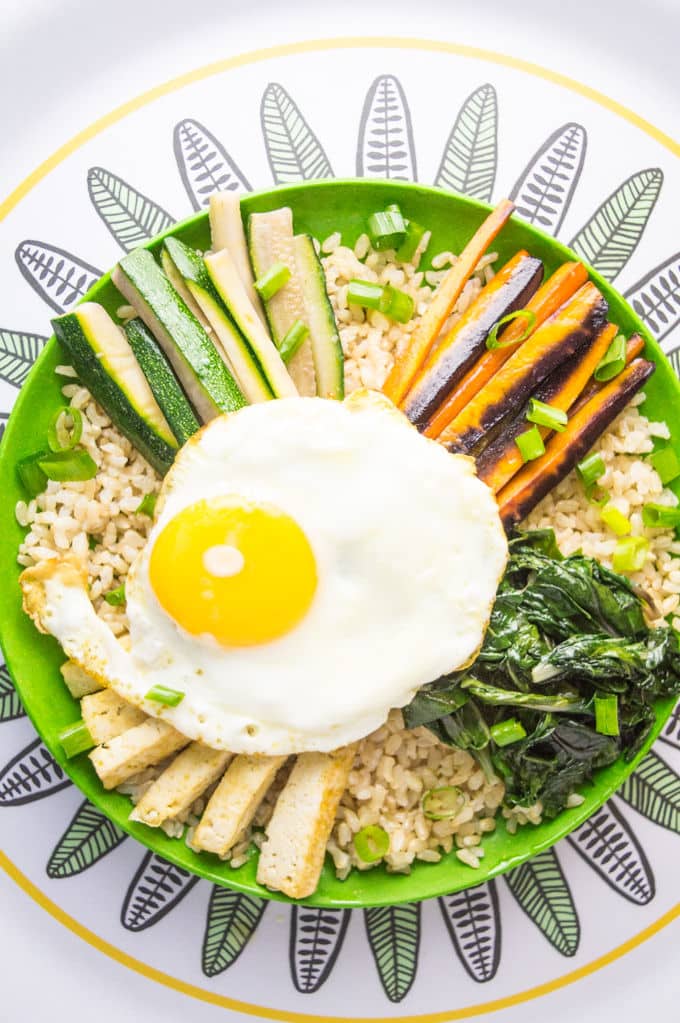 Bibimbad Nourishing Bowl
Ingredients
½ cup brown rice
1 cup water
Pinch of salt
1 cup spinach or swiss chard without stems, chopped
1 medium rainbow carrot, peeled and julienned
1 medium courgette, julienned
3 tbsp olive oil
½ block of extra firm tofu
Pinch of salt
2 eggs
1 handful green onions (green parts only), chopped
Sesame seeds (optional)
Instructions
Place the rice in a sauce pan with boiling water and a pinch of salt. Cook on a low heat, until all the water has been absorbed and the rice is cooked.
Slice half of the tofu block into another half and wrap with paper towel. Place a plate and a heavy object on top of the tofu and set aside for 15 minutes. This process will help tofu drain faster. After pressing the tofu, cut into medium rectangular strips and coat both sides with salt. In a hot grill pan, grill 5 minutes per side or until crispy and golden brown.
For the spinach, carrots and zucchini, simply heat up 2 tbsp of olive oil in a skillet, then sauté the vegetables (separately, one type at a time) with salt until tender. Spinach will take 5-7 minutes, carrots about 5 minutes, and zucchini 2-4 minutes.
Fry the eggs with a tbsp of olive oil and add a pinch of salt.
Place the rice in two bowls, top with veggies and tofu, and finish with a sunny side up egg.
Top with green onions and sesame seeds (optional), stir everything up and serve.
Notes
If desired, you can season the bowl with the traditional bibimbad sauce:
2-3 tablespoon low FODMAP red pepper paste + ½ teaspoon gluten free soy sauce + 1 teaspoon apple cider vinegar + 1 teaspoon sugar + ½ teaspoon sesame seeds + 1 teaspoon sesame oil.
Mix well and pour the dressing over the bibimbad before stirring everything up.
Recipe in Portuguese:
Tigela Nutritiva Bibimbad
Ingredients
½ xícara de arroz integral
1 xícara de água
Pitada de sal
1 xícara de espinafres ou acelgas sem talos, picados
1 cenoura média colorida, descascada e cortada em juliana
1 courgette média, cortada em juliana
3 colheres de sopa de azeite
½ bloco de tofu firme
Pitada de sal
2 ovos
1 mão cheia de cebolinho, picado
Sementes de sésamo (opcional)
Instructions
Coloque o arroz numa panela com água a ferver e uma pitada de sal. Coza em lume brando, até que toda a água tenha sido absorvida e o arroz esteja cozido.
Divida o meio bloco de tofu em dois e embrulhe com papel absorvente. Coloque um prato e um objeto pesado em cima do tofu e reserve durante 15 minutos. Este processo vai ajudar a remover a água do tofu mais rapidamente. Depois de pressionar o tofu, corte em tiras retangulares e tempere ambos os lados com sal. Numa frigideira quente, grelhe o tofu durante 5 minutos de cada lado ou até ficarem crocantes e dourados.
Para o espinafre, cenoura e courgette, basta aquecer 2 colheres de sopa de azeite numa frigideira. De seguida, refogue os legumes (separadamente, um tipo de cada vez) com sal até ficarem cozidos mas ainda crocantes. Os espinafre levarão 5-7 minutos, a cenoura cerca de 5 minutos, e a courgette 2-4 minutos.
Frite os ovos com uma colher de sopa de azeite e adicione uma pitada de sal.
Coloque o arroz em duas tigelas, adicione os legumes e o tofu, e coloque o ovo em cima.
Termine com o cebolinho e as sementes de sésamo (opcional), misture tudo e sirva.
Notes
Se desejar, poderá temperar a tigela com o molho tradicional bibimbad :
2 a 3 colheres de sopa de massa de pimentão com baixo teor de FODMAPs + ½ colher de chá de molho de soja sem glúten + 1 colher de chá de vinagre de maçã + 1 colher de chá de açúcar + ½ colher de chá de sementes de sésamo + 1 colher de chá de óleo de sésamo.
Misture bem e deite o molho sobre o bibimbad antes de mexer tudo.
You Might Also Like