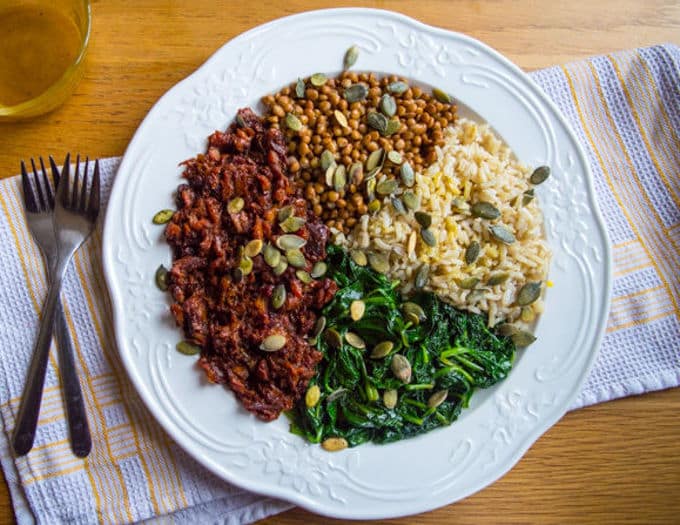 I am officially addicted to rainbow abundance bowls! Problem is most of them have at least one ingredient that I cannot eat and that will make all the difference… So I made this vegan, low fodmap friendly version of a recipe developed by a blogger I love.
I can finally say without fear: Viva the rejuvenating, nourishing, colorful bowls of taste and healthiness!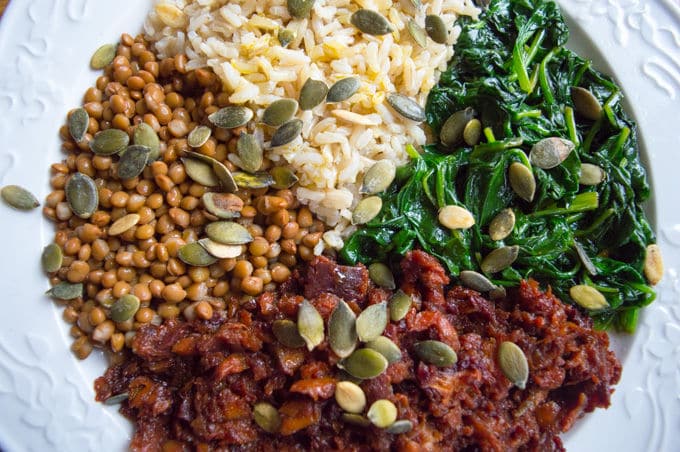 My inspiration for this post came from Deliciously Ella and her rejuvenating bowl. She is a big inspiration to me as she also found a cure in food, not settling for anything less that tasty, nourishing and healthy whole foods! This is in fact my second adapted version of Ella´s recipes. My first was this delicious Pecan Pie. So if you like this recipe, you will love her new upcoming book that you can find and pre-order here.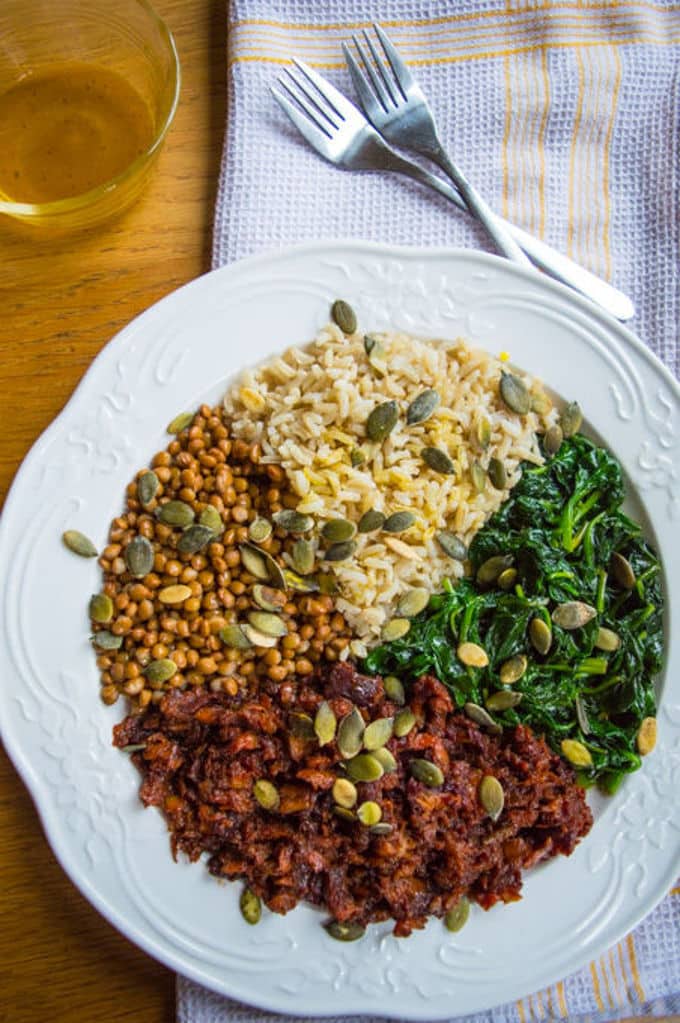 This rejuvenating bowl is the combination of awesome veggies such as spinach and rainbow carrots, with a dose of pulses (in this case the recommended low FODMAP dose of lentils) and another of whole grains (brown rice). I then added a special dressing full of Omega 3, 6 and 9 and finished with a handful of pumpkin seeds. Easy and incredibly tasty!

Rejuvenating Bowl (vegan, low FODMAP)
Ingredients
½ cup brown rice
1 cup water
pinch of salt
1 medium rainbow carrot, peeled and sliced
2 tbsp lemon juice
1 tsp tamari
¼ cup canned lentils
1 tsp apple cider vinegar (optional)
2 cups spinach
1 garlic clove
1 tbsp olive oil
1 handful pumkin seeds

For the dressing
1 tbsp extra-virgin olive oil
1 tbsp cold pressed organic canola oil
1 tbsp extra-virgin walnut oil
1 tbsp apple cider vinegar
pinch of salt
pinch of nutmeg (optional)
Instructions
Place the rice in a sauce pan with boiling water and a pinch of salt. Cook on a low heat, until all the water has been absorbed and the rice is cooked.
Steam the carrot for about thirty minutes or until soft. Place in a bowl and mash with a fork, mixing in the lemon and tamari.
Heat the olive oil with the garlic clove in a pan over medium–high heat. Remove the garlic clove, add the spinach and sauté for 5 minutes or until spinach has wilted.
Remove the spinach and place the lentils to heat them. I suggest adding 1 teaspoon of apple cider vinegar to enhance their flavor.
Mix the dressing together in a mug, then place everything in a bowl and pour the dressing over it. Finally toss in the pumpkin seeds and serve.
Notes
Canned lentils are safest in the low FODMAP diet. If you are not following it you can use home cooked lentils. One medium carrot is the safe quantity.
Recipe in Portuguese:
Tigela de Rejuvenescimento (vegan, low FODMAP)
Ingredients
½ xícara de arroz integral
1 xícara de água
pitada de sal
1 cenoura colorida média, descascada e cortada
2 colheres de sopa de sumo de limão
1 colher de chá de tamari
¼ xícara de lentilhas em lata
1 colher de chá de vinagre de maçã (opcional)
2 xícaras de espinafres
1 dente de alho
1 colher de sopa de azeite
1 punhado de sementes de abóbora

Para o molho
1 colher de sopa de azeite extra-virgem
1 colher de sopa de óleo de canola orgânico e prensado a frio
1 colher de sopa de óleo de noz extra-virgem
1 colher de sopa de vinagre de maçã
pitada de sal
pitada de noz-moscada (opcional)
Instructions
Coza o arroz numa panela com água a ferver e uma pitada de sal. Cozinhe em lume brando, até que toda a água tenha sido absorvida e o arroz esteja cozido.
Coza a cenoura a vapor durante de 30 minutos ou até ficar macia. Coloque numa tigela e triture com um garfo, misturando o limão e o tamari.
Aqueça o azeite com o dente de alho numa panela em fogo médio-alto. Retire o dente de alho, adicione os espinafres e refogue durante 5 minutos.
Retire os espinafres e coloque as lentilhas a aquecer. Sugiro que acrescente 1 colher de chá de vinagre de maçã para sobressair o seu sabor.
Finalmente misture bem os ingredientes do molho, coloque tudo numa tigela e adicione o molho e as sementes de abóbora.
Notes
As lentilhas em lata são mais seguras para quem segue a dieta baixa em FODMAP´s. Caso não siga esta dieta, pode usar lentilhas cozidas em casa. Uma cenoura média é a dose indicada.
You Might Also Like