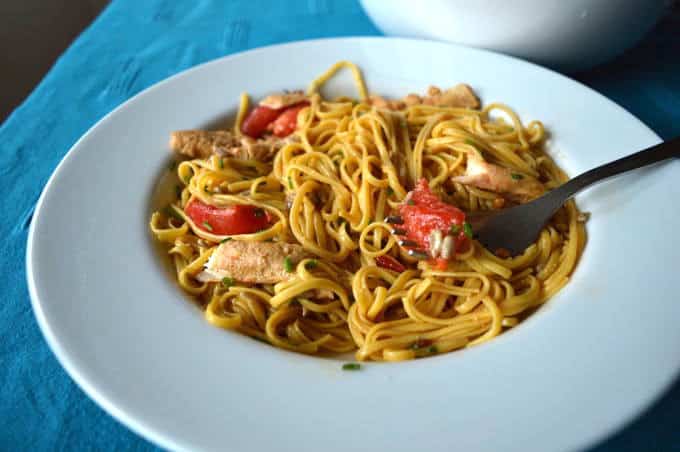 After being told I had to give up gluten, one of the toughest foods to eliminate was pasta. How would I live without it?? I tried Chinese rice noodles but was fed up after a couple of week. Then I discovered soba noodles and my life changed!! Soba noodles is a very popular dish in Japan, made with buckwheat flour. You can eat it cold in a salad or hot in a soup.
So I started experimenting with soba noodles (I will be posting some of these recipes soon) and then I found other noodles, equally delicious, such as the ones I use in this recipe: Organic Pumpkin, Ginger & Brown Rice Noodles, yum!!
When red meat is an issue, one has to vary as much as possible and this is why for this recipe I chose grilled turkey, a great alternative to grilled chicken. I´ll show you how to season it to avoid drying the meat and to enhance its flavour. The tomatoes and chives add freshness and the sunflower seeds are great final touch.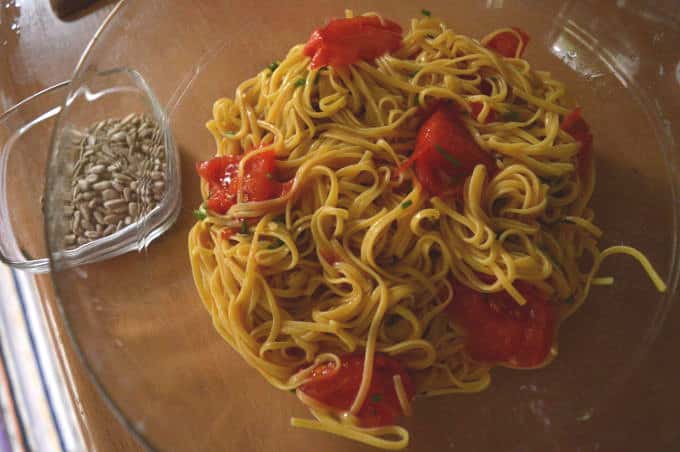 A fresh, healthy and nutritious salad, easy to prepare and take to work.

Citrus Grilled Turkey Noodle Salad
Ingredients
340 gr/12 oz of turkey breast cutlets
a pinch of salt
2 tbsp lemon juice
2 tbsp tamari sauce
250 gr/8.8 oz pumpkin, ginger & brown rice noodles
1 cup red tomatoes, quartered
¼ cup fresh chives, sliced
a squeeze of lemon juice
¼ cup sunflower seeds
a dash of olive oil (optional)
Instructions
Season the turkey with the lemon juice, tamari sauce and a pinch of salt.
Grill the turkey over a medium heat for 3-5 minutes on each side or until no longer pink.
Cook the noodles for 4 minutes in boiling water.
Drain the noodles under cold water and transfer them to a salad bowl.
Stir in the tomatoes, chives, and lemon juice.
Finish by sprinkling the sunflower seeds.
If needed, season to taste with salt and olive oil.
If you´ve enjoyed the recipe and you´re feeling adventurous, I suggest you try all varieties of
King Soba Organic, Gluten Free Pasta Noodles
. They are just fabulous!
You Might Also Like