These mini cakes look a lot like the Portuguese codfish cakes (bolinhos de bacalhau in the North or pastéis de bacalhau in the South) but they're not quite what they look. I must say that I inicially wanted to make some regular fish patties but then quickly remembered my Portuguese roots.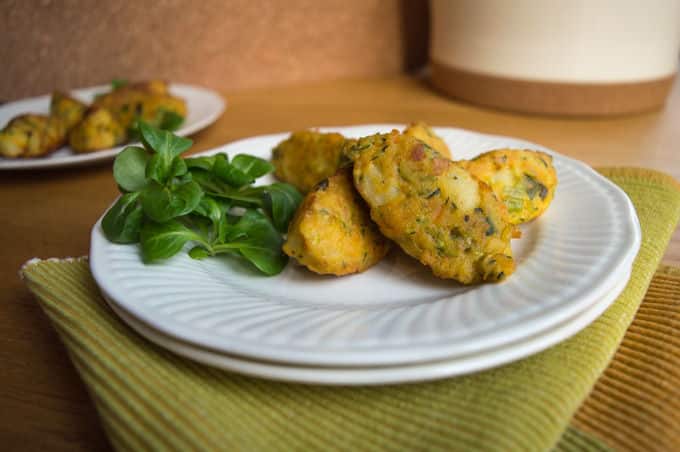 Portuguese fish cakes are not round flat but beautifully spoon shaped. Traditionally they are made with dry cod and purée and take a bit of time to prepare. These cakes, on the other hand, are quick and easy as they are made with canned tuna and grated veggies. Well, there is the spoon shape trick that takes a while to master, but you can always keep it simple by making round patties 😉
The base ingredients are tuna and boiled potatoes cut into little squares. The grated zucchini and carrots add consistency and fluffiness, while green onions add flavor and freshness. To combine, I used rice flour and an egg.
These cakes are very versatile: you can easily take them to work, have them for dinner with a green salad or serve them as appetizers. They are also gluten free and low fodmap.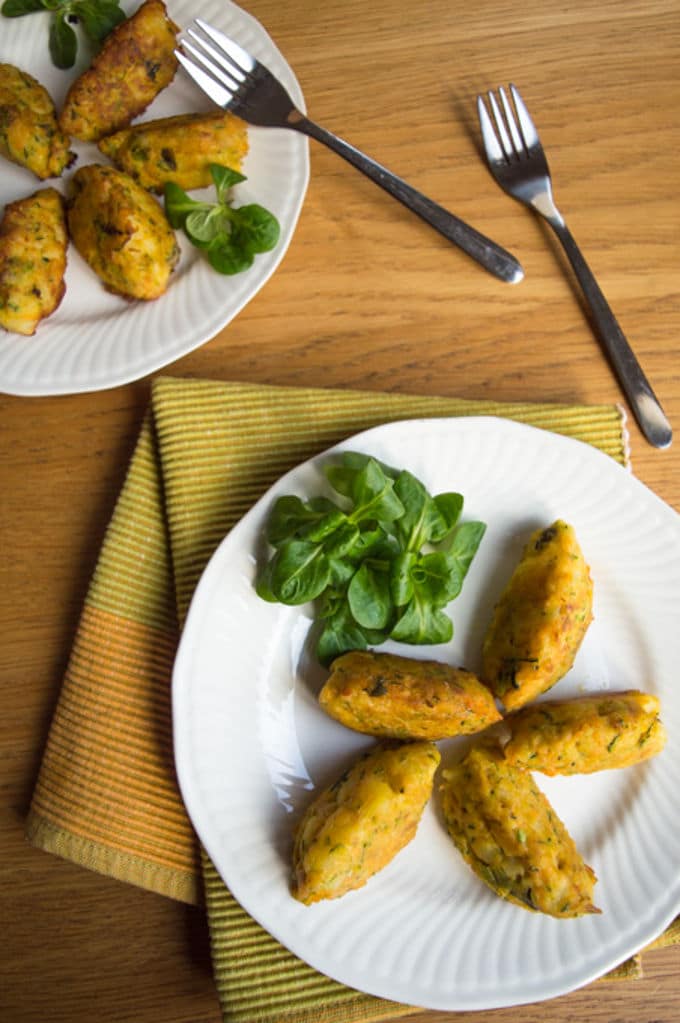 Tuna and Veggies Patties
Ingredients
1 150gr/5 oz can tuna
2 medium potatoes, boiled and cut into little squares
1 medium zucchini, grated
1 medium carrot, grated
½ cup of green onions (green tops only), chopped
3 tbsp rice flour
1 egg
Pinch of salt
Pinch of black pepper (optional)
6 tbsp of olive oil or any other oil of your preference
Instructions
Grate the zucchini in a colander over the sink and press to drain the water from the courgette.
In a large bowl, combine tuna, potatoes, grated carrot, zucchini, green onions, salt and pepper (optional) and gently mix.
Add the flour and egg and combine.
Heat olive oil in a large skillet over medium high heat. Scoop a big tablespoon of batter for each cake. Use 2 tablespoons to make the desired shape (please check this video for instructions). Otherwhise you can flatten the batter with a spatula.
Cook and flip until all sides are nicely golden brown, about 2 minutes each side.
Serve immediately.
Recipe in Portuguese:
Bolinhos de Atum e Vegetais
Ingredients
1 lata de atum
2 batatas médias, cozidas e cortadas em quadrados pequenos
1 courgette média ralada
1 cenoura média ralada
½ xícara de cebolinha (apenas a parte verde), picada
3 colheres de sopa de farinha de arroz
1 ovo
Uma pitada de sal
Uma pitada de pimenta preta (opcional)
6 colheres de sopa de azeite ou qualquer outro óleo de sua preferência
Instructions
Rale a courgette num escorredor e pressione para drenar o excesso de água da courgette.
Numa tigela grande, misture o atum, as batatas, a cenoura ralada, a courgette, a cebolinha, sal e pimenta (opcional) e mexa gentilmente.
Adicione a farinha e o ovo e misture.
Aqueça o azeite numa frigideira grande em lume médio alto. Utilize uma grande colher de sopa de massa para cada bolinho. Use 2 colheres de sopa para fazer a forma desejada (por favor, veja este vídeo para obter instruções). Caso contrário achate a massa com uma espátula.
Frite e vire até que todos os lados estejam dourados, cerca de 2 minutos de cada lado.
Sirva imediatamente.
You Might Also Like