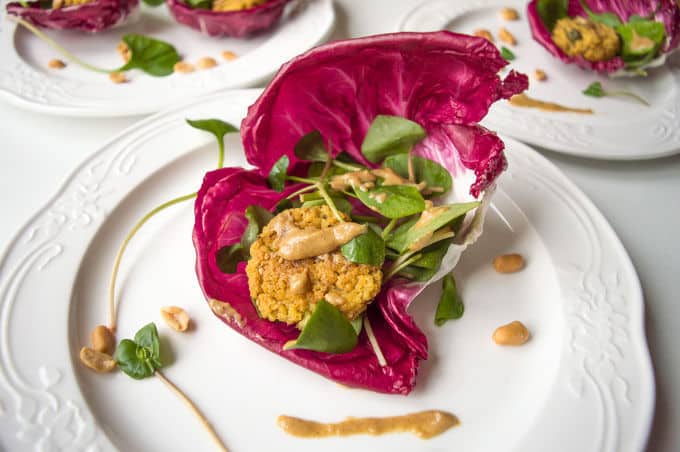 Spring has arrived and with it radicchio, spring onions and spring beauty! This last one is actually an edible crunchy, mild green known as the iceberg lettuce of wild foods. Tipped off by local Indians, Gold Rush American miners used to eat them to avoid scurvy, a vitamin C deficiency. This is why it´s also called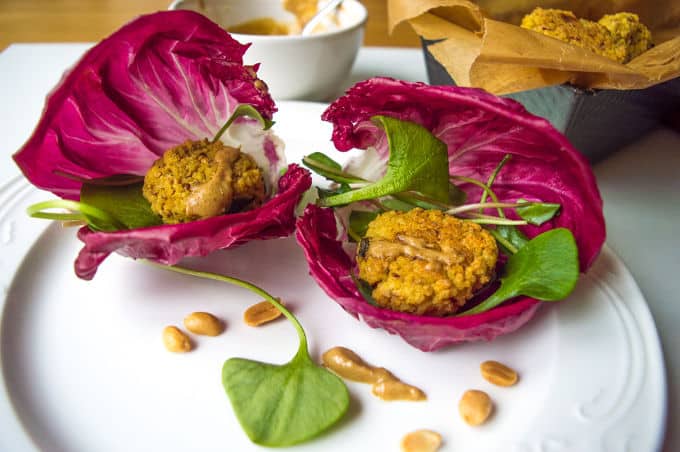 miner´s lettuce. It has also other suggestive names such as winter pulslane, indian lettuce or cuban spinach. It is actually quite similar to baby spinach and you can use it the same way you use spinach: sautéed, in salads, in soups, in a frittata,.. Spring beauty on our plates is my first Spring suggestion!
With Spring comes also a street food tradition in Belgium – the Turkish dürüm, a wrap with different fillings and toppings, eaten outside and usually accompanied by Belgian beer. My favorite filling is… falafel. In the low FODMAP diet we are not allowed to eat wheat wraps and we can only tolerate a limited amound of chickpeas (1/4 cup). So, my second and last Spring suggestion is this vibrant raddichio wrap filled with spring beauty and baked millet falafel with a lemon tahini topping. Enjoy 🙂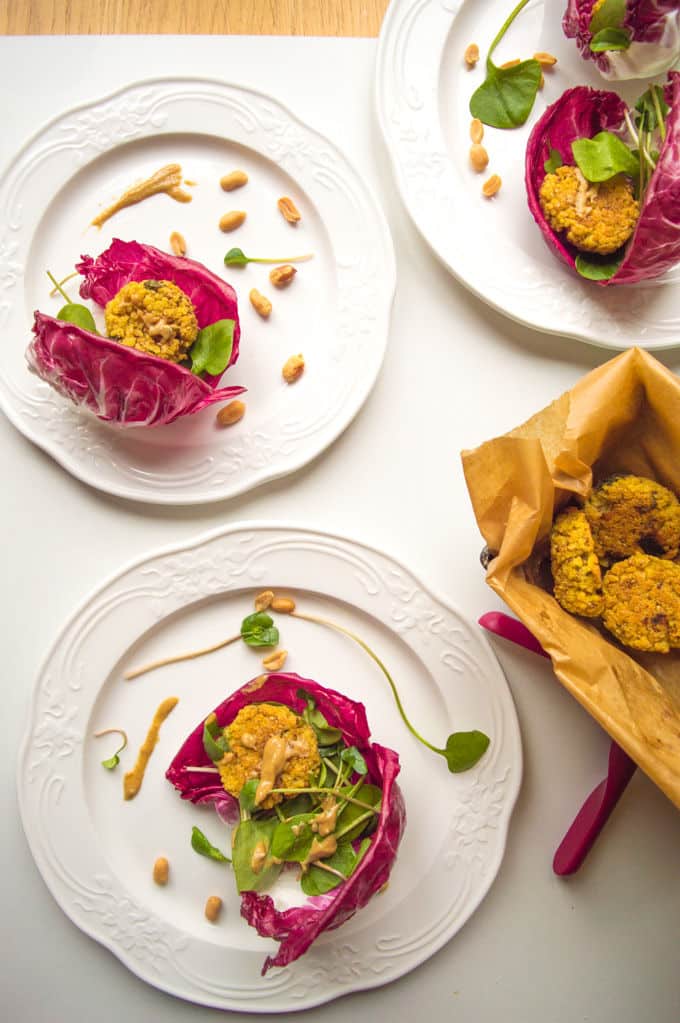 Spring Radicchio Wraps w/ Millet Falafel & Lemon Tahini Dressing
Ingredients
1 verona radicchio, washed and core removed
A bunch of spring beauty (or baby spinach), washed and drained
½ cup/ 87 gr chickpeas, canned and drained
½ tsp ground cumin
Juice of ½ a lemon
2 tbsp olive oil
Pinch of salt
Pinch of pepper
2 tbsp rice flour
1 tsp baking soda
½ cup/ 100 gr millet (1½ cup cooked millet)
1 cup/ 125 ml water
Pinch of salt
3 spring onions (green tops only), sliced
1 tbsp sesame seeds
Handful of peanuts
For the Lemon Tahini Dressing
2 tbsp tahini
2 tbsp lemon juice
2 tbsp olive oil
Pinch of salt
Instructions
Place the millet in a saucepan with boiling water and add a large pinch of salt. Lower the heat, cover the pot and simmer until the millet is cooked, but still chewy (about 15 minutes).
In the meantime preheat the oven to 375º F/190ºC and line a baking tray with parchment paper.
In a food processor combine the chickpeas, cumin, lemon juice, olive oil, salt and pepper. Pulse until you have a paste and there are hardly any whole chickpeas left. Scrape this into a large bowl and add the flour, baking soda, cooked millet, sesame seeds, and sliced spring onion tops. Fold it all together to combine.
Form falafels with your hands with 2 tbsp of chickpea mixture at a time. Gently roll them into an oval flat shape and place them on the baking tray. Repeat until mixture has ended (makes 10 to 12 falafels).
Slide the tray into the oven and bake falafels for about 25 minutes or until lightly browned and firm.
Serve falafels in radicchio leaves and top with peanuts and...
Lemon Tahini Dressing
In a small bowl, whisk all ingredients together until well mixed. Pour the dressing over the radicchio wraps and serve.
Notes
Low FODMAP diet: the recommended amount of chickpeas is ¼ cup, which corresponds to 5 to 6 millet falafels, half of the total serve. Canned chickpeas are safer because they have less FODMAPs.
Recipe in Portuguese:
Wraps Primavera de Radicchio c/ Falafel de Milho-Painço & Molho Tahini
Ingredients
1 radicchio de Verona, lavado e núcleo removido
Molho de beldroegas-de-inverno (ou baby espinafres), lavadas e escorridas
½ xícara / 87 gr de grão-de-bico, enlatado e escorrido
½ colher de chá de cominhos em pó
Sumo de ½ limão
2 colheres de sopa de azeite
Uma pitada de sal
Uma pitada de pimenta
2 colheres de sopa de farinha de arroz
1 colher de chá de bicarbonato de sódio
½ xícara / 100 gr milho-painço (1½ xícara de painço cozido)
1 xícara / 125 ml de água
Uma pitada de sal
3 cebolinhas (apenas a parte verde), cortadas
1 colher de sopa de sementes de sésamo
Uma mão cheia de amendoins
Para o molho Tahini
2 colheres de sopa de tahini (pasta de sésamo)
2 colheres de sopa de sumo de limão
2 colheres de sopa de azeite
Uma pitada de sal
Instructions
Coloque o painço numa panela com água a ferver e adicione uma generosa pitada de sal. Reduza o lume, tampe a panela e deixe cozinhar até que o painço esteja cozido mas ainda empapado (cerca de 15 minutos).
Entretanto pre-aqueça o forno a 190ºC/ 375º F e forre o tabuleiro com papel vegetal.
Num processador de alimentos adicione o grão-de-bico, cominhos, sumo de limão, azeite, sal e pimenta. Triture até obter uma pasta homogénea.
Coloque o preparado numa tigela grande e adicione a farinha, o bicarbonato, o painço cozido, sementes de sésamo e a cebolinha. Misture até incorporar bem todos os ingredientes.
Faça pequenas bolas achatadas com as mãos, utilizando cerca de 2 colheres de sopa da mistura. Vá colocando os falafels no tabuleiro, repetindo até acabar a massa (rende 10 a 12 falafels).
Leve ao forno durante aproximadamente 25 minutos ou até que os falafels estejam dourados e firmes.
Coloque-os em folhas de radicchio, adicione os amendoins e sirva com ...
Molho Tahini
Numa tigela pequena, misture todos os ingredientes até ficar tudo bem misturado. Deite o molho sobre os wraps e sirva.
Notes
Dieta com baixo teor de FODMAPs: a quantidade recomendada de grão-de-bico é de ¼ de xícara, o que corresponde a 5 ou 6 falafels, metade da dose total. Aconselha-se ainda grão-de-bico em lata, pois tem menos FODMAPs.
You Might Also Like