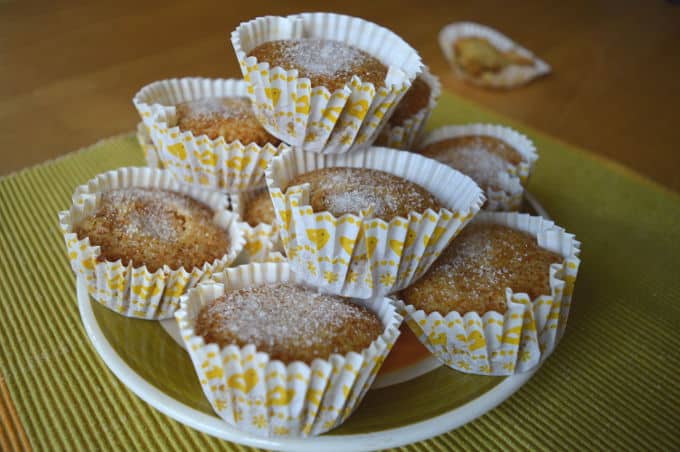 Bolo de Arroz is one of my favourite traditional Portuguese pastries and I am quite happy to have come up with this gluten, dairy and egg allergy-friendly recipe.
These super light muffins have a soft and airy texture, a lemony scent and a crispy sugar crust. Nham!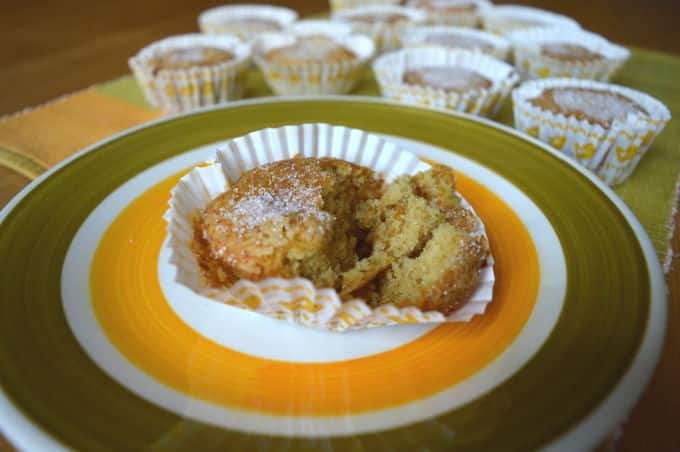 The recipe is made with rice flour, so it´s naturally gluten-free! No dairy, because of the… rice milk! And for the eggs, well, we just substitute it with flax eggs (please see recipe below), et voilà!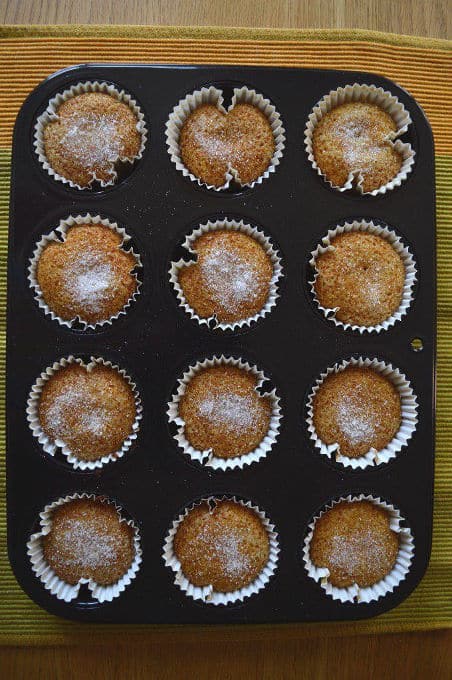 Portuguese Rice Muffins
Ingredients
½ cup/ 115 gr. sugar
4 tbsp olive oil
1 egg or flax egg* (1 tbsp linseed + 3 tbsp warm water)
½ cup/ 140 ml rice milk
Zest of ½ lemon
1 tbsp lemon juice
1 cup/ 150 gr. rice flour
2 tsp gluten free baking powder
¼ tsp of salt
Sugar to sprinkle on top
Instructions
Preheat the oven to 180ºC/350ºF.
Prepare a 12 muffins pan with paper baking cups.
In a large bowl whisk the sugar with the oil for 2 minutes. Add the egg (or flax egg - see notes), milk, lemon zest and lemon juice.
In another bowl, combine the rice flour, baking powder and salt and slowly add to the batter, beating until completely blended.
Pour the batter half way into each of the muffin cups.
Bake for 20 minutes.
Sprinkle granulated sugar on top of the muffins straight from the oven.
Notes
Vegans and egg intolerants:
*To make a flax egg, combine flaxseeds and warm water, allow to sit for about 5 minutes and mix in the blender.
 Recipe in Portuguese:
Bolo de Arroz (sem glúten, vegan)
Ingredients
½ xícara/ 115 gr. de açúcar
4 colheres de sopa de azeite
1 ovo ou ovo de linhaça* (1 colher de sopa de sementes de linhaça + 3 colheres de sopa de água morna)
½ xícara/ 140 ml de leite de arroz
1 colher de sopa de sumo de limão
Raspas da casca de ½ limão
1 xícara/ 150 gr. de farinha de arroz
2 colheres de chá de fermento em pó sem glúten
¼ colher de chá de sal
Açúcar para polvilhar
Instructions
Pré-aqueça o forno a 180ºC / 350ºF.
Coloque forminhas de papel numa forma de 12 queques.
Numa tigela grande misture o açúcar com o azeite durante 2 minutos. Adicione o ovo (ou o ovo de linhaça - ver notas), o leite, as raspas e o sumo de limão.
Noutra tigela, misture a farinha de arroz, fermento e sal e adicione lentamente à massa, batendo até ficar tudo completamente misturado.
Deite a massa e encha cada forma de papel até meio.
Leve ao forno durante 20 minutos.
Retire do forno e polvilhe directamente com o açúcar granulado.
Notes
Veganos e intolerantes aos ovos:
*Para fazer um ovo de linhaça, misture as sementes de linhaça com a água quente, deixe descansar durante cerca de 5 minutos e triture num processador de alimentos ou liquidificador.
You Might Also Like