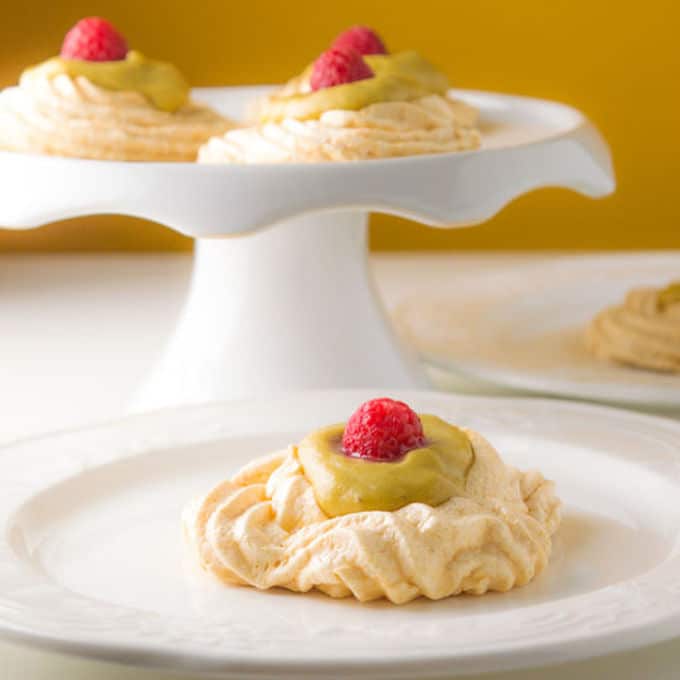 Sometimes your friends invite you for dinner and propose to make a low FODMAP meal. And even if it´s not an easy task, they still want to surprise you so they study online and ask some general questions without unveiling too much. These are the best friends* and the best dinners 🙂
Today´s recipe is inspired by the amazing pavlova served by my friends.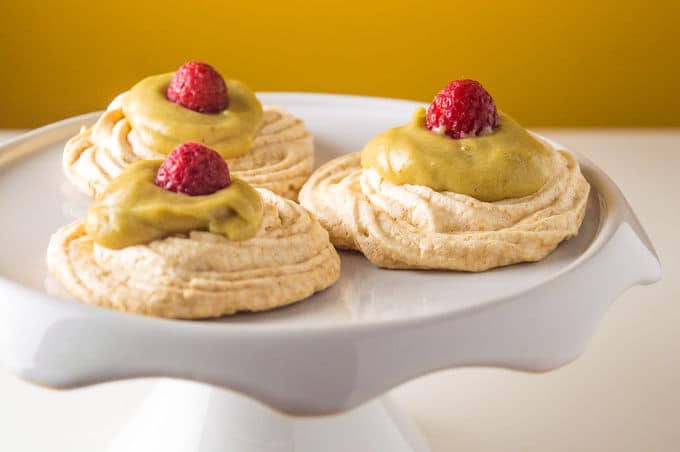 If you happen to have a couple of eggs, sugar, one lemon, two bananas and an bit of butter, you can make this work! I promise you this five-ingredients recipe will be one of the easiest and most delicious desserts you´ll ever have.
This meringue-based dessert has a soft marshmallowy consistense and a delicate crisp crust. To top it, I´ve decided to use the leftover yolks to create a fresh and easy homemade banana-lemon curd. I´ve also added some raspberry to balance the flavours.
*Thank you to Marie, Jim, Alice, Timéo and Matias for cooking such a wonderful meal and for daring to enter the sometimes daunting world of low FODMAP cooking with such grace and success! Xo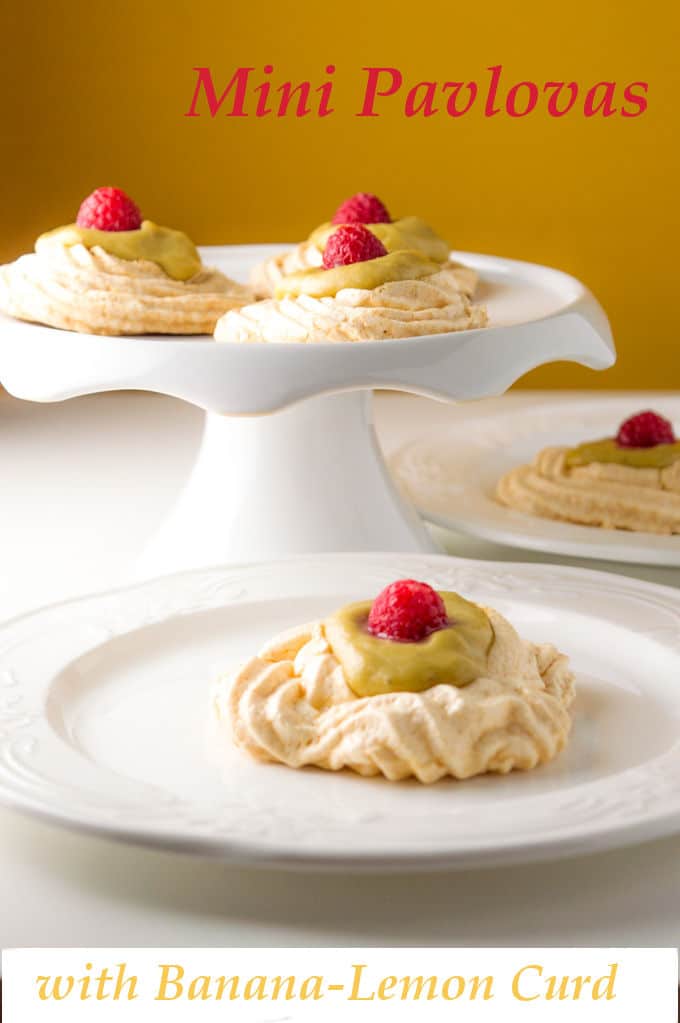 Mini Pavlovas with Banana-Lemon Curd
Ingredients
2 eggs
½ cup/ 100 gr. of sugar
2 medium bananas
1 tbsp butter (lactose free if intolerant)
Juice of one small lemon
Raspberries (optional)
Instructions
Preheat oven to 285ºF/140°C and line a baking tray with non-stick baking paper.
Separate the egg whites from the yolks. In a big bowl beat the egg white until firm peaks form.
Gradually add half of the sugar, beating constantly for 5 minutes or until the sugar dissolves and the mixture is thick and glossy.
Spoon the mixture in the baking tray and create approximately 9 round nests, leaving some space between them.
Bake for 30 minutes or until crisp and dry. Turn oven off. Leave the pavlovas in the oven, with the door semi-open, to cool completely.
While the meringues are cooling, beat egg yolks, butter, lemon juice, the rest of the sugar and bananas in a blender or food processor, until fully combined and silky smooth.
Pour the mixture into a medium sauce pan over medium-low heat. Stir constantly for about 10 minutes or until mixture thickens.
Remove from heat and allow to cool.
Spoon the banana-lemon curd on top of the pavlovas. Top with raspberries and serve.
Notes
You can store the leftover curd in an airtight container and refrigerate for 2 weeks.
Recipe in Portuguese:
Mini Pavlovas com Curd de Banana e Limão
Ingredients
2 ovos
100 gr./ ½ xícara de açúcar
2 bananas médias
1 colher de sopa de manteiga (sem lactose se intolerante)
Sumo de um limão pequeno
Framboesas (opcional)
Instructions
Pre-aqueça o forno a 140°C/ 285ºF e forre um tabuleiro de ir ao forno com papel vegetal.
Separe as claras das gemas. Numa tigela grande bata as claras em castelo até ficarem firmes.
Aos poucos, adicione metade do açúcar, batendo sempre, durante 5 minutos ou até que o açúcar se dissolva e a mistura ficar espessa e brilhante.
Reparta a mistura no tabuleiro e forme aproximadamente 9 ninhos redondos, deixando algum espaço entre eles.
Leve ao forno durante 30 minutos ou até as pavlovas ficarem crocantes e secas. Desligue o forno. Deixe as pavlovas no forno, com a porta semi-aberta, para arrefecerem completamente.
Enquanto arrefecem, bata as gemas, a manteiga, o sumo de limão, o resto do açúcar e as bananas num liquidificador ou processador de alimentos, até obter uma consistência aveludada.
Coloque a mistura numa panela média em lume médio-brando e mexa constantemente durante aproximadamente 10 minutos ou até engrossar.
Retire do lume e deixe arrefecer.
Coloque o creme de banana e limão em cima das pavlovas e enfeite com framboesas.
Notes
Pode guardar o restante curd num recipiente hermético e conservar no frigorífico durante 2 semanas.
You Might Also Like