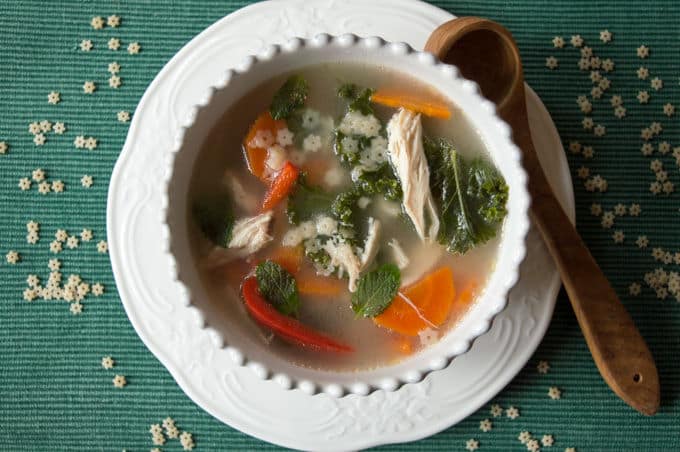 As a kid, when it came to chicken soup, star noodles came in first, then alphabet noodles. Orzo were not popular at all, no way the soup would taste good! Just out of curiosity, in Portugal, vermicelli is commonly used for a christmas dessert recipe called aletria, not for soups. So when I found these rice star noodles I couldn´t resist to make a gluten-free version of my favourite soup.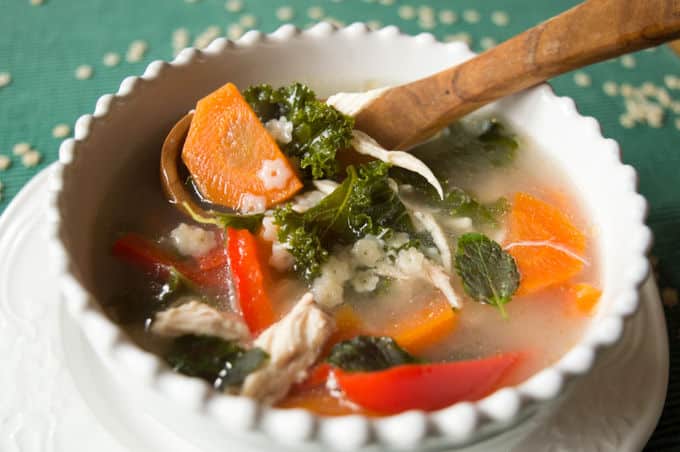 There is also another very personal reason for cooking this recipe and writing this post. One year ago today I was hospitalised, after a huge weight loss and lack of energy. No matter what I ate, my body just didn´t absorve so, after six month, I was too weak and just couldn´t function anymore (you can check the about me section for details). My flora and mucosa had been severely compromised, so I had to completely change my diet in order to heal. You can say food was my cure and still is, as it takes minimum 2 years (!) for your body to get back on track after such an acute gastroenteritis. So, bottom line is that I was able to recover and am almost at my normal weight. This less fortunate episode, led to a much nicer one: My Gut Feeling!
This blog is an opportunity for me to share my experience and to celebrate life and health through cooking! And what a better way to do so than with a healthy, comforting and delicious chicken soup with kale, red bell peppers, carrots and mint? Hope you enjoy it as much as we did today with a good bottle of red douro valley wine, where Port Wine comes from.
Saúde, Santé, Cheers to Good Health! 😉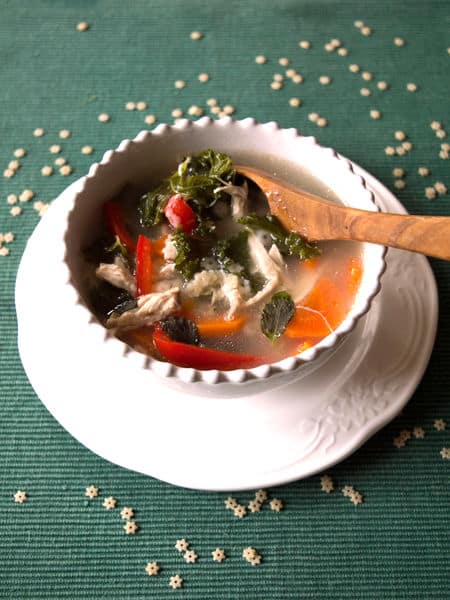 Chicken Star Noodle Soup
Author:
My Gut Feeling (Chicken Stock recipe adapted and simplified from Tyler Florence)
Ingredients
1 whole free-range chicken, rinsed, giblets, wings, legs and skin discarded
1 cup of rice star noodles (vermicelli or orzo)
3 big kale leaves, chopped into small, bite-sized pieces
2 carrots, sliced
1 red bell pepper, sliced
Pinch of salt
Fresh mint leaves for serving
Instructions
For the Chicken Stock:
Place the chicken in a large pot over medium heat with enough water to cover the chicken and allow it to slowly come to a boil.
Lower the heat to medium-low and gently simmer for 1 to 1½ hours, partially covered, until the chicken is done. As it cooks, skim any impurities that rise to the surface; add a little more water if necessary to keep the chicken covered while simmering.
Carefully remove the chicken to a cutting board. When its cool enough to handle, discard the remaining skin and bones and hand-shred the meat.
Carefully strain the stock to remove any remaining solids.

For the Chicken Noodle Soup
In the same pot add the veggies and let them simmered in the broth for about 30 minutes.
Add the rice star noodles, shredded chicken, salt and let cook until done (normally 7 minutes).
Serve with mint leaves.
Notes
Normally a broth includes the chicken skin and also other veggies. I prefer this simplified version but feel free to use your own recipe or you can also use canned low-sodium chicken broth instead. If you are on a lowFODMAP diet, be careful as it can have traces of onions and garlic.
You Might Also Like