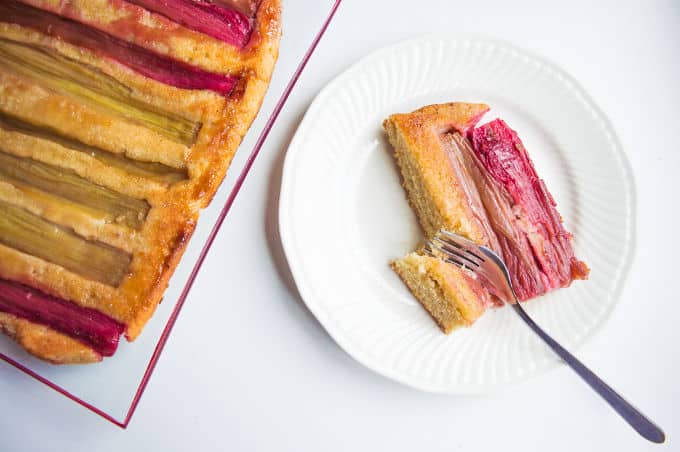 I always found rhubarb a bit intimidating. Even if it´s often considered the world´s favorite pie plant, we normally don´t see it in the South European cuisine.
When it comes to pies, my favorite is definitely the tarte tatin, a French upside-down apple cake. But because apples can be difficult to digest for people like me, I´ve decided to give rhubarb a try and the result was amazing!!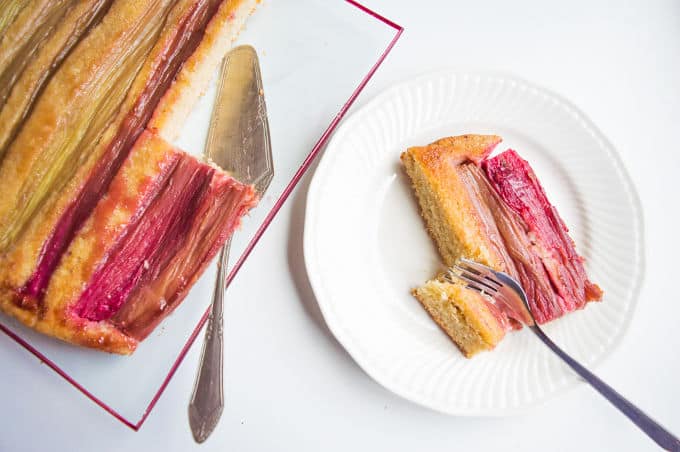 So my challenge was to create a simple French inspired upside-down cake with this lovely vegetable that would be suitable for both celiacs and low FODMAPpers. I definitely wanted to stay true to what makes the tarte tatin so special: to caramelize the fruit (in this case, the vegetable) before baking. I´ve simplified the process by using the oven instead of the skillet and maple syrup instead of sugar. For the dough I prefered to use a light olive oil and yogurt batter, inspired in my Natural Yogurt Cake recipe.
I made peace with rhubarb as I found out that cooking it is actually quite easy. So, if you feel intimidated by rhubarb or upside-down cakes, let me tell you that there´s nothing to be afraid of. Once you try this delicious cake you´ll wish you have done it sooner 😉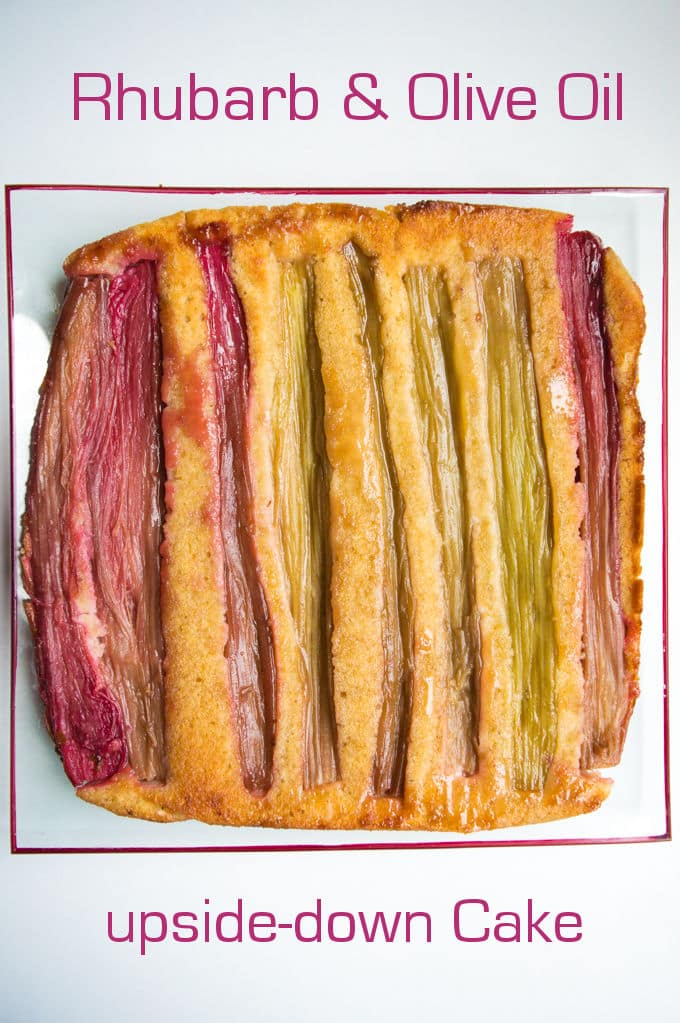 Rhubarb and Olive Oil upside-down Cake
Ingredients
13,8 oz / 390 gr. rhubarb stalks (approx. 4), washed
¼ cup/ 70 ml maple syrup
½ cup/140ml extra virgin olive oil
½ cup/130gr brown sugar
1 egg
4,4 oz/125gr unsweetened natural lactose free yogurt
½ tsp vanilla extract
1 cup/150gr rice flour
1oz/30gr (30) ground almonds or almond meal
1 tsp gluten free baking powder
½ tsp salt
Instructions
Preheat the oven to 180ºC/350ºF.
Line a medium round or squared cake pan with parchment paper.
Place the rhubarb stalks on the bottom of the pan and brush them with maple syrup, saving the rest for later. Cook in the oven for 10 minutes and remove.
In a large bowl whisk the sugar with the oil for 2 minutes. Add the egg until the batter starts to bubble.
Add in the yogurt and vanilla extract and combine.
In another bowl, combine the rice flour, almonds, baking powder and salt and slowly add to the batter, beating until completely blended. The batter will be thick.
Carefully pour the batter on top of the rhubarb and bake for 30 minutes.
Remove from oven and let cool in the pan for 30 minutes before turning it upside-down and carefully removing the parchment paper.
Brush the remaining maple syrup on top before serving.
Notes
Low FODMAP diet: it´s advised to eat up to ⅓ of the cake, as the tolerated amount of rhubarb is 130 grams (the recipe calls for 390 grams) and of almonds is 10 (the recipe calls for 30).
 Recipe in Portuguese:
Bolo de Ruibarbo e Azeite ao Contrário
Ingredients
390 gr./ 13,8 oz caules do ruibarbo (aprox. 4), lavados
70 ml / ¼ xícara de xarope de ácer
140 ml / ½ xícara de azeite extra-virgem
130 gr. / ½ xícara de açúcar amarelo
1 ovo
125 gr. / 4,4 oz iogurte natural sem açúcar e sem lactose
½ colher de chá de essência de baunilha
150 gr. / 1 xícara de farinha de arroz
30 gr. / 1 oz (30) amêndoas moídas
1 colher de chá de fermento sem glúten
½ colher de chá de sal
Instructions
Pre-aqueça o forno a 180ºC/350ºF.
Forre uma forma redonda ou quadrada com fundo amovível com papel vegetal.
Coloque os caules do ruibarbo no fundo da forma e pincele bem com xarope de ácer, guardando o resto para mais tarde. Leve ao forno durante 10 minutos e retire.
Numa tigela grande misture o açúcar com o azeite e bata durante 2 minutos. Adicione o ovo até a massa começar a borbulhar.
Adicione o iogurte e a essência de baunilha e misture.
Noutra tigela, misture a farinha de arroz, amêndoas, o fermento e o sal e adicione lentamente ao preparado anterior, batendo até ficar tudo completamente misturado. Obterá uma massa espessa.
Deite cuidadosamente a massa por cima do ruibarbo e leve ao forno durante 30 minutos.
Retire do forno e deixe arrefecer na forma durante 30 minutos antes de vira-lo ao contrário e de remover cuidadosamente o papel vegetal.
Antes de servir pincele com o restante xarope de ácer.
Notes
Dieta com baixo teor de FODMAPs: aconselha-se comer até ⅓ do bolo, pois a quantidade tolerada de ruibarbo é de 130 gramas (a receita utiliza 390) e de amêndoas, 10 (receita utiliza 30).
You Might Also Like