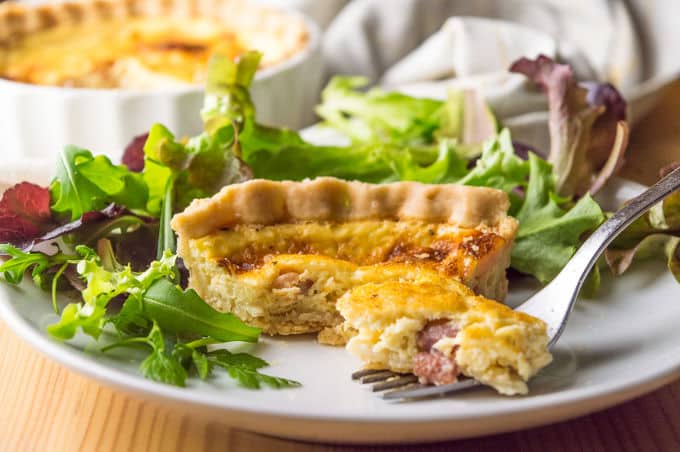 I <3 quiche lorraine! This French delicacy is an irresistible combination of eggs, cheese and smoky bacon all wrapped up in a buttery crust. But can we low FODMAPers eat quiche? Well… not the original wheat pastry crust filled with cream recipe, so this is why I came up with a low FODMAP, gluten free, low lactose and simply delicious quiche!!! Cannot wait to share the recipe with you 🙂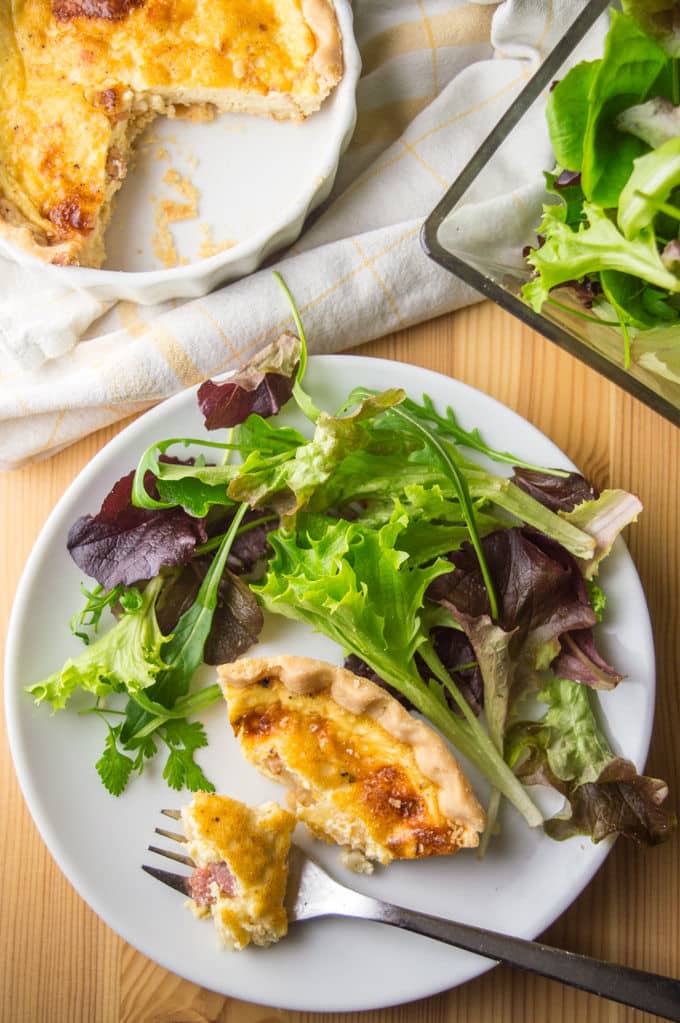 I´ve been craving for quiche for a long time but after some failed attempts, I was discouraged and overwhelmed… A tasty low FODMAP friendly quiche from scratch seemed impossible to make.
First problem was the gluten free crust… After a lot of crumbly useless dough I finally understood that I had to use the same principle as when baking bread – 2 parts gluten free flour, one part starch (you can also use a good GF flour mix)+ vinegar to improve texture and it worked! I was able to make a pretty decent ball of dough and the final result was a firm yet tender pie crust.
Second problem was that the cream free filling created a too eggy or too liquid custard. I solved the issue by adding some greek yogurt to the mix of lactose free milk, low FODMAP cheese and a couple of eggs.
Please note that for this recipe I used greek yogurt, hard cheese and butter which are naturally low in lactose. If you prefer, you can use clarified butter (ghee), lactose free greek yogurt and cheese.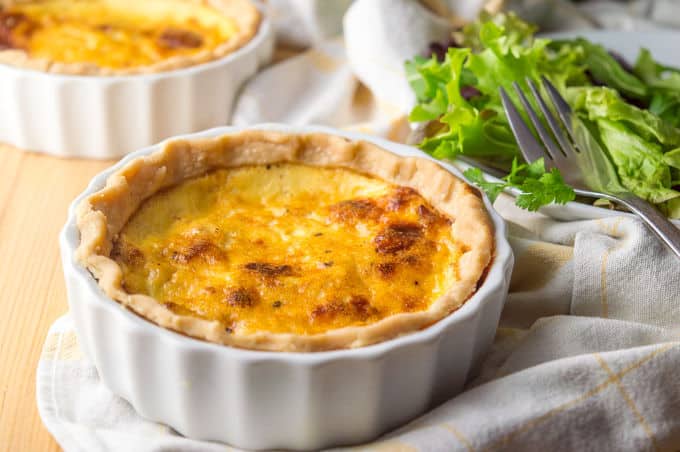 Quiche Lorraine
Ingredients
For the crust
½ cup/ 70 gr. rice flour
½ cup/ 70 gr. millet flour
½ cup/ 75 gr. tapioca starch
½ tsp salt
4 tbsp butter
1 tbsp apple cider vinegar
4-6 tbsp water
For the filling
3,5 oz/ 100 gr. bacon, finely chopped
2 eggs
2 tbsp greek yogurt
½ cup/ 140 ml lactose free milk
1,4 oz/ 40 gr. swiss cheese (gruyère), diced or grated
½ tsp nutmeg
Little pinch of salt
Black pepper to taste
Instructions
For the crust, place flours, starch, butter and salt in a bowl. Using your fingers, rub ingredients together until pea-size crumbles form. Add the vinegar and one tablespoon of water at a time and knead until dough forms. Consistency should be elastic and smooth, so add more water if needed. Form the dough into a ball and chill until you've completed steps 2 and 3.
Add the chopped bacon to a non-stick pan and sauté over medium heat for 5 minutes or until crispy. Set aside to cool.
In a bowl whisk the eggs, greek yogurt and milk. Add in the cheese, nutmeg, salt, pepper and finally the cooled bacon.
In one big or 4 small tart pans, transfer the dough to the center of the pan and press with your fingers out to the edges of the pan, then up the sides until it resembles a crust. Pinch an attractive lip around the edge of the pan and prick the bottom of the crust all over with a fork. Fill in with the liquid mixture.
Preheat oven to 350ºF/ 180ºC and bake for 50 minutes. Allow the quiche to cool for a few minutes before serving. Enjoy hot or cold with a green salad and… bon appétit!
Recipe in Portuguese:
Quiche Lorraine
Ingredients
Para a massa
70 gr. farinha de arroz
70 gr. farinha de milho painço
75 gr. polvilho azedo
½ colher de chá de sal
4 colheres de sopa de manteiga
1 colher de sopa de vinagre de cidra
4-6 colheres de sopa de água
Para o recheio
100 gr. bacon, às tiras
2 ovos
2 colheres de sopa de iogurte grego
140 ml de leite sem lactose
40 gr. queijo suíço (gruyère), em cubos ou ralado
½ colher de chá de noz-moscada
Pequena pitada de sal
Pimenta preta a gosto
Instructions
Para a massa, adicione numa tigeja as farinhas, o polvilho, a manteiga e o sal. Misture os ingredientes, esfregando com os dedos até obter um granulado do tamanho de ervilhas. Adicione o vinagre e uma colher de sopa de água de cada vez e amasse até formar uma massa de consistência suave e elástica. Adicione mais água, se necessário. Forme uma bola e leve ao frigorífico até concluir as etapas 2 e 3.
Coloque o bacon numa panela antiaderente e salteie em lume brando durante 5 minutos ou até ficar crocante. Deixe arrefecer.
Numa tigela bata os ovos, o iogurte grego e o leite. Adicione o queijo, a noz-moscada, o sal, a pimenta e por fim o bacon arrefecido.
Utilizando uma tarteira grande ou 4 forminhas de tarte, transfira a massa para o centro da forma e pressione com os dedos para fora em direção às bordas, continuando pelos lados. Termine com um rebordo final em forma de bicos e pique a massa uniformemente com um garfo. Adicione o recheio.
Leve ao forno preaquecido a 180º durante 50 minutos. Deixe a quiche arrefecer alguns minutos antes de servir. Sirva quente ou fria com uma salada verde e ... bon appétit!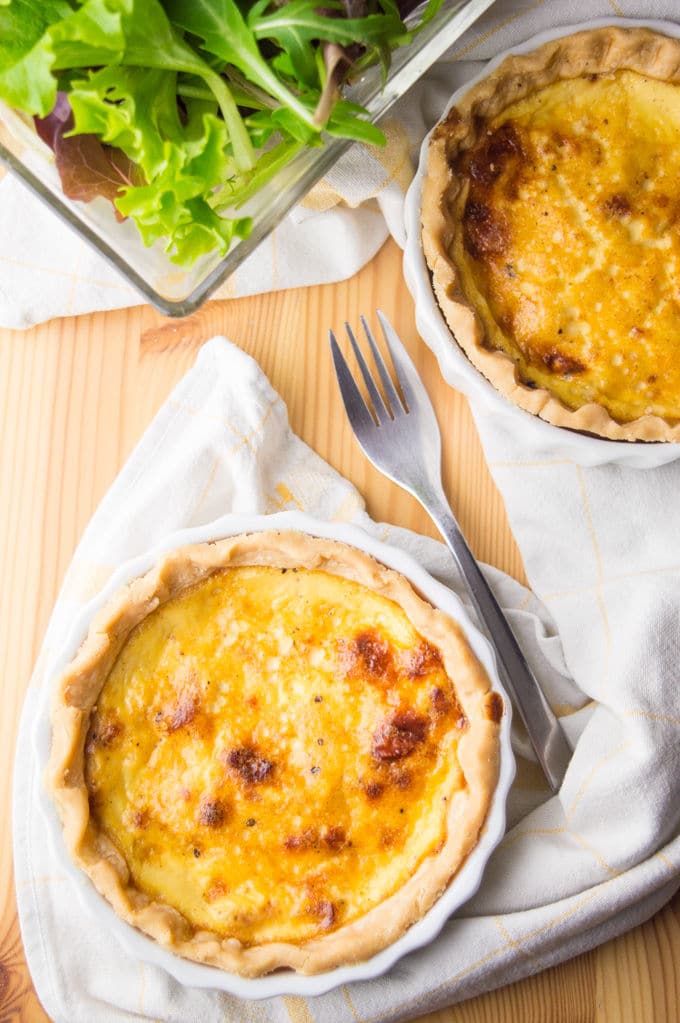 You Might Also Like