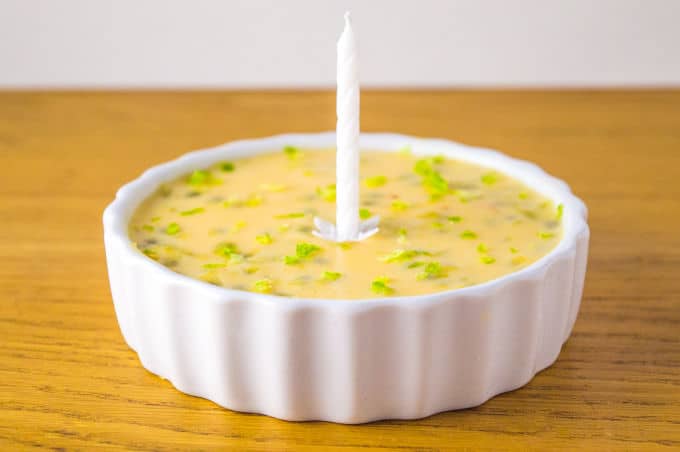 Today´s recipe is dedicated to you, my readers. You´re the reason why, an year after my first post, I´m still creating and sharing food sensitivies friendly recipes. One year and more than 70 recipes after, I thank you for reading and for supporting me during this great journey of culinary findings. And I can´t wait to share this one with you…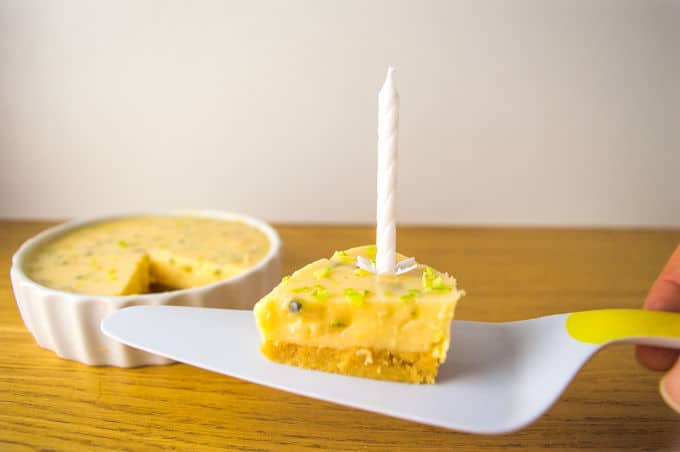 Before my food intolerances, Passion Fruit Tart was definitely one of my most popular desserts. I used to make it in the summer for my family and friends and it normally didn´t last long…
The original recipe is made with Marie Biscuit and sweetened condensed milk. For this new free from version I was able to keep the same creamy and crumbly texture. I made a gluten and lactose free custard with corn starch, lactose free milk and eggs and used lactose and gluten free Marie biscuits. I´ve also added lime for a perfect balance between sweet (from the biscuits), tart (from the passion fruit) and tangy (from the lime). The result is a fresh and delicious dessert, surprisingly identical to the original one but adapted to sensitive guts!
Enjoy 🙂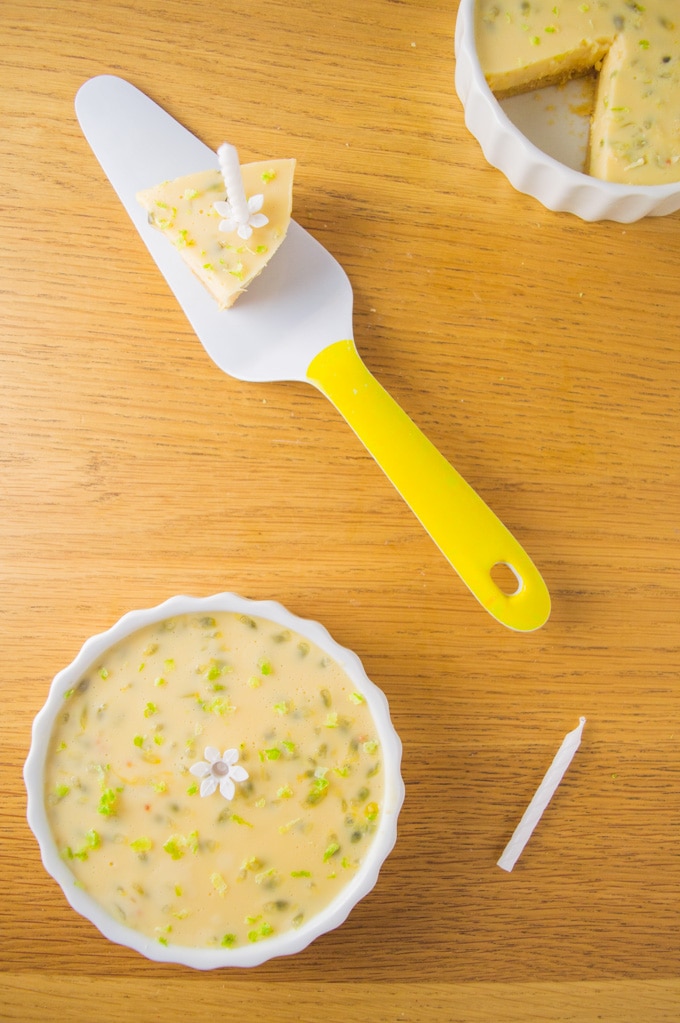 Passion Fruit and Lime Tartlets
Ingredients
2 passion fruits or 45 gr. of passion fruit pulp
1 tbsp lime juice
1 tsp lime zest + more to sprinkle on top
4 gelatin sheets or 1 tablespoon of powdered gelatin
½ cup/ 140 ml lactose free milk
2 tbsp brown sugar
2 eggs
½ cup+ 2 tbsp / 70 gr. corn starch
For the crust
200 gr. of gluten free and lactose free Marie biscuits (plain sweet biscuits will work too)
2 tbsp lactose free butter
Instructions
Crush the biscuits in a blender or food processor until dust. Add in the butter and mix well with your hands. Put into 3 mini tart pans and place in the freezer while preparing the rest of the recipe.
In a bowl whisk the eggs with the sugar for 3-5 minutes. Add the lime juice and zest, mix and set aside.
In a saucepan over the lowest heat possible, melt the gelatine in the milk, stirring constantly. Slowly pour in the eggs preparation and add the corn starch (slowly as well), never stopping to stir. You will know when to stop when the liquid thickens (5 to 10 minutes). Remove from heat and let cool for about 10 minutes.
Open the passion fruits in half, spoon out the pulp and add to the preparation, mixing just until incorporated.
Remove the tartlets bases from the freezer and pour in the preparation.
Refrigerate for at least 2 hours, sprinkle with lime zest and serve.
Recipe in Portuguese:
Tartes de Maracujá e Lima
Ingredients
2 maracujás ou 45 gr. de polpa de maracujá
1 colher de sopa de sumo de lima
1 colher de chá de raspas de lima + para polvilhar
4 folhas de gelatina ou 1 colher de sopa de gelatina em pó
140 ml de leite sem lactose
2 colheres de sopa de açúcar amarelo
2 ovos
70 gr. de maizena
Para a base
Um pacote de 200 gr. de bolachas maria sem lactose e sem glúten
2 colheres de sopa de manteiga sem lactose
Instructions
Triture as bolachas num liquidificador ou processador de alimentos até obter um pó. Adicione a manteiga e misture bem com as mãos. Coloque em 3 mini forminhas de tarte e coloque no congelador enquanto prepara o resto da receita.
Numa tigela bata os ovos com o açúcar durante 3-5 minutos. Adicione o sumo e as raspas de lima, misture e reserve.
Numa panela em lume muito brando, derreta a gelatina no leite, mexendo constantemente. Lentamente adicione os ovos e de seguida a maizena (também lentamente), sem parar de mexer até engrossar (5 a 10 minutos). Retire do lume e deixe arrefecer durante cerca de 10 minutos.
Abra os maracujás ao meio, retire a polpa com uma colher e adicione à preparação, incorporando bem.
Retire as bases do congelador e adicione a preparação anterior.
Coloque no frigorífico durante pelo menos 2 horas, polvilhe com raspas de lima e sirva.
You Might Also Like