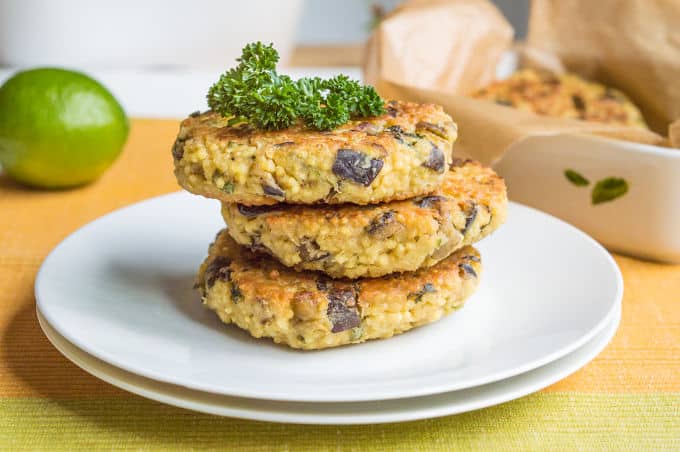 I love homemade veggie burgers! They are tasty, filling and easy to put together. You just need to watch out for the right quantities to be able to hold everything together into beautiful patties. Besides vegetarian, these burgers also happen to be gluten free, lactose free and low FODMAP.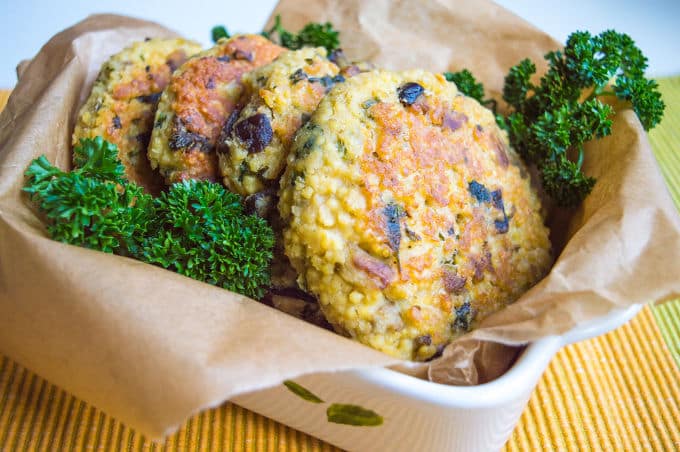 To make a veggie burger you normally need a generous quantity of beans or pulses such as black beans, lentils or chickpeas. We low FODMAPers have to watch out for these foods, as we are only allowed to eat a small portion of them. For this recipe I used a small amount of chickpeans and tried to balance it with the millet, that is a wonderful binder. To make the patties more flavourful, I added herbs, lime and cumin, giving them a fresh eastern mediterranean taste, where the eggplant is also queen!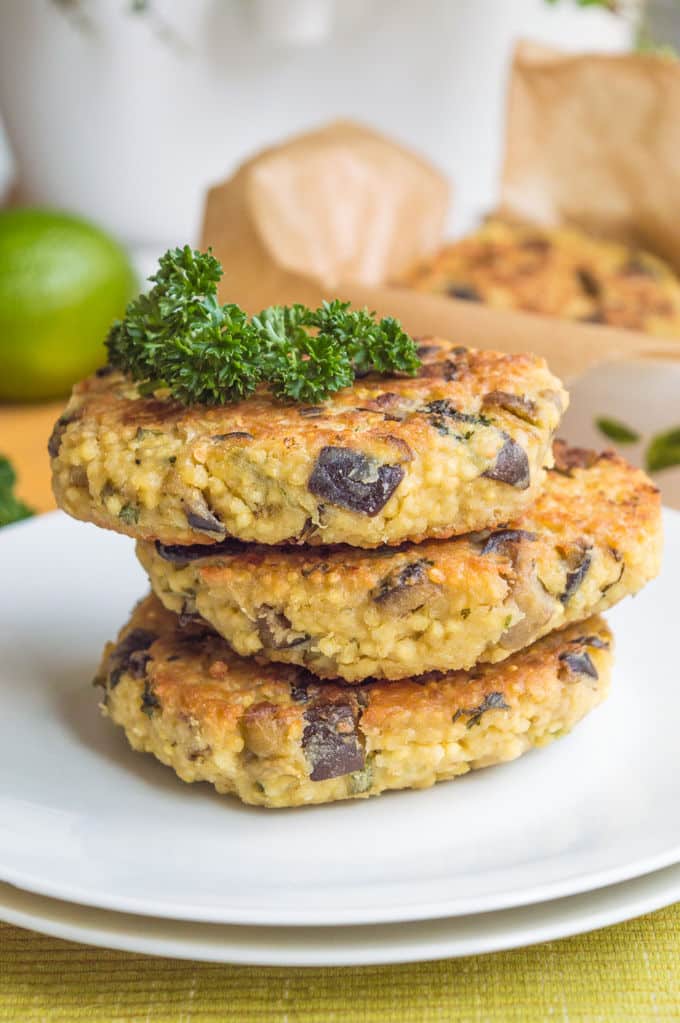 Eggplant and Herbed Millet Veggie Burgers
Ingredients
2 cup / 160 gr / 1 medium eggplant*, diced in small squares
4 tbsp olive oil + more to lightly fry
½ cup/ 84 gr canned chickpeas*
½ cup/ 90 gr millet grain
1 cup/ 200 ml water
Pinch of salt
½ cup/ 12 gr chopped fresh parsley
¼ cup/ 12 gr green onions (green tops only), chopped
1 tbsp fresh mint (optional)
Zest of ½ lime (or small lemon)
2 tbsp of lime juice (or lemon)
½ tsp cumin
½ tsp salt
Pinch of black pepper
1 egg
2 tbsp rice flour (or any other gf flour of your choice)
Instructions
Place the millet in a saucepan with boiling water and add the salt. Lower the heat, cover the pot and simmer until the millet is cooked, but still chewy (about 15 minutes). Stir with a fork, to loosen the grains and set aside.
In the meantime, heat a large non-stick pan over medium high heat with the olive oil, add the eggplant and cook until golden and tender, about 10 minutes.
In a large mixing bowl, combine millet with herbs, lime juice and zest, and pepper.
Add chickpeas to a food processor and process on pulse until ground. Transfer them to the large mixing bowl with the herbed millet. Add the cooked eggplant, salt, cumin, egg and flour and mix together with your hands until well combined.
Divide the mixture into 4 big patties.
Add enough olive oil to a pan to just coat the bottom (not a lot). Add the veggie burgers and cook until golden crust forms, about 5 to 6 minutes, then flip to the other side and cook until golden.
Serve as is or with a salad.
Notes
*Low FODMAP serving per meal:
Eggplant: ½ cup/ 40 gr
Chickpeas: ¼ cup/ 42 gr, canned

So it´s safe to eat one veggie burger
Recipe in Portuguese:
Hambúrgueres Vegetarianos de Beringela, Milho-Painço e Ervas
Ingredients
160 gr / 1 beringela média*, cortada em cubos pequenos
4 colheres de sopa de azeite + um pouco para fritar ligeiramente
84 gr de grão-de-bico enlatado*
½ copo / 90 gr milho-painço
1 copo / 200 ml de água
Pitada de sal
12 gr de salsa fresca picada
12 gr de cebolinho picado
1 colher de sopa de menta fresca (opcional)
Raspa de ½ lima (ou limão pequeno)
2 colheres de sopa de sumo de lima (ou limão)
½ colher de chá de cominhos
½ colher de chá de sal
Pitada de pimenta preta
1 ovo
2 colheres de sopa de farinha de arroz (ou qualquer outra farinha sem glúten à sua escolha)
Instructions
Coloque o milho-painço numa panela com água a ferver e adicione o sal. Reduza o lume, tampe a panela e deixe cozinhar até que o milho-painço esteja cozido (aproximadamente 15 minutos). Mexa com um garfo, para soltar os grãos e reserve.
Enquanto isso, aqueça o azeite numa frigideira grande anti-aderente em lume médio-alto, adicione a beringela e cozinhe até ficar dourada, cerca de 10 minutos.
Numa tigela grande, misture o milho-painço com as ervas aromáticas, a pimenta e o sumo e as raspas de lima.
Triture o grão-de-bico num processador de alimentos. Transfira para a tigela grande com o milho-painço e as ervas. Adicione a beringela, sal, cominhos, ovo e farinha e misture bem com as mãos até obter uma pasta homogénea.
Divida a mistura em 4 partes iguais e forme hambúrgeres com as mãos.
Adicione azeite suficiente para cobrir o fundo da frigideira (não muito). Adicione os hambúrgueres vegetarianos e cozinhe até obter uma crosta dourada, cerca de 5 a 6 minutos. De seguida, vire e deixe cozinhar o outro lado até dourar.
Sirva simples ou com uma salada.
Notes
* Quantidades recomendadas por refeição na dieta low FODMAP:
Beringela: 40 gr
Grão-de-bico: 42 gr, enlatado

Então é seguro comer um hambúrguer vegetariano
You Might Also Like