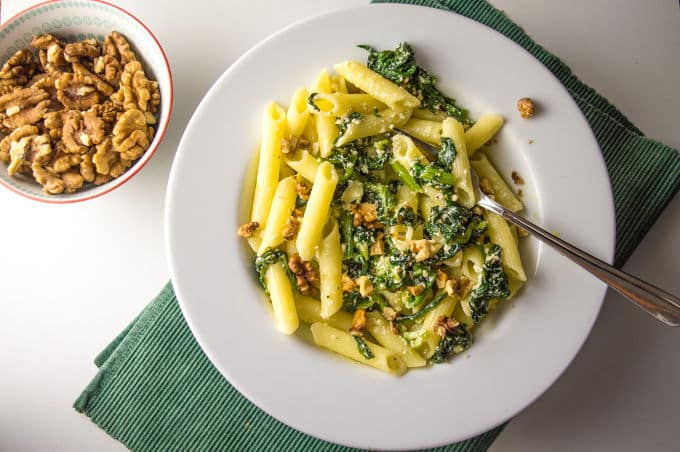 Check out this creamy spinach, ricotta and walnut pasta (without the cream). Make yourself this healthy and tasty low FODMAP dish in less than 15 minutes!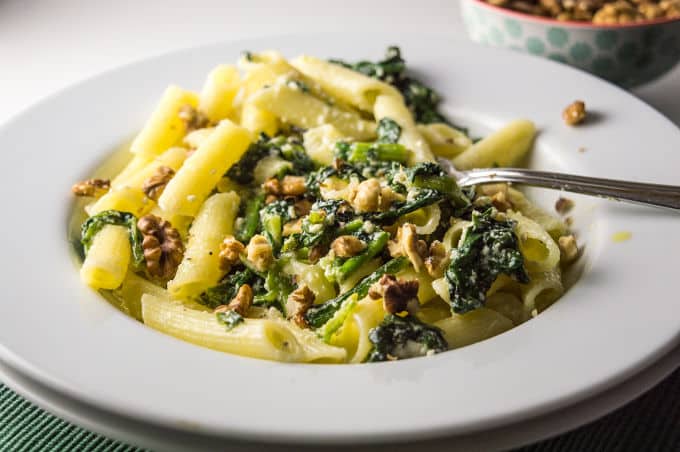 This is definitely one of my favorite pasta dishes and it's quite versatile too. You can use any kind of pasta you like – I normally use penne or spaghetti. Use mozarella instead of ricotta (also low FODMAP and both alternatives are lower in fat than cream); pine nuts instead of walnuts (they are low FODMAP too but a bit more expensive) and you could even try swiss chard, similar to spinach in flavor and texture; it will certainly bring diversity to your plate. And if you're curious to try this hearty green, take a look at this recipe.
But let's get back to our creamy pasta without the cream 😉 There is no big secret behind it, except using one big skillet to sautee the spinach and well mix all the ingredient/ flavors before serving. Believe it or not, with this little trick, you'll have a delicious and creamy pasta dish in less than 15 minutes! And did I mention it is quite healthy too? 😉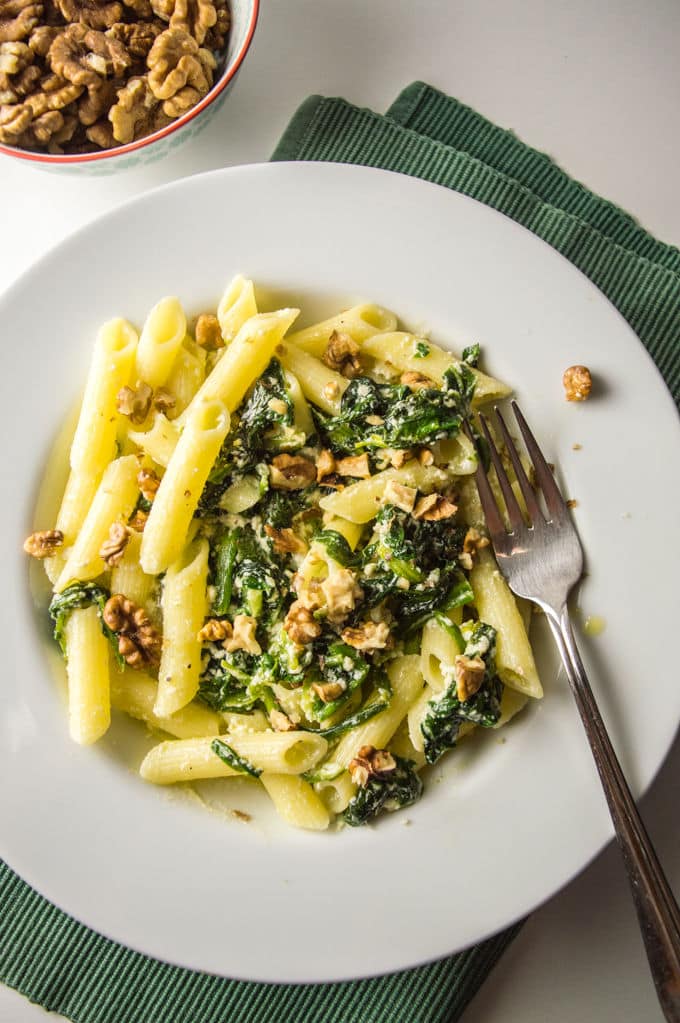 Creamy Pasta with sautéed Spinach, Ricotta and Walnuts
Gluten free pasta with sauteed spinach + ricotta and walnuts. Make yourself this healthy and tasty take-to-work low FODMAP lunch in less than 15 minutes!
Ingredients
7 oz./ 200 gr. gluten-free penne (or any other GF pasta of your choice)
2 cups/ 75 gr. spinach, washed and drained
3 tbsp garlic infused oil (or olive oil+a garlic clove)
4 tbsp/ 80 gr. ricotta cheese
Salt
Black pepper
10/ 60 gr. walnuts, roughly chopped
Instructions
Cook the pasta according to package instruction, drain and set aside.
If you don't have garlic infused oil, heat the olive oil with the garlic clove in a big skillet over medium–high heat. Remove the garlic clove, add the spinach and sauté for 5 minutes or until spinach has wilted.
Add in the cooked pasta and ricotta and quickly give everything a big stir (to avoid overcooking the pasta). Season generously with salt and pepper. Toss well and serve with walnuts on top.
Notes
Low FODMAP safe servings:
- 2 tbsp/ 40 gr. ricotta cheese
- 1 cup/ 38 gr. spinach
- 5 nuts/ 30 gr. walnuts

So you can safely eat half of this pasta dish!
Recipe in Portuguese:
Massa Cremosa com Espinafres Salteados, Ricota e Nozes
Ingredients
200 gr. de massa penne sem glúten (ou qualquer outra massa sem glúten à sua escolha)
2 xícaras / 75 gr. de espinafres, lavados e escorridos
3 colheres de sopa de azeite aromatizado com alho (ou azeite + um dente de alho)
4 colheres de sopa/ 80 gr. de queijo ricota
Sal
Pimenta preta
10/ 60 gr. de nozes, partidas em pedaços grandes
Instructions
Coza a massa seguindo as instruções da embalagem, escorra e reserve.
Se não tiver azeite aromatizado, aqueça o azeite juntamente com o dente de alho numa grande frigideira em lume médio-alto. Retirar o dente de alho, adicione os espinafres e refogue durante 5 minutos ou até que as folhas de espinafres reduzam de tamanho.
Adicione a massa cozida e a ricota e envolva tudo rapidamente para não cozer demasiado a massa. Tempere generosamente com sal e pimenta. Misture bem e sirva com nozes no topo.
Notes
Porções seguras na dieta low FODMAP:
- 2 colheres de sopa/ 40 gr. de queijo ricota
- 1 xícara/ 38 gr. de espinafres
- 5/ 30 gr. nozes

Pode então comer até metade deste prato de massa!
You Might Also Like