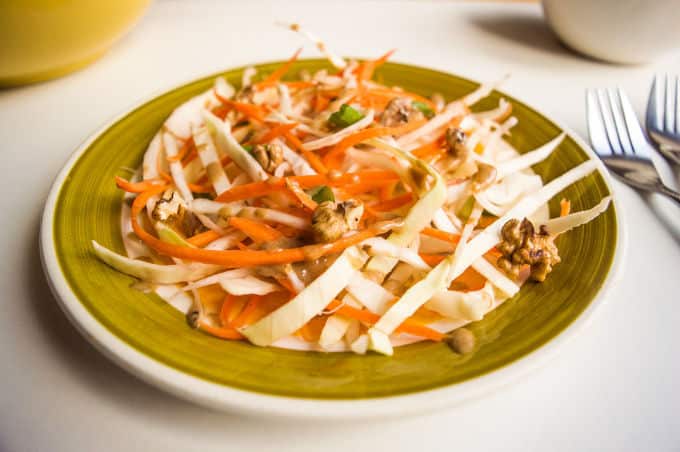 The other day I got a lovely organic basket with some seasonal veggies, among which a huge cabbage. I confess I was less excited with it because the only use I could see for it was in soups. Oh how I was wrong…
After making my cabbage soup, I searched online for some inspiration and came accross a recipe for coleslaw. It looked yummy, with the advantage it could last for up to a month!! A month?!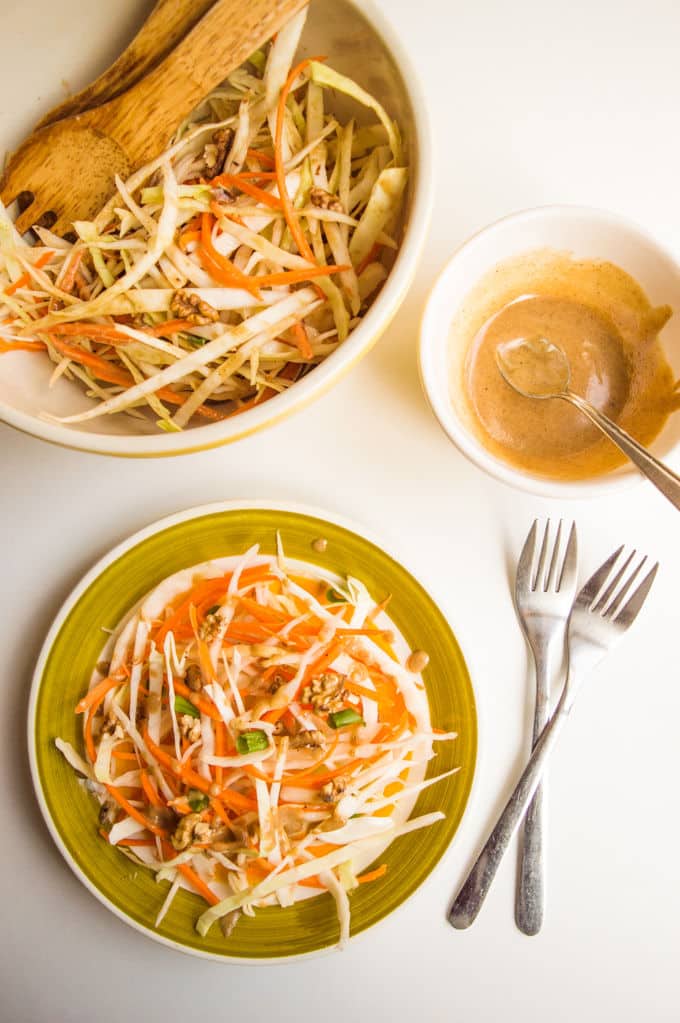 Indeed! Coleslaw is a salad consisting primarily of finely-shredded raw cabbage and dressed most commonly with a vinaigrette salad dressing. Prepared in this manner, coleslaw can be pickled for up to four weeks if it is stored in an airtight container.
You can easily create a cole slaw by adding simple ingredients such as carrots, green onions and walnuts, coated with a three parts oil, one part vinegar vinaigrette, like this nutty flavored tahini dressing. Besides giving the salad an interesting twist in flavor and preserving it longer, the fermentation process of pickling with a simple vinaigrette is very good for your digestive health because it creates good bacteria and vitamine B!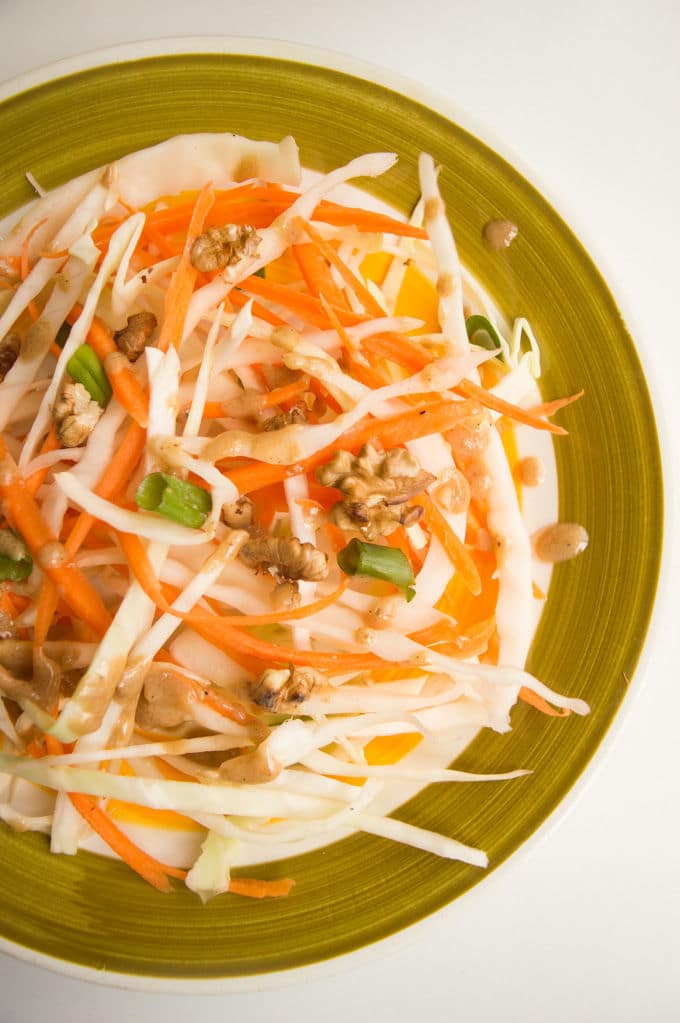 This coleslaw is a simple and flavorful side dish perfect for a light and healthy meal. Enjoy 🙂

Coleslaw with Toasted Walnuts and Tahini Vinaigrette
Ingredients
1 cup (94g) cabbage, finely sliced
1 medium carrot, julienned (you can use a julienne peeler, a mandoline or a sharp knife)
3 small scallions (green parts only) sliced
¼ cup walnuts, roughly chopped
For the Tahini Vinaigrette
3 tablespoons extra virgin olive oil
1 tablespoon apple cider vinegar
1 tablespoon tahini
Pinch of salt
Pinch of black pepper
Instructions
In a medium pan over medium heat, toast the walnuts stirring frequently, until fragrant and set aside.
In a large bowl toss cabbage, carrots and scallions.
Add toasted walnuts and toss gently until well combined.
Season and coat with...
Tahini Vinaigrette
Combine all the vinaigrette ingredients and whisking until smooth.
Taste and adjust seasonings if needed.
Notes
Low FODMAP diet: one cup of cabbage and one medium carrot are the recommended servings.
 Recipe in Portuguese:
Salada de Repolho com Nozes Tostadas e Vinagrete de Sésamo
Ingredients
1 xícara (94g) de repolho, cortado às fatias finas
1 cenoura média, cortada em juliana
3 cebolinhas pequenas (apenas a parte verde) cortadas
¼ xícara de nozes, picadas grosseiramente
Para o Vinagrete de Pasta de Sésamo
3 colheres de sopa de azeite extra-virgem
1 colher de sopa de vinagre de maçã
1 colher de sopa de pasta de sésamo (tahini)
Pitada de sal
Pitada de pimenta preta
Instructions
Numa frigideira média em lume brando, adicione as nozes mexendo sempre até sentir um odor perfumado e reserve.
Numa tigela grande misture o repolho, a cenoura e a cebolinha.
Adicione as nozes tostadas e misture delicadamente.
Tempere e envolva com ...
Vinagrete de Pasta de Sésamo
Numa tigela pequena, adicione todos os ingredientes do vinagrete e misture bem até obter uma consistência homogénea.
Prove e ajuste os temperos, se necessário.
Notes
Dieta com baixo teor de FODMAPs: uma xícara de couve e uma cenoura média são as porções recomendadas.
You Might Also Like