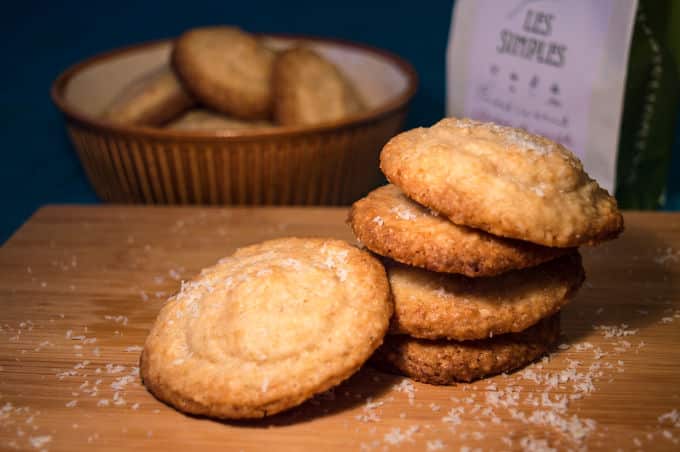 It´s cookie time! First gluten free, dairy free, egg free, low FODMAP cookies ever!
The cookie monster in me is delighted and has been spreading crumbs all over the house 🙂
This recipe is a cross between a shortbread cookie and a coconut macaroon. It is not a shortbread cookie because the recipe has no butter, and shortbread is a type of biscuit traditionally made from one part sugar, two parts butter, and three parts flour. I´ve used coconut oil instead. It is not a macaroon because there are no eggs, particularly egg whites, the key ingredient in a macaroon recipe. For consistency, I´ve added a "flax egg" (see recipe for details).
BUT it is nevertheless chewy, delicious and bursting with coconut and lemon flavors.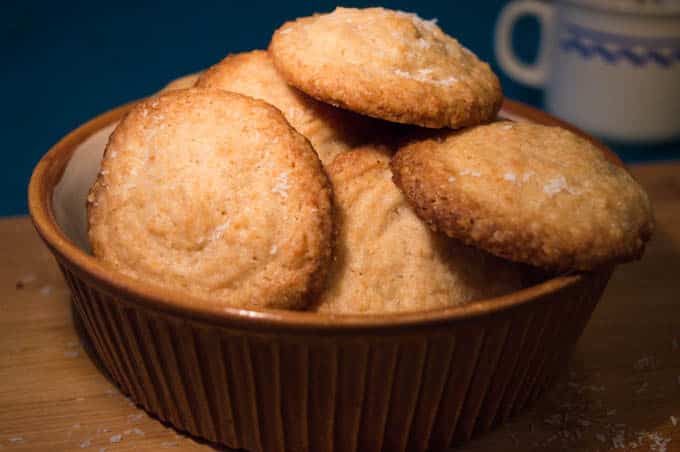 I suggest accompaning them with one of my favourite teas: the zesty and bright Twinings Lady Grey Tea.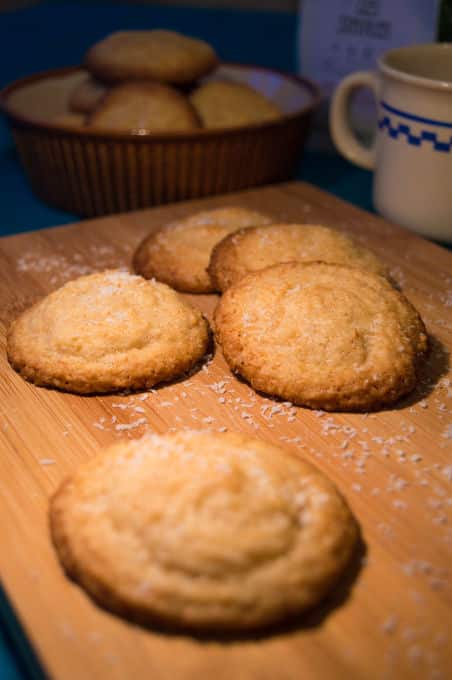 Coconut and Lemon Cookies (gluten, dairy and egg free!)
Ingredients
1 flax egg (1 tbsp flaxseeds + 3 tbsp warm water) OR 1 egg (if tolerated)
4 tbsp extra virgin coconut oil
½ cup/ 115 gr. sugar
1 tsp vanilla extract
2 tbsp lemon juice
2 tsp lemon zest
½ cup/ 70 gr. rice flour
½ cup/ 75 gr. tapioca flour
½ teaspoon salt
½ cup/ 37 gr. shredded unsweetened dried coconut
Instructions
Preheat the oven to 180ºC/350ºF and line a small baking sheet with parchment paper.
For the "flax egg", combine flaxseeds and warm water, allow to sit for about 5 minutes and mix in the blender. Set aside.
Beat the coconut oil and sugar for about 5 minutes.
Add the "flax egg" (or egg, if tolerant), vanilla extract, lemon zest and juice.
Weigh the flour, tapioca and salt into another bowl, add it to the mixture and blend thoroughly.
Add the shredded coconut and stir until evenly moistened.
Spoon the dough into a piping bag fitted with a piping tip. Pipe the cookies, evenly spacing them onto the baking sheet.
Bake until golden, 15-20 minutes
Let the cookies cool on the tray for 10 minutes before eating or storing in an airtight container.
Notes
Low FODMAP diet: According to Monash University, the recommended quantity of shredded coconut is ¼ cup and this recipe calls for ½ cup, so it´s advisable not to eat more than seven cookies. 😉
 Recipe in Portuguese:
Bolachas de Coco e Limão (sem glúten, sem produtos lácteos e sem ovos!)
Ingredients
1 ovo de linhaça (1 colher de sopa de sementes de linhaça + 3 colheres de sopa de água morna) OU 1 ovo (se tolerante)
4 colheres de sopa de óleo de coco extra virgem
½ xícara/ 115 gr. de açúcar
1 colher de chá de essência de baunilha
2 colheres de sopa de sumo de limão
2 colheres de chá de raspas de limão
½ xícara/ 70 gr. de farinha de arroz
½ xícara/ 75 gr. de polvilho doce ou azedo
½ colher de chá de sal
½ xícara/ 37 gr. de coco ralado
Instructions
Pré-aqueça o forno a 180ºC / 350ºF e cubra um tabuleiro de ir ao forno com papel manteiga.
Para o "ovo de linhaça", misture as sementes de linhaça com a água morna, deixe repousar durante cerca de 5 minutos e misture no liquidificador. Reserve.
Bata o óleo de coco e açúcar durante cerca de 5 minutos.
Adicione o "ovo de linhaça" (ou ovo, se tolerante), a essência de baunilha, as raspas e o sumo de limão.
Noutra tijela misture a farinha, o polvilho e o e sal, e adicione ao preparado anterior, misturando bem.
Adicione o coco ralado e mexa até bem incorporado.
Coloque a massa num saco de pasteleiro com uma ponta em forma de estrela. Crie os biscoitos e coloque-os no tabuleiro, deixando algum espaço entre eles.
Leve ao forno durante 15-20 minutos, até dourar.
Deixe arrefecer os biscoitos no tabuleiro durante 10 minutos e guarde num recipiente hermético.
Notes
Dieta low FODMAP: De acordo com a Universidade de Monash, a quantidade recomendada de coco ralado é de ¼ de xícara e esta receita utiliza ½ xícara, por isso é aconselhável não comer mais do que sete biscoitos 😉
You Might Also Like