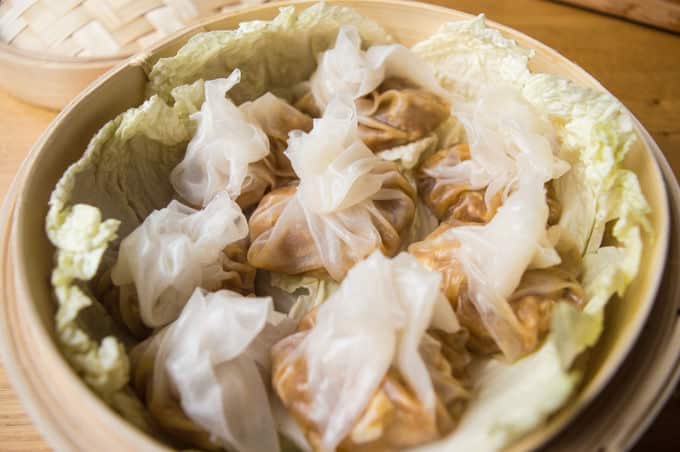 Happy Chinese New Year!
And to celebrate it, I´ve come up with a gluten free version of these lovely chinese raviolis. They are stuffed with shrimp and chinese cabbage, gently steamed in a bamboo basket and served with a special soy-sesame sauce.
Sound complicated? Naaa… and I´ve even added step-by-step pictures for encouragement 😉
Shrimp dumpling or har gow is one of the most famous dim sum dishes, a style of Chinese food prepared as small bite-sized dumplings and traditionally served in small steamer baskets.
The filling is a balance of two flavors: the shrimp and the chinese napa cabbage with a special seasoning that includes fresh ginger, gluten free soy sauce, rice vinegar and sesame oil.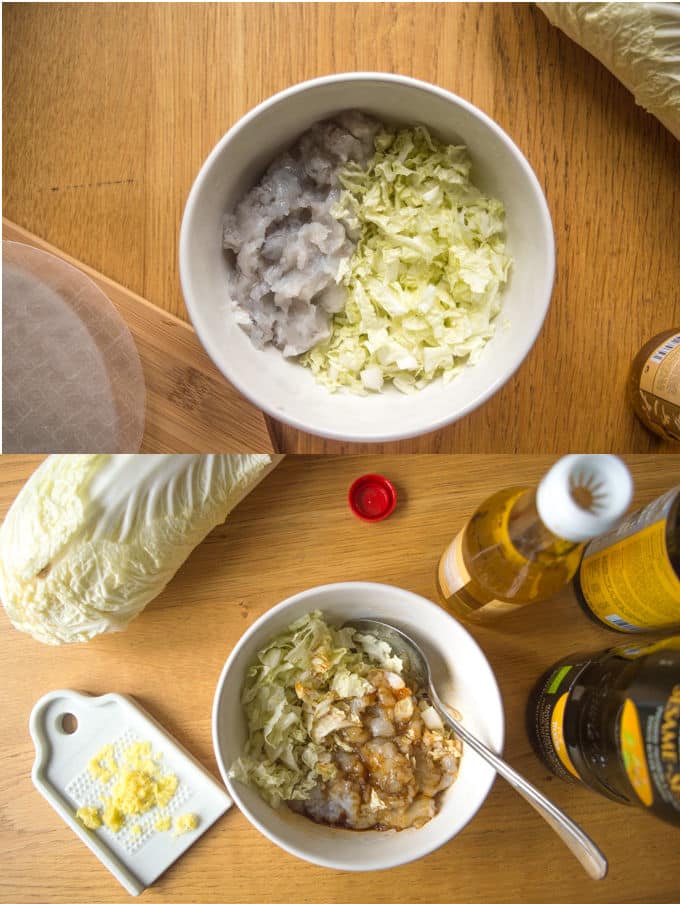 Shrimp dumplings are one of the trickier variants of Chinese dumplings to prepare, due to their thin and translucent skin, which is achieved by using a combination of wheat and tapioca flour to enhance the aesthetic appeal of the dish. It´s also possible to make gluten free wrappers with a special rice flour instead of wheat but luckily was not able to find it.

I say luckily because the process is quite challeging and leads to several technical difficulties during preparation. So I´ve solved the problem by using mini Vietnamese rice paper rolls: a thin and translucent rice-based dumpling wrapper that is delicate enough to be tender, but sturdy enough to hold a nice amount of filling. Hoorah! It worked!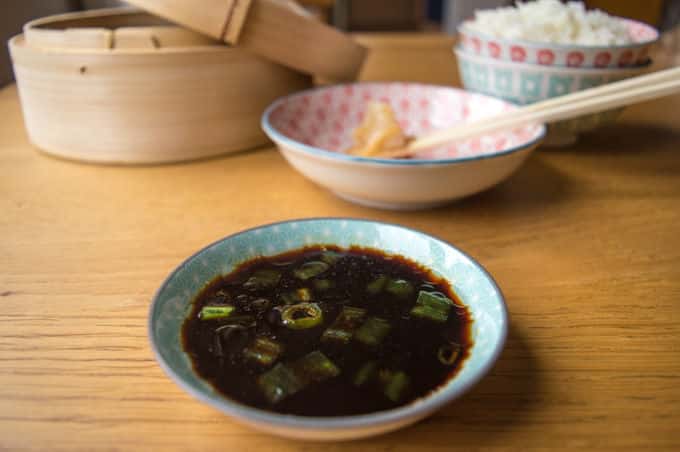 This simple sauce with traditional Chinese ingredients such as soy sauce, sesame oil, rice vinegar and green onions is the perfect dumpling dip.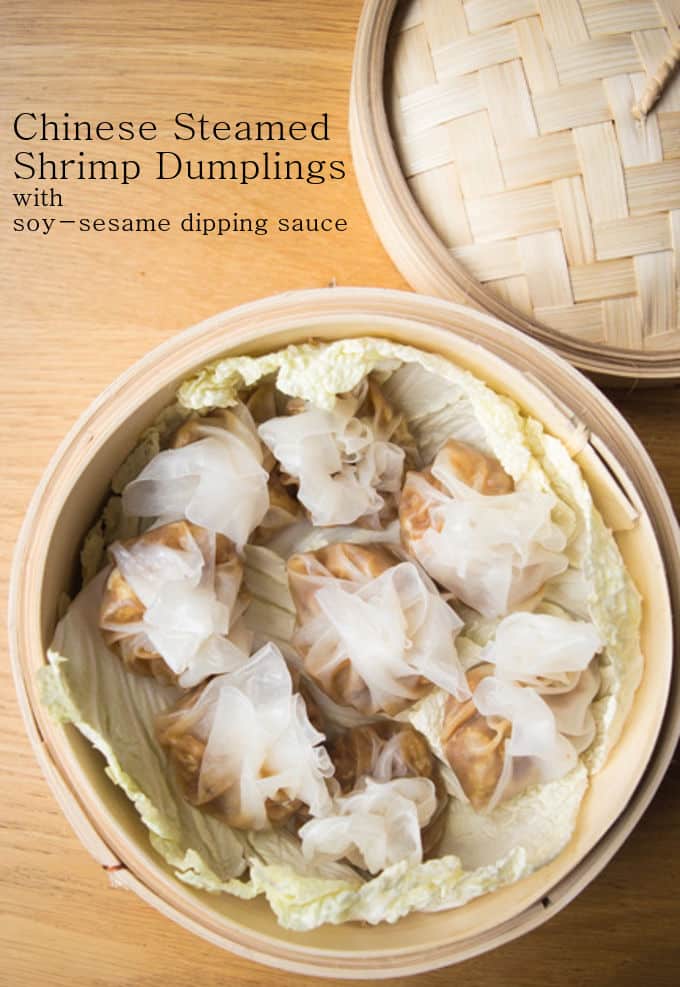 One final tip to avoid that the dumplings stick to the bamboo steamer is to place them in a bed of napa cabbage leaves. I suggest you eat them as well, accompanied by a fragrant white long rice such as Basmati.

Chinese Steamed Shrimp Dumplings (gluten free)
Ingredients
5.5oz /150gr uncooked shrimp, peeled and chopped
4 napa cabbage leaves, 2 of them thinly sliced
1 tbsp fresh minced ginger
1 tbsp gluten free soy sauce or tamari sauce
1 tbsp rice vinegar
1 tbsp extra virgin sesame oil
Pinch of salt
A packet of small rice paper wrappers approx 2,5 inch/6,5 cm in diameter
Soy-Sesame Dipping Sauce
2 tbsp gluten free soy sauce or tamari sauce
1 tbsp rice vinegar
1 tbsp extra virgin sesame oil
1 tbsp green onions (green tops only), chopped
Instructions
Finely chop the shrimp or use a meat grinder if you have one.
In a small bowl place the minced shrimp, sliced cabbage, ginger, soy sauce, rice vinegar, sesame oil, and salt. Mix gently until well incorporated.
Dip a rice paper wrapper in a bowl of hot/warm water till soft. Gently shake off excess water and place the wet wrapper on a clean, dry surface.
Place about 2 teaspoons of filling in the center of the wrapper.
Gather the rice paper around the dumpling mix and twist the top of the dumpling to make a money bag shape.
Repeat with the remaining rice wrappers and filling until all the dumplings have been made.
Arrange them on a bamboo steamer (or any other steamer) lined with the remaining cabbage leaves. Make sure that the dumplings do not touch, or they will stick when cooked.
Place the steamer on top of a pot or deep fry pan of boiling water and steam for 5 minutes. It´s easy to tell when they are cooked: the shrimp filling will turn pink.
Serve with…
Soy-Sesame Dipping Sauce
Mix the above ingredients and serve.
Notes
Low FODMAP diet: even if well tolerated by many, the chinese napa cabbage hasn´t bee tested yet so, if you prefer, you can substitute it for bok shoy (another chinese cabbage and tested as lowFODMAP).
 Recipe in Portuguese:
Raviolis Chineses de Camarão ao Vapor (sem glúten)
Ingredients
150gr/5,5 oz de camarão cru, descascado e picado
4 folhas de couve chinesa, 2 delas cortadas em fatias finas
1 colher de sopa de gengibre fresco picado
1 colher de sopa de molho de soja sem glúten ou tamari
1 colher de sopa de vinagre de arroz
1 colher de sopa de óleo de sésamo (ou gergelim) extra virgem
Uma pitada de sal
Um pacote de papel de arroz pequeno de aproximadamente 6,5 cm / 2,5 polegadas de diâmetro
Molho de Soja e Sésamo
2 colheres de sopa de molho de soja sem glúten ou tamari
1 colher de sopa de vinagre de arroz
1 colher de sopa de óleo de sésamo extra virgem
1 colher de sopa de cebolinho picado (apenas a parte verde)
Instructions
Pique o camarão com uma faca ou use uma picadora de carne, se tiver.
Numa tigela pequena coloque o camarão picado, couve fatiada, gengibre, molho de soja, vinagre de arroz, óleo de sésamo e sal. Misture delicadamente até ficar tudo bem incorporado.
Mergulhe uma folha de papel de arroz numa tigela com água morna/quente até que esta fique macia. Retire delicadamente o excesso de água e coloque a folha numa superfície limpa e seca.
Coloque cerca de 2 colheres de chá de recheio no centro do papel de arroz.
Feche o papel de arroz pelo recheio e torça o topo do ravioli até obter a forma de um saco de dinheiro.
Repita com as restantes folhas de arroz e recheie até que todos os raviolis estejam feitos.
Coloque-os numa panela de bambu (ou qualquer outra panela para cozinhar a vapor) coberta com as restantes folhas de couve chinesa. Certifique-se de que os raviolis não se tocam pois poderão ficar colados uns aos outros durante a cozedura.
Coloque a panela de bambu em cima de uma panela com água a ferver durante 5 minutos. Os raviolis estarão cozidos quando o recheio de camarão fica cor-de-rosa.
Sirva com ...
Molho de Soja e Sésamo
Misture todos os ingredientes indicados em cima e sirva.
Notes
Dieta low-FODMAP: mesmo que bem tolerada por muitos, a couve chinesa ainda não foi testada e por isso, se preferir, pode substituí-la por acelga chinesa (outra couve chinesa e testado como sendo low-FODMAP).
You Might Also Like