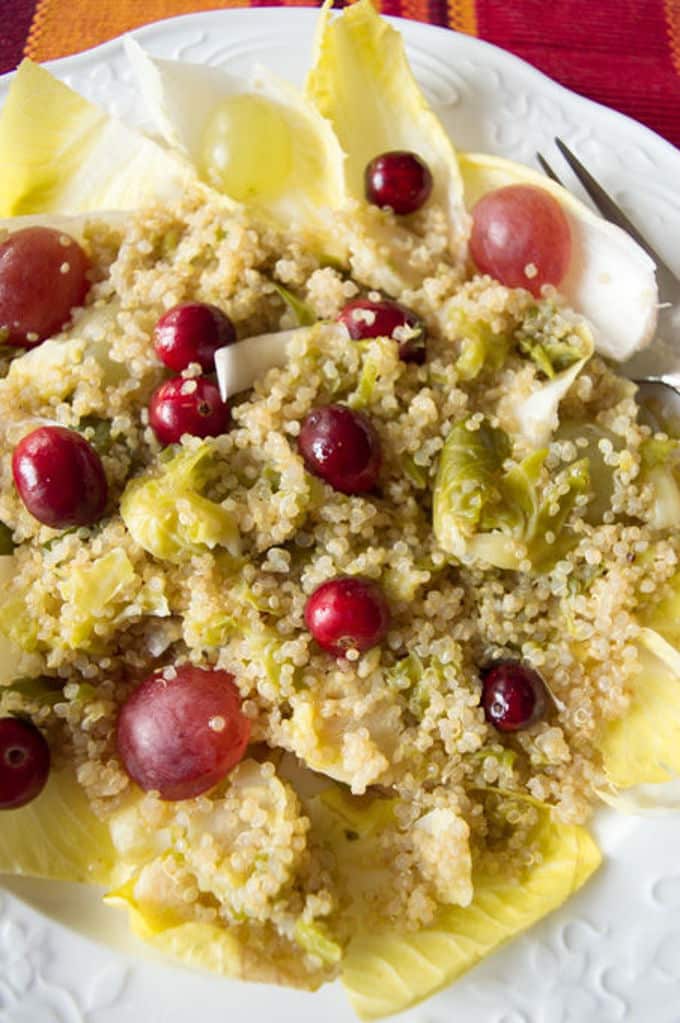 What my world needs now is this pleasantly bitter and slightly sweet warm winter salad. And this almost looks like a tribute post to the city and country I live in! Not all places are lucky enough to have two veggies named after them! Try to guess which ones…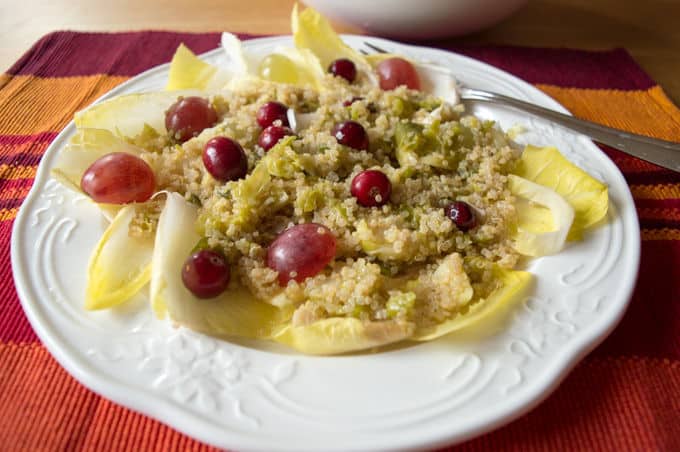 Belgian endives and brussel sprouts – yeah, you´ve guessed 😉 – became my winter´s king and queen veggies, so I wanted to create a warm dish where their similar flavours would combine and complement each other.
I started by cooking quinoa with a handful of brussel sprouts. Then I tossed in a couple of belgian endives, cranberries and grapes and dressed it all with a flavorful walnut vinaigrette. Soooo easy 😉
The result is this vibrant, warm and tasteful salad that you can prepare in less than half an hour. It is perfect for cold winter days like today.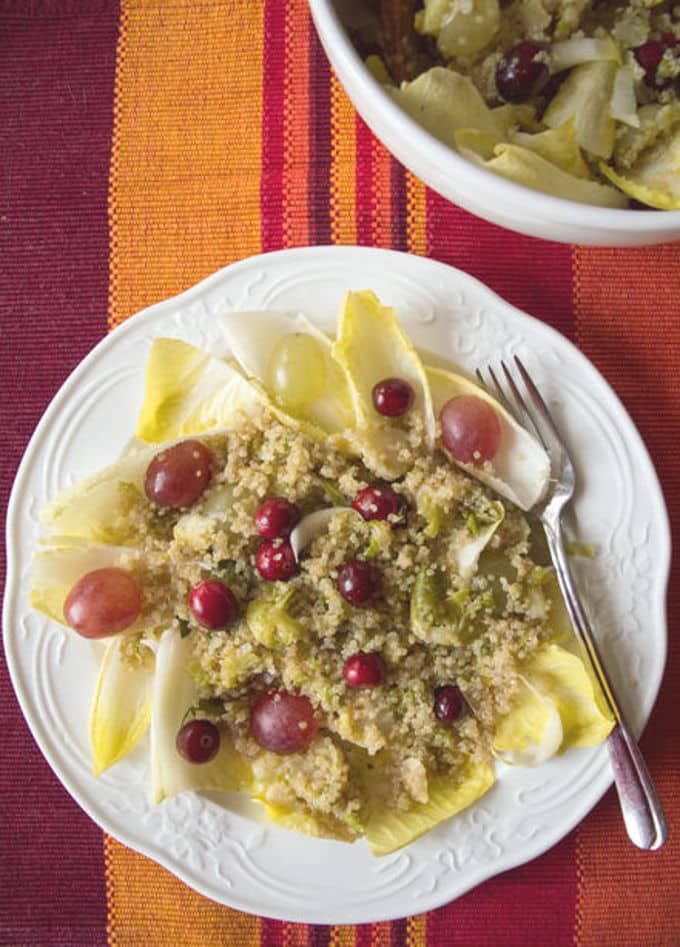 Warm Belgian Endive Winter Salad
Ingredients
For the salad
1 cup quinoa
2 cup water
pinch of salt
a handful brussels sprouts, sliced into skinny strips
2 to 3 belgian endives
a handful red grapes, halved
a handful white grapes, halved
a handful cranberries

For the vinaigrette
3 tbsp walnut virgin oil (or extra virgin olive oil)
1 tbsp apple vinegar
big pinch nutmeg
pinch of fine grain sea salt
Freshly ground pepper, to taste
Instructions
Bring the water to the boil and add the quinoa and a pinch of salt. Cook for 10 minutes.
Add the brussel sprouts and reduce heat to low.
When water is gone, turn off the heat, fluff the quinoa and sprouts with a fork, and let simmer for another 10 minutes.
Slice off the stem end of the endives, cut a cone shape deep from the stem end and gently separate the leaves.
In a big salad bowl toss the quinoa, brussels sprouts, belgian endives, grapes and cranberries.
In a small bowl, whisk the vinaigrette ingredients together until well mixed. Pour the dressing over the salad and mix well.
Serve immediately while still warm.
You Might Also Like