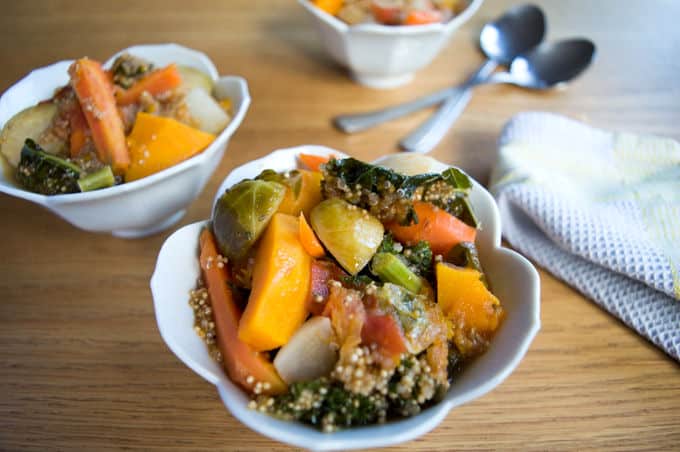 Warm and inviting, a ragout can be greatly appreciated on cold evenings. I suppose this is why this hearty French style stew was my first winter craving.
This colorful one-pot meal with winter veggies represents comfort food at its healthiest and makes the perfect home-style dinner. Vegan, gluten-free and low FODMAP!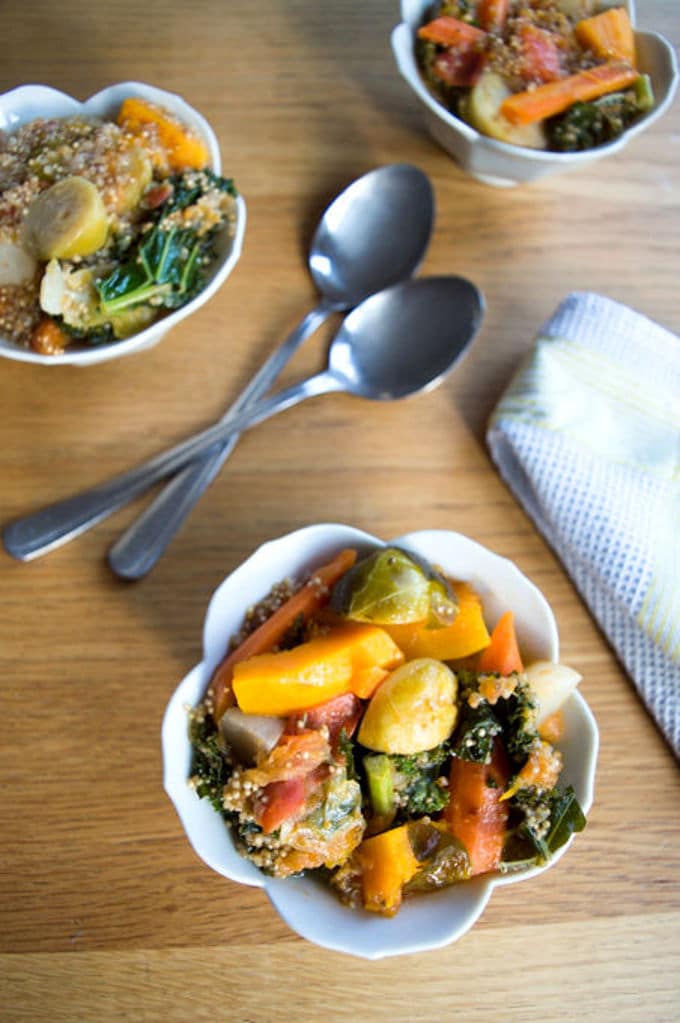 But what is ragout? We could say a ragout is a french style slow-cooked stew made with love. Ragout is French for stew but the French make their ragouts slowly and with extraordinary care. The slow cooking allows flavors to develop over time, creating a richly layered flavor and a particularly refined dish. There are also two important cooking nuances that make all the difference: first it should never boil, but simmer, and secondly, the herbs (normally bay leaf, thyme and rosemary) should be packed in a little blundle called bouquet garni and removed before serving.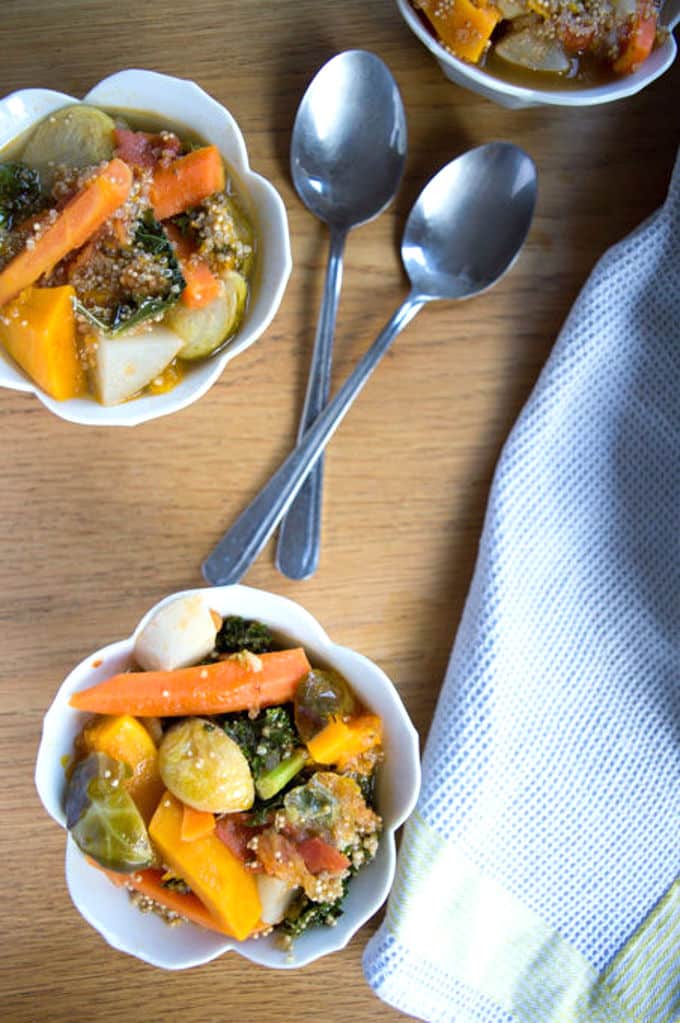 For this recipe I chose some root vegetables like carrots and turnip, complemented with brussels sprouts and pumpkin, all cooked in a classic tomato sauce. I finally added kale and quinoa for a filling meatless meal.
Tip 1: Seasonal, organic ingredients will definitelly enhance the stew´s flavors.
Tip 2: I suggest pairing with a bottle of good French red wine like Merlot.
Bon appétit!

Winter Vegetables Ragout with Kale and Quinoa
Ingredients
3 tbsp olive oil
1 garlic clove
3 medium tomatoes, coarsely chopped
1 cup of water (or ½ cup white wine and ½ cup water)
Bundle of herbs/bouquet garni: 1 bay leaf, 2 thyme sprigs and 1 rosemary sprig, all tied together with a string
2 medium carrots, julienned
1 turnip, diced
1 handful brussels sprouts (4), halved
1 cup pumpkin, diced
Pinch of salt
1 cup water
1 cup green kale, sliced
1 cup quinoa
Instructions
Heat the olive oil with the garlic clove in a large deep pan over medium–high heat. Remove the garlic clove and reduce heat to medium.
Add the tomatoes and let them cook for 15 minutes or until they turn into a thick sauce.
Add water, wine (optional) and the bundle of herbs and bring to a boil.
Sprinkle with salt and add the carrots, turnip, sprouts and pumpkin. Reduce heat to mininum.
Simmer for 40 minutes or until vegetables are tender yet crisp (prick them with a knife).
Finally add more water, kale and quinoa and cook over medium-low heat for approximately 20 minutes.
Remove the bundle, salt to taste and serve.
Notes
Low FODMAP diet: recommended dose of pumpkin is ½ cup, of carrots is 1 medium and of brussels sprouts 2, so you can eat up to half of the stew without any problem.
 Recipe in Portuguese:
Ragout de Legumes de Inverno com Couve e Quinoa
Ingredients
3 colheres de sopa de azeite
1 dente de alho
3 tomates médios, picados
1 xícara de água (ou ½ xícara de vinho branco e ½ xícara de água)
Molho de ervas / bouquet garni: 1 folha de louro, 2 raminhos de tomilho e 1 raminho de alecrim, tudo amarrado com uma corda
2 cenouras médias, cortadas em juliana
1 nabo, cortado em cubos
1 mão cheia de couves de bruxelas (4), cortadas ao meio
1 xícara de abóbora, cortada em cubos
Uma pitada de sal
1 xícara de água
1 xícara de couve frisada, cortada em pedaços grandes
1 xícara de quinoa
Instructions
Aqueça o azeite com o dente de alho numa panela em lume médio-alto. Retire o dente de alho e reduza o lume para médio.
Adicione o tomate e deixe cozinhar durante 15 minutos ou até obter um molho espesso.
Adicione a água, o vinho (opcional) e o molho de ervas e deixe ferver.
Adicione o sal, cenoura, nabo, couve e abóbora.
Cozinhe em lume muito brando durante 40 minutos ou até que os vegetais estejam quase cozinhados (picar com uma faca).
Por fim, adicione mais água, couve e quinoa e cozinhe em fogo médio-baixo durante aproximadamente 20 minutos.
Remova as ervas, rectifique o sal e sirva.
Notes
Dieta baixa em FODMAPs: a dose recomendada de abóbora é de ½ xícara, de cenouras, 1 média e de couves de bruxelas, 2 o que significa que pode comer até metade do ragout sem qualquer problema.
You Might Also Like