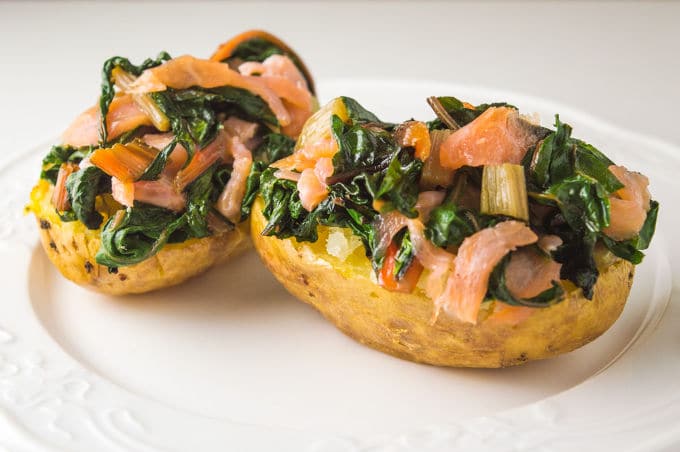 Loaded potatoes are very easy to make and quite filling but are normally topped with fatty and cheesy ingredients that make them a little bit too heavy for my taste and difficult to digest. Now, if you go for this version, you´ll get a healthy and nutricious dish, that will impress you and your guests.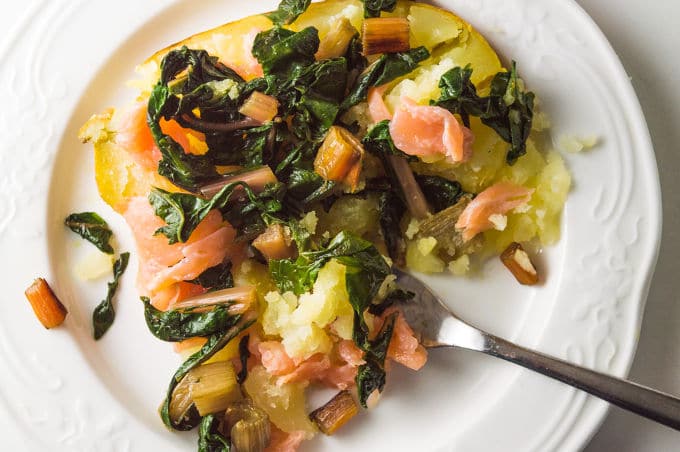 Loaded potatoes are basically baked potatoes with skin and any kind will do. After baking you simply cut them in half, purée a bit the inside with a fork and top with sautéed veggies and marinated smoked salmon. How simple is that?
For this recipe I used one of my favorite leafy greens – swiss chard – because you can cook the stalks as well and they are delicious!! You can also use spinach but you won´t get the nice crispy but yet tender texture of the swiss chard stems. If you haven´t eaten them yet, this is a good time to start, as these veggies are an unique source of nutrients, providing antioxidant, anti-inflammatory and detoxification support to your body. Simple, filling, healthy and low FODMAP 🙂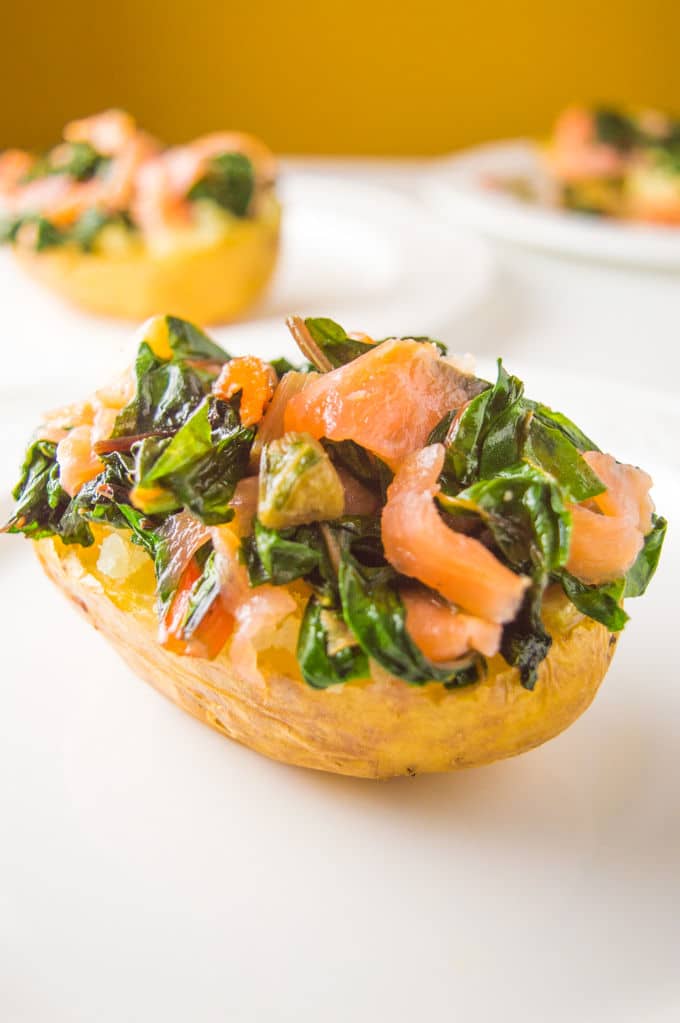 Salmon and Swiss Chard Loaded Potatoes
Ingredients
2 big potatoes
2 tbsp olive oil + more to rub the potatoes
1 cup/ 115 gr. swiss chard with stalks
Pinch of salt
Pinch of black pepper
7 oz./ 200 gr. smoked salmon
Juice of 1 small lemon
Instructions
Preheat the oven to 400º F/ 200ºC.
Scrub the potatoes, pierce a few times with a fork, and rub with olive oil. Place in a baking tray and bake for 30 to 45 minutes.
In the meantime, season the smoked salmon with lemon juice and set aside to marinate.
Wash the swiss chard, separate the stalks from the leaves and chop them, keeping them separated.
In a pan, heat oil over medium-high heat. Add stalks, and cook until beginning to soften, about 4 minutes. Add leaves, reduce heat to medium-low, and cook until tender, 6 to 10 minutes, stirring occasionally. Season with salt and pepper.
When potatoes are baked (they should be soft when you prick with a knife), remove them from the oven and carefully slice in half. Gently purée the insides with a fork and top with the sautéed chard and the marinated smoked salmon.
Recipe in Portuguese:
Batatas Recheadas com Salmão e Acelga
Ingredients
2 batatas grandes
2 colheres de sopa de azeite + mais para esfregar as batatas
115 gr. acelga com talos
Pitada de sal
Pitada de pimenta preta
200 gr. salmão fumado
Sumo de 1 limão pequeno
Instructions
Pré-aqueça o forno a 200ºC.
Esfregue as batatas, perfure algumas vezes com um garfo e esfregue com azeite. Coloque num tabuleiro e leve ao forno durante 30 a 45 minutos.
Entretanto, tempere o salmão fumado com sumo de limão e deixe marinar.
Lave a acelga, separe os talos das folhas e corte, mantendo-os separados.
Numa frigideira, aqueça o azeite em lume fogo médio-alto. Adicione os talos, e deixe saltear durante cerca de 4 minutos ou até amolecerem. Adicione as folhas, reduza o lume para médio-brando e cozinhe até ficarem macias - 6 a 10 minutos - mexendo ocasionalmente. Tempere com sal e pimenta.
Quando as batatas estiverem cozidas (quando picar com uma faca e esta deslizar), retire-as do forno e corte ao meio cuidadosamente. Migue ligeiramente o interior das batatas com um garfo e adicione as acelgas salteadas e o salmão fumado.
You Might Also Like