This mediterranean fish stew is a traditional fisherman´s recipe, that came in handy when there was unsold leftover fish. From Greece to Portugal, this is a classic mediterranean recipe and has many names. In Portugal we call it Caldeirada, in France, Bouillabaisse and at my place we called it spanish potatoes (!). This last one is actually a variation with codfish (bacalhau), also very popular and equally delicious.
Definitely one of my favourite fish recipes. Easy, tasty, versatile and nourishing. I call it my personal detox food as it is so comforting but at the same time light, delicate and super healthy.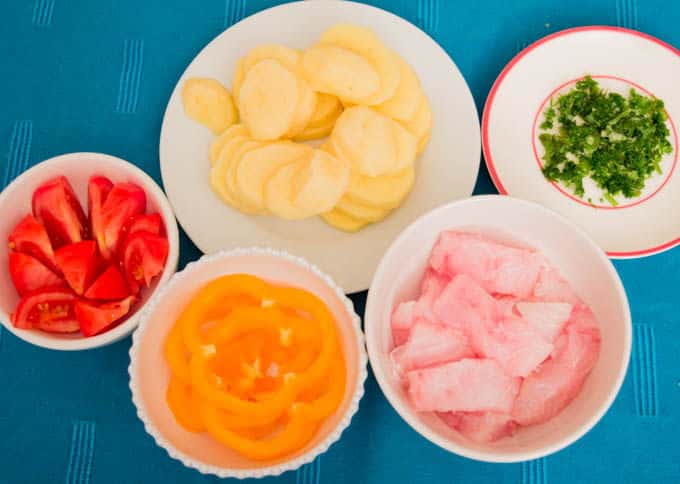 Your favourite fish (see recipe for suggestions), potatoes, bell peppers, tomatoes, parsley and white wine (ups, forgot the bottle!) are the base ingredients for any mediterranean fish stew. After mastering this recipe, you can then start combining different types of fish, shellfish and seafood. Sea is the limit! 😉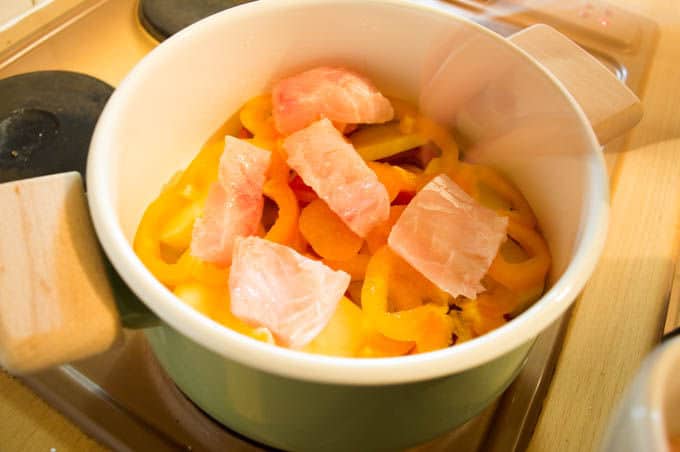 One very important step in the recipe is to respect the order in which ingredients are layered in the pan. This order has to do with the time each one takes to cook. So, the thick potato slices go first, followed by the bell peppers, tomatoes and finally by the fish fillet or steak.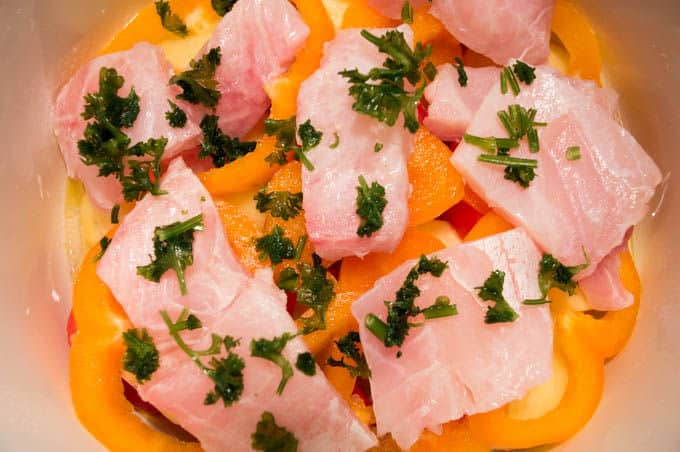 In order for the stew to boild and simmer and to make a delicious broth, add half water, half white wine and finish with fresh parsley and sea salt.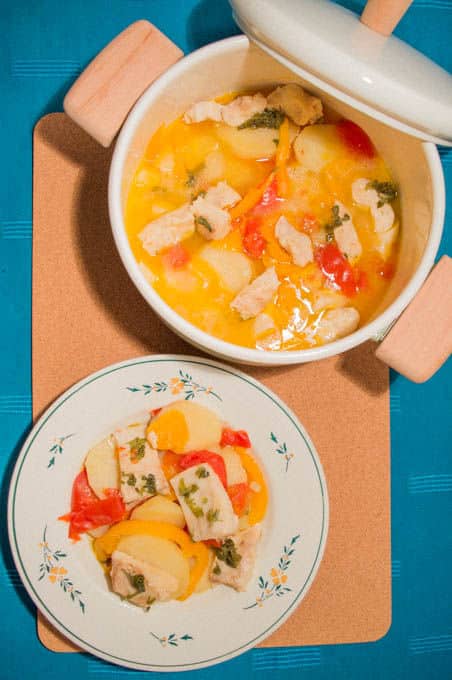 I suggest serving in a large soup plate, to ladle in the broth and roughly mash some potatoes with a fork. Delicious!

Mediterranean Fish Stew
Ingredients
500gr/1lb monkfish fillet, cut into strips OR assorted fish and seafood (see notes below)
4 tbsp olive oil
1 garlic clove, crushed with skin
1 bay leaf
3 medium potatoes, sliced into 1cm/half-inch thick slices
3 medium tomatoes, chopped
1 medium red or yellow bell pepper, cored, seeded and sliced
1 cup water
1 cup dry white wine
3 tbsp fresh parsley, chopped
pinch of sea salt
pinch of oregano (optional)
1 tsp turmeric (optional)
Instructions
Heat the olive oil with the bay leaf and garlic clove in a large deep pan over medium–high heat. Remove the garlic clove and reduce the heat to medium.
Add a first layer of potatoes, a second of bell peppers and a third of tomatoes. Finish with the fish (and seafood, optional) on top.
Add the water and wine and bring to a boil.
Sprinkle with salt, parsley, turmeric (optional) and oregano (optional).
Simmer for 40 minutes or until potatoes are done (prick them with a knife).
Remove from the heat and serve, ladling the broth over the plate after serving.
Notes
You can choose any kind of fish. I suggest these 3 types of fish fillet or steak:
- a lean whole firm-textured fish such as monkfish (used in this recipe) or hake;
- an oily fish such as mackerel or tuna;
- ready-to-eat dry codfish (bacalhau).
+
- shrimp, mussels, squid (optional).
And last but not least, I would like to share with you a brand new low FODMAP book,
The Everything Guide To The Low-Fodmap Diet.
Written by Dr. Barbara Bolen and Kathleen Bradley, it is a comprehensive guide on this diet and features 150 low FODMAP, gluten-free recipes to ease symptoms and improve digestion. Hope it can help some of you sensitive bellies out there!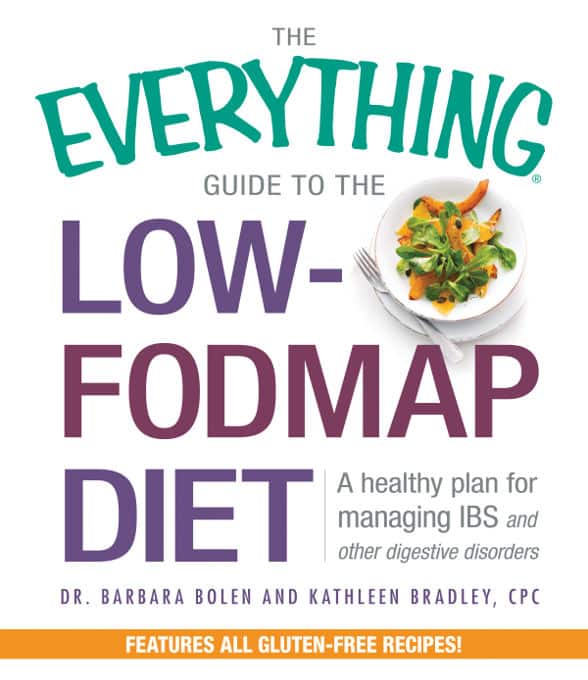 Recipe in Portuguese:

Caldeirada de Peixe
Ingredients
500 gr. de tamboril, cortado em tiras OU uma mistura de peixes e marisco (veja notas em baixo)
4 colheres de sopa de azeite
1 dente de alho esmagado com a pele
1 folha de louro
3 batatas médias, cortadas em fatias grossas de cerca de 1 cm.
3 tomates médios, picados
Meio pimento vermelho ou amarelo, sem sementes e cortado às tiras
1 xícara de água
1 xícara de vinho branco seco
3 colheres de sopa de salsa fresca picada
Pitada de sal marinho
Pitada de orégãos (opcional)
1 colher de chá de açafrão (opcional)
Instructions
Numa panela grande em lume médio-alto, refogue a folha de louro e o alho no azeite. Retire o dente de alho e reduza o lume para médio.
Adicionar uma primeira camada de batatas, uma segunda de pimento e uma terceira de tomates. Finalize com o peixe (e marisco, opcional) na parte superior.
Adicione a água e o vinho e deixe ferver.
Tempere com sal, salsa, açafrão (opcional) e orégãos (opcional).
Deixe cozinhar durante 40 minutos ou até que as batatas estejam cozidas (pique com uma faca).
Retire do lume e sirva, regando o preparado com o caldo.
Notes
Pode escolher qualquer tipo de peixe e/ou marisco. Sugiro um destes 3 tipos:
- Um peixe de textura firme, tal como o tamboril (utilizado nesta receita) ou a pescada;
- Um peixe gordo como a cavala ou o atum;
- Bacalhau demolhado e desfiado.
+
- Camarão, mexilhões, lulas (opcional).
You Might Also Like