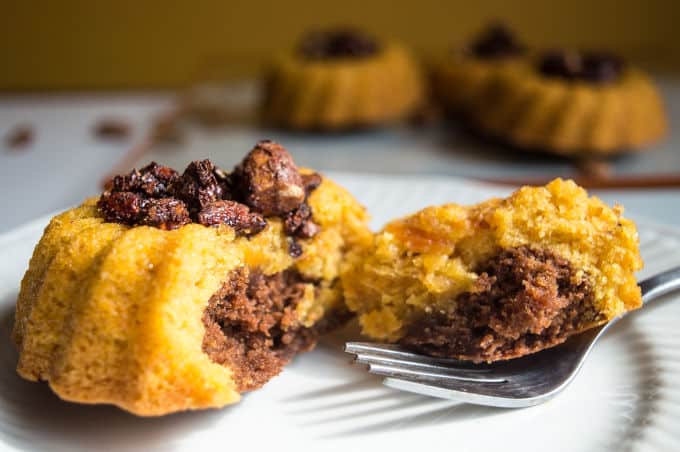 Carrot + Chocolate + Candied Almonds = A gluten free, vegan, low FODMAP and naturally healthy treat!
My natural mini cake trilogy is now complete, after these two creations with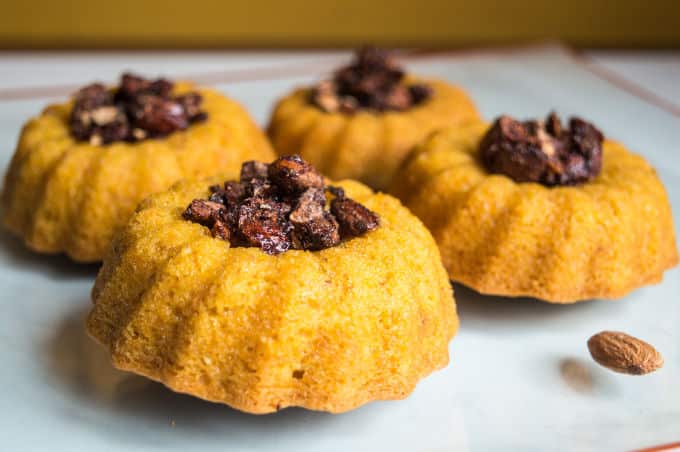 Banana + Walnuts + Coconut Chantilly = this
and
Pumpkin + Chocolate + Walnuts = this
I am quite happy to have created these three small natural cake recipes with yummy toppings. I find it´s the perfect way to celebrate a special occasion with friends and family. Each person has its own guilt free, healthy and allergen friendly treat. This was probably my biggest challenge when starting this blog: to create recipes from scratch that could be enjoyed by everybody and not simple adaptations of a recipe with regular flour, butter or eggs. I found that the challenge to create beautiful, moist, tasty and healthy sensitivities friendly desserts has made me discover a whole new baked goods world I knew very little about.
It´s been quite a ride (8 months since my first post, give or take), and I am enjoying every step of the way! THANK YOU for reading, supporting, commenting and most importantly, for enjoying the recipes 🙂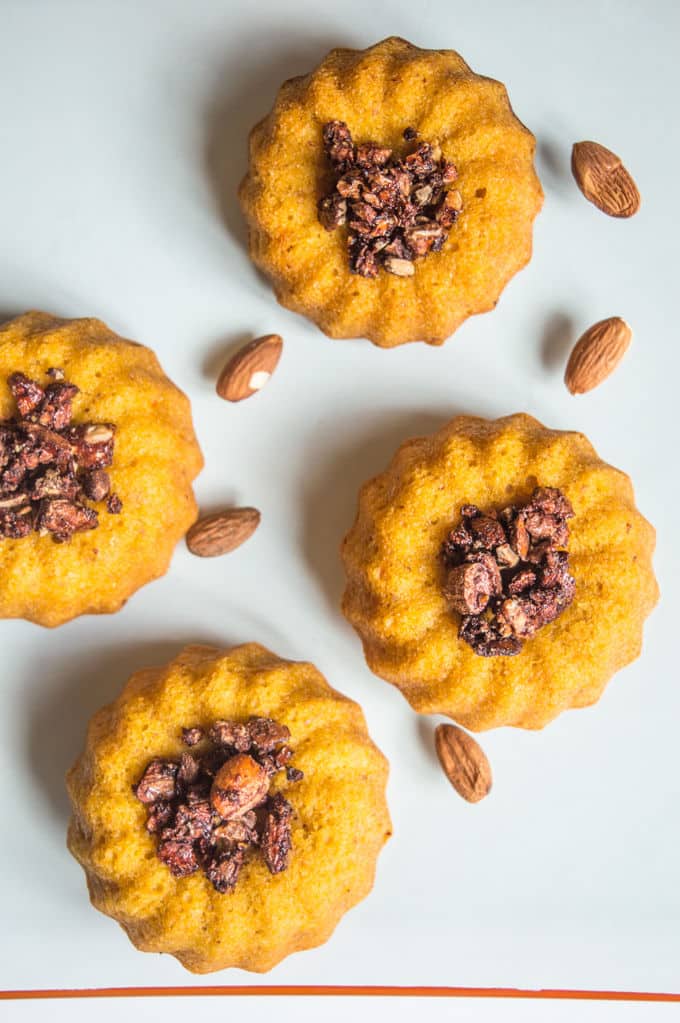 Carrot and Chocolate Marble Bundtlettes with Candied Almonds
Ingredients
3,5 oz/ 100 gr (1 medium) carrot, steamed and puréed
2 tbsp virgin coconut oil (more for greasing)
½ cup/ 75 gr rice flour
0,35oz/ 10gr (10) ground almonds or almond meal
¼ cup/ 60 gr brown sugar
1 tsp baking powder
¼ cup/ 70 ml vegetable milk (almond milk, if tolerated)
2 heaped tsp cocoa powder
For the Candied Almonds
0,35oz/ 10gr (10) roughly chopped almonds
1 tbsp maple syrup
½ tsp cinnamon
Instructions
Preheat oven to 350ºF/ 180ºC and grease 4 mini molds with coconut oil.
In a large bowl, combine the coconut oil and carrot purée. Add in the rice flour, ground almonds, sugar and baking powder and mix until well incorporated. Slowly add the milk, gently stirring until an even batter is formed.
Fill in ⅓ of the molds with batter. Stir the cocoa powder into the remaining mixture and pour this dark batter in the middle of the molds. Set aside.
In a small ovenproof recipient lined with parchment paper combine almonds, maple syrup and cinnamon and mix until evenly coated.
Bake mini cakes and almonds together in the oven. Remove the almonds after 15 minutes and leave the cakes in the oven for another 10 minutes.
Cool the almonds and the cakes before unmolding (approx. 15 minutes).
Unmold the cakes and top with candied almonds.
Notes
Low FODMAP diet: the recommended serving is one medium carrot (check), 2 heaped teaspoons of cocoa powder (check) and 10 almonds. This recipe calls for 20 almonds, meaning it is ok to eat 2 mini cakes.
Recipe in Portuguese:
Bolinhos Mármore de Cenoura e Chocolate com Amêndoas Caramelizadas
Ingredients
100 gr/ 3,5 oz cenoura (1 cenoura média), cozida a vapor e em puré
2 colheres de sopa de óleo de coco (mais para untar)
½ xícara/ 75 gr farinha de arroz
10gr/ 0,35oz (10) amêndoa em pó
¼ xícara/ 60 gr de açúcar amarelo
1 colher de chá de fermento em pó
¼ xícara/ 70 ml de leite vegetal (leite de amêndoa, se tolerado)
2 colheres de chá rasas de cacau em pó
Para as amêndoas caramelizadas
10gr/ 0,35oz (10) amêndoas picadas
1 colher de sopa de xarope de ácer
½ colher de chá de canela
Instructions
Pre-aqueça o forno a 180ºC/ 350ºF e unte 4 formas pequenas com óleo de coco.
Numa tigela grande, misture o puré de cenoura com o óleo de coco. Acrescente a farinha de arroz, a amêndoas em pó, o açúcar, o fermento e misture até ficar tudo bem incorporado.
Adicione lentamente o leite, mexendo delicadamente até obter uma consistência uniforme.
Encha ⅓ das forminhas com massa. Adicione o cacau à restante massa e misture bem.
Verta esta massa escura no meio das forminhas.
Num pequeno recipiente de ir ao forno e forrado com papel vegetal, adicione as amêndoas picadas, xarope de ácer, canela e misture até ficarem revestidas uniformemente.
Leve os bolinhos ao forno juntamente com as amêndoas. Retire as amêndoas após 15 minutos e deixe os bolos no forno durante mais 10 minutos.
Deixe as amêndoas e os bolos arrefecerem (aprox.15 minutos).
Desenforme os bolos e enfeite com as amêndoas caramelizadas.
Notes
Notas low FODMAP: a dose recomendada é de uma cenoura média (ok), 2 colheres de chá rasas de cacau em pó (ok) e 10 amêndoas. Esta receita é feita com 20 amêndoas, o que significa que pode comer até dois bolinhos.
You Might Also Like