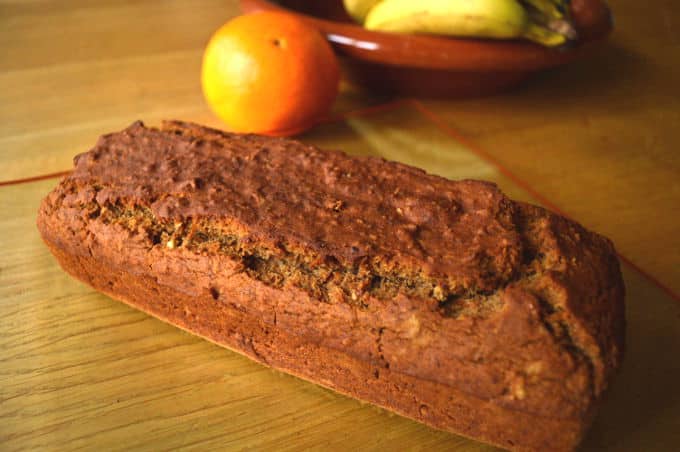 This recipe is inspired by Harry Eastwood´s wonderful book Red Velvet and Chocolate Heartache. This book helped me through when, after more than 6 months without baked desserts, I was craving for a good homemade cake for my birthday. Problem was I couldn´t tolerate dairy, eggs, corn or gluten. It seemed like an impossible mission at the time but then my very good British friend Julia – an English teacher and a fine baker who is, by the way, generously helping out by revising my english in this blog – saved me!
For starters I tried out a couple of recipes and they were an instant success amongst friends and family. I was very happy to have (and share) my cake and eat it for my birthday!
Banana Orange Bread is actually a combination of two of Harry Eastwood´s natural cake recipes: Cinnamon Banana Bread and Carrot Cake, adapted to egg free and low fodmap diets, as most of her recipes are already gluten and dairy free.
This is a natural cake that tastes really naughty!
It is a real pleasure to share this cake with you sensitive guts out there.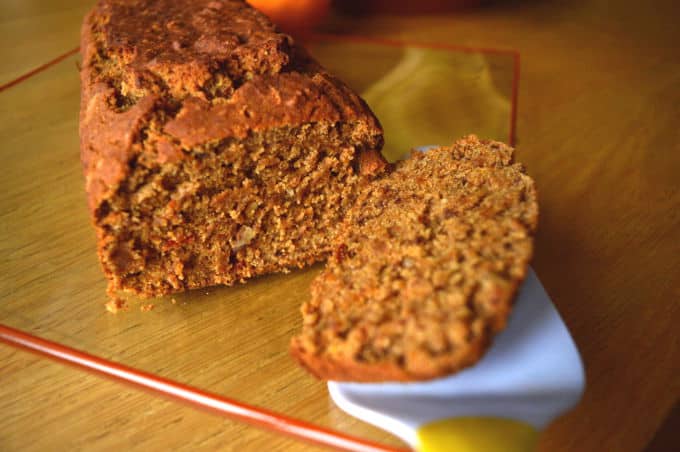 Banana Orange Bread
Author:
My Gut Feeling inspired by Harry Eastwood´s "Red Velvet and Chocolate Heartache" cookbook
You will need:
a 0,5kg/1lb loaf tin, measuring cups and spoons, a blender and a spatula
Ingredients
2 flax eggs (2 tbsp flaxseeds + 6 tbsp warm water)
⅔ cup brown sugar
1 big orange
1 tbsp dried cranberries
1 cup grated carrots
1 medium banana
1 ½ cups rice flour
1 tsp baking soda + 1tsp lemon juice OR 2 tsp gluten free baking powder
¼ tsp salt
1 tsp vanilla extract
1 tsp cinnamon
¼ cup finely chopped walnuts
Instructions
Combine flaxseeds and warm water, allow to sit for about 5 minutes and mix in the blender.
Finely grate the zest of the orange on to a plate and set aside, then squeeze the orange and soak the cranberries in the juice and set aside.
In a large bowl whisk the flax eggs and sugar and incorporate the grated carrots and orange zest.
Mash the banana with a fork and add it to the mix.
Add the flour, baking soda, lemon juice, salt, vanilla extract, cinnamon and whisk until completely blended.
Finally add the orange juice with the cranberries and the walnuts.
Preheat the oven to 180ºC/350ºF.
Bake in the middle of the oven for 45 minutes.
Remove the cake from the oven and leave it to cool in the tin for 10 minutes.
You Might Also Like