Sun is shining 🙂 We had a week of  it which here in Belgium calls for a celebration!
Along with the sun came my first lactose free yogurt attempt and it was a successful one, yeah! My former sensitivity to casein (a proteine in dairy) made it impossible for me to consume lactose free products.
I immediately thought about yogurt cake, particularly the one my grandma baked for …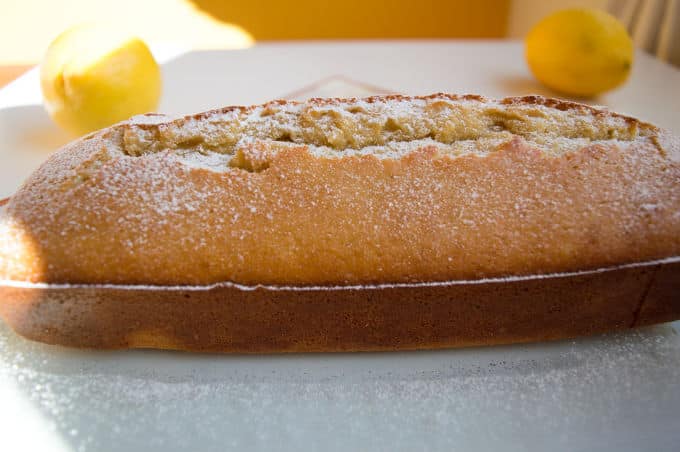 … my school bake sale. I absolutely loved her moist and fluffy natural yogurt cake and so I asked her if she could bake one for me to take to school. I was very happy with it but unfortunatelly a colleague had also brought a yogurt cake, that she smartely advertised as strawberry flavored yogurt cake. I saw all the kids buying her cake and felt miserable… I knew mine was quite good but just couldn´t compete with strawberry… I did manage to sell the slices but only after her cake was gone so at the end it was not too bad. I still remember this story today as it taught me some valuable lessons on how to sell my fish, a Portuguese expression that means it´s not enough to have the best fish in the market, you also have to promote it the best way you can. Don´t worry, I am not going to promote my cake ehehe but I will tell you that I baked it for a dinner with friends and it was gone in a glimps of an eye! This is also why I don´t have any photo of the beautiful, fluffy dough, as I didn´t want to slice it before dinner 😉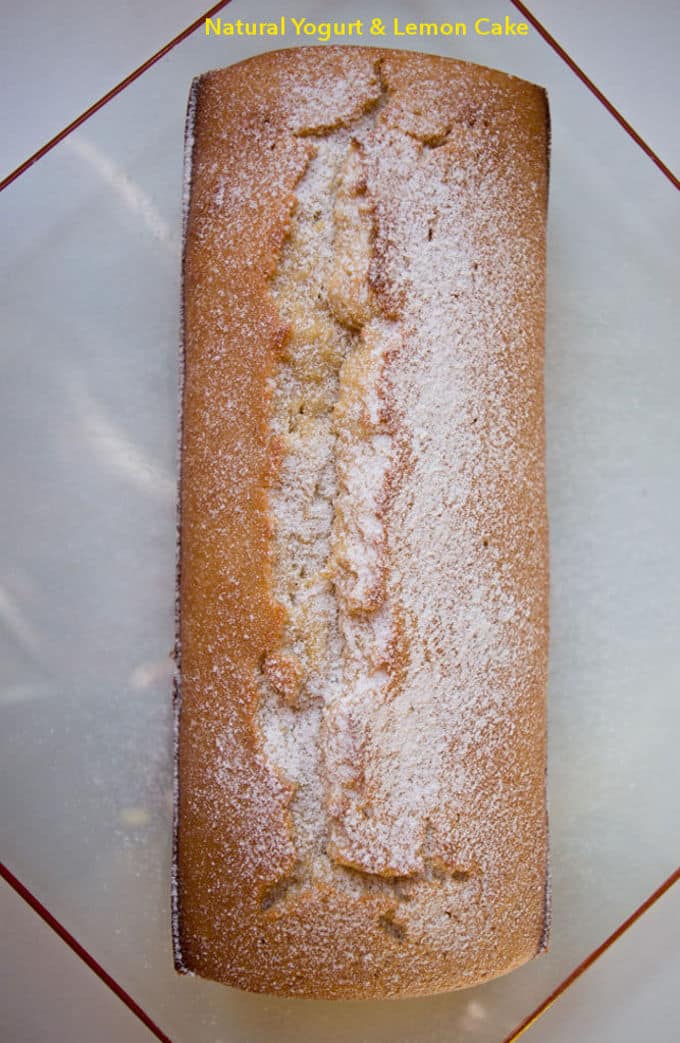 Natural Yogurt & Lemon Cake (gluten free, lactose free & low FODMAP)
Ingredients
1 cup/150gr rice flour
1oz/30gr (30) ground almonds or almond meal
1 tsp gluten free baking powder
½ tsp salt
¼ cup/70ml extra virgin olive oil
½ cup/130gr brown sugar
2 eggs
4,4 oz/125gr unsweetened natural lactose free yogurt
Zest of a small lemon
½ tsp vanilla extract
Icing sugar to sprinkle on top (optional)
Instructions
Preheat the oven to 180ºC/350ºF.
In a large bowl whisk the sugar with the oil for 2 minutes. Add the eggs (or flax eggs - see notes) until the batter starts to bubble.
Add in the yogurt, lemon zest and vanilla extract and combine.
In another bowl, combine the rice flour, almonds, baking powder and salt and slowly add to the batter, beating until completely blended.
Pour the batter into a 0,5kg/1lb loaf tin (25cm*11cm*7,5cm / 10inch*9inch*4,5inch) and bake for 30 minutes.
Remove the cake from the oven and leave it to cool in the tin for 10 minutes.
Unmold, sprinkle with icing sugar (optional) and serve.
Notes
Low FODMAP diet: it´s advised to eat up to ⅓ of the cake, as the tolerated amount of almonds is 10 and the recipe calls for 30.

Egg intolerants:
To make two flax eggs, combine 2 tbsps flaxseeds and 6 tbsps warm water, allow to sit for about 5 minutes and mix in the blender.
 Recipe in Portuguese:
Bolo de Iogurte Natural & Limão (sem glúten, sem lactose & com baixo teor de FODMAPs)
Ingredients
150gr/1 xícara de farinha de arroz
30gr /1 oz (30) amêndoa moída
1 colher de chá de fermento sem glúten
½ colher de chá de sal
70ml/ ¼ xícara azeite extra-virgem
130gr/ ½ xícara de açúcar amarelo
2 ovos
125gr/4,4 oz iogurte natural sem açúcar e sem lactose
Raspa de um limão pequeno
½ colher de chá de essência de baunilha
Açúcar em pó para polvilhar (opcional)
Instructions
Pre-aqueça o forno a 180ºC/350ºF.
Numa tigela grande misture o açúcar com o azeite e bata durante 2 minutos. Adicione os ovos (ou ovos de linhaça - ver notas) até a massa começar a borbulhar.
Adicione o iogurte, a raspa de limão e a essência de baunilha e misture.
Noutra tigela, misture a farinha de arroz, amêndoas, o fermento e o sal e adicione lentamente ao preparado anterior, batendo até ficar tudo completamente misturado.
Deite a massa numa forma para 0,5kg /1lb (25cm*11cm*7,5cm / 10inch*9inch*4,5inch) e leve ao forno durante 30 minutos.
Retire o bolo do forno e deixe arrefecer na forma durante 10 minutos.
Desenforme, polvilhe com açúcar em pó (opcional) e sirva.
Notes
Dieta com baixo teor de FODMAPs: aconselha-se comer até ⅓ do bolo, pois a quantidade tolerada de amêndoas é de 10 e a receita utiliza 30.

Intolerantes ao ovo:
Para fazer dois ovos de linhaça, combine 2 colheres de sopa de linhaça e 6 colheres de sopa de água morna, deixe repousar durante 5 minutos e misture no liquidificador.
You Might Also Like