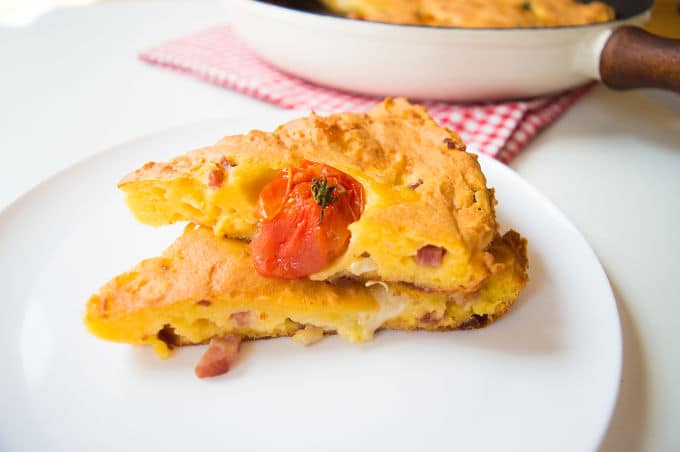 Looking for some picnic or packed lunch ideas? What about this delicious gluten free cornbread with goat cheese, ham and tomatoes?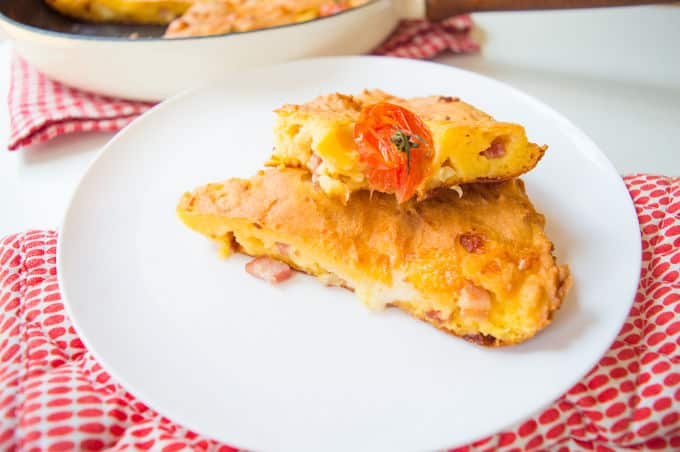 Cornbread is a typical North American quick bread with cornmeal, flour, eggs, buttermilk, leavened by baking powder and cooked in a cast iron skillet in the oven. I´ve always wanted to make some homemade cornbread but was not tempted by the old fashioned recipe. Even if I´ve developed this recipe following the traditional cornbread baking steps, I though that if I added some bacon (already used in many cornbread recipes), intense tart flavored goat cheese and small tomatoes, I might turn this traditional bread into a filling and flavorful meal, ideal for a quick lunch with a green salad or to take to a picnic.
I must add that this recipe is also a celebration of my journey towards health through food. I am now able to eat pork, eggs, low lactose dairy and cornmeal! Maybe you´re thinking that they are all low FODMAP so why couldn´t I eat them? In fact I was so ill that my body just couldn´t absorb them. Now I got back to my weight, my hair is shinny and healthy and my IBS is under control. It was time to start making some tasty low FODMAP and gluten free food with everything I´m allowed to and share it with you 🙂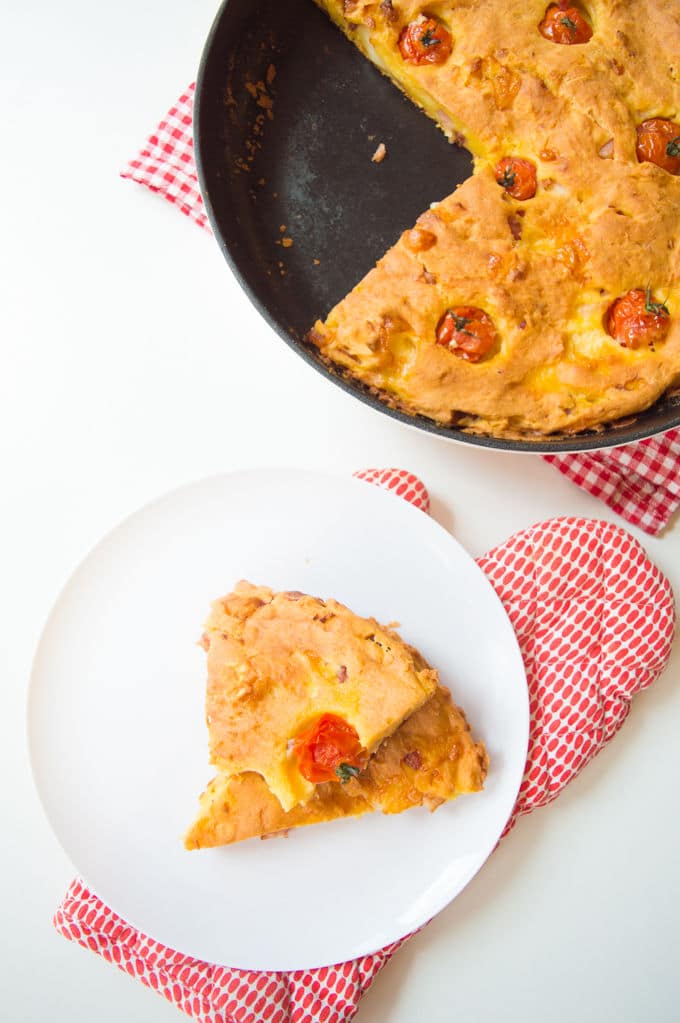 Cornbread with Goat Cheese, Bacon and Cherry Tomatoes
Ingredients
1 cup/ 150 gr. gluten free cornmeal
⅓ cup/ 45 gr. rice flour
⅓ cup/ 50 gr. tapioca
1 teaspoon xanthan gum
2 teaspoons baking powder
½ teaspoon salt
½ cup/ 140 ml. lactose free milk
½ tsp lemon juice or white vinegar
4,4 oz/ 125 gr. unsweetened natural lactose free yogurt
2 eggs
¼ cup/ 70 ml. olive oil
3,5 oz/ 100 gr. bacon, diced
1 cup/ 120 gr. goat cheese
8 cherry tomatoes
Instructions
Preheat oven to 360°F/ 180ºC with a cast iron skillet or an 8-inch/ 20 cm round pan inside, to help to cook the bread evenly, when adding the batter.
Make the buttermilk by combining milk with lemon juice (or vinegar), whisk and set aside for 10 minutes.
In a large bowl, place the cornmeal, flour, tapioca, gum, baking powder, salt and mix until well combined.
In a separate bowl, mix the eggs, oil, yogurt and buttermilk, and whisk to combine well.
Make a hole in the dry ingredients and pour in the wet ingredients. Mix until just combined.
Finally add the bacon and cheese.
Carefully remove the skillet (or pan) from the oven and spread the batter in it. Top with the cherry tomatoes.
Return the skillet to the oven and bake for about 25-30 minutes, until the top is lightly golden brown and a toothpick inserted near the center comes out clean.
Slice and serve hot or cold.
Notes
Low FODMAP safe quantities:
60 gr/ ½ cup goat cheese
4 cherry tomatoes
Therefore, the recommended serving is half of the cornbread.
 Recipe in Portuguese:
Bola de Milho com Queijo de Cabra, Bacon e Tomates Cereja
Ingredients
150 gr./ 1 xícara de fubá ou farinha de milho sem glúten
45 gr./ ⅓ xícara de farinha de arroz
50 gr./ ⅓ xícara de tapioca
1 colher de chá de goma de xantana
2 colheres de chá de fermento em pó
½ colher de chá de sal
140 ml./ ½ xícara de leite sem lactose
½ colher de chá de sumo de limão ou vinagre de vinho branco
125 gr./ 4,4 oz de iogurte natural, sem açúcar e sem lactose
2 ovos
70 ml./ ¼ xícara de azeite
100 gr./ 3,5 oz de bacon, cortado em cubos
120 gr./ 1 xícara de queijo de cabra
8 tomates cereja
Instructions
Preaqueça o forno a 180ºC/360°F e insira ao mesmo tempo uma frigideira de ferro fundido ou uma forma redonda de 20 cm. de diâmetro, para ajudar a cozinhar o pão de maneira uniforme.
Faça o leitelho através da combinação do leite com sumo de limão (ou vinagre), misture e reserve durante 10 minutos.
Numa tigela grande, coloque as farinhas, tapioca, goma, fermento em pó, sal e misture bem.
Noutra tigela, misture os ovos, o azeite, iogurte e leitelho, e bata até misturar bem.
Faça um buraco nos ingredientes secos e verta os ingredientes molhados. Misture até incorporar.
Por fim, adicione o bacon e o queijo.
Cuidadosamente retire a frigideira (ou forma) do forno e espalhe a massa. Adicione os tomate cereja.
Leve de novo a frigideira ao forno durante cerca de 25-30 minutos, até dourar e que a massa esteja cozida (insira um palito).
Fatie e sirva quente ou frio.
Notes
Quantidades seguras na dieta com baixo teor de FODMAPs:
1/2 xícara / 60 gr queijo de cabra
4 tomates cereja
Portanto, a dose recomendada é de metade do pão de milho.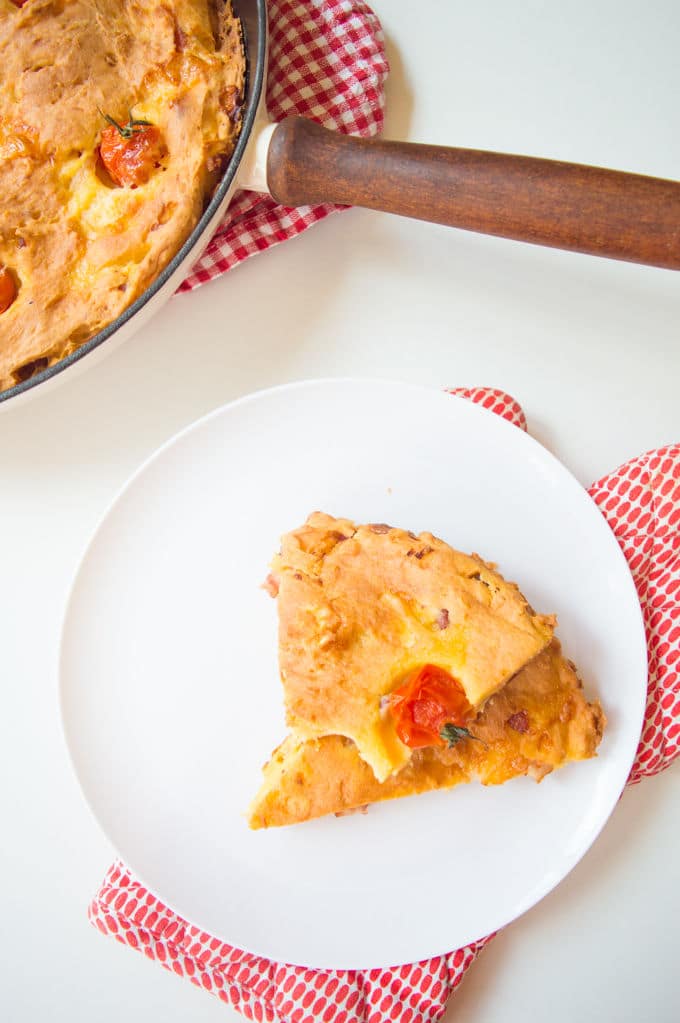 You Might Also Like