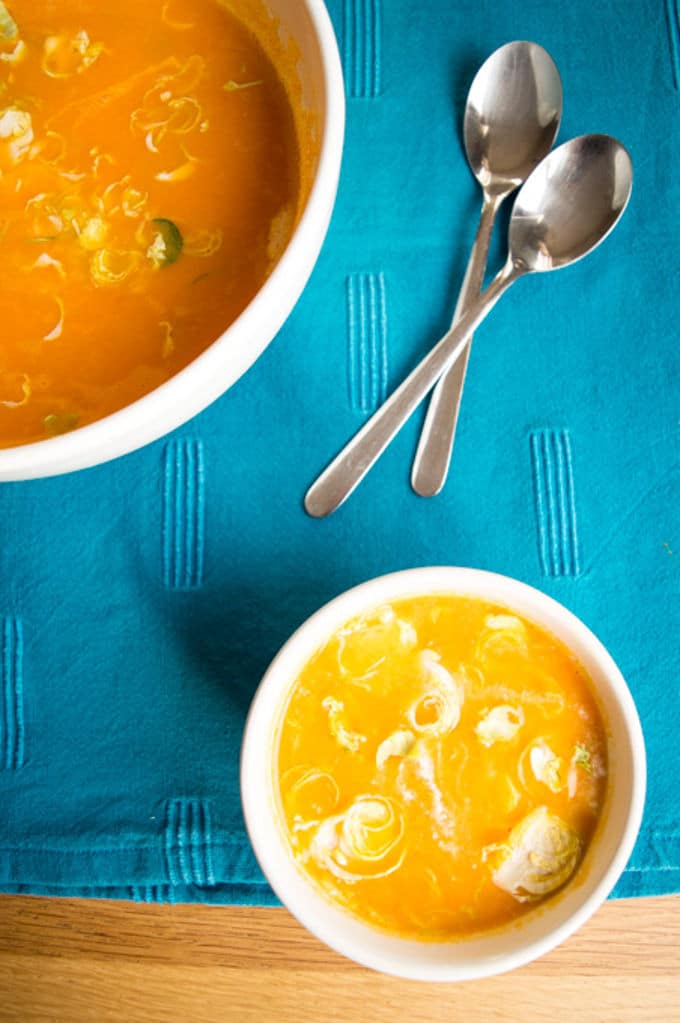 For a soup lover like myself, I haven´t been posting as much soup recipes as I should. I wonder if it´s because it is so omnipresent in every meal that I forget how important it is. In case you´re wondering, I do eat soup everyday at lunch and dinner. I´m a soup addict and I´m on a mission to convert you 🙂
So, the challenge today was to make an out of the ordinary soup for picky eaters. And I even add some words to try and convince you to give it a try: easy, creamy, healthy, immune boosting, flavorful, and the list goes on… (vegan, low fodmap, dairy free for the sensitive eater)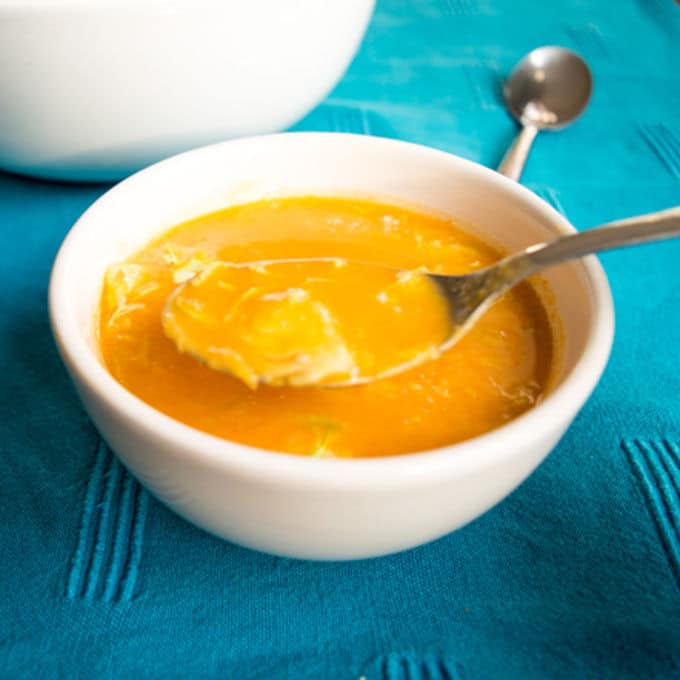 I love pumpkin, ginger, coconut and brussels sprouts (not easy to love but so surprisingly tasty) so this could only be a soup made with love and care for these wonderful foods. My hope is that once you´ve tasted it you´ll love it too.
Coconut Ginger Pumpkin Soup with Shaved Brussels Sprouts
Ingredients
2 cups/240gr pumpkin, seeded and cut into chunks
2 cups of water
Pinch of salt
½ cup creamy coconut milk
2 tsp grated fresh ginger
8 shaved brussels sprouts
Instructions
Shred the brussels sprouts whisper thin using a mandoline, or alternately, a knife. Set aside.
Boil the water in a large sauce pan and add the pumpkin. Cook over a medium high heat for 20 minutes, until pumpkin is mushy.
Add the fresh ginger and salt and purée the soup with a hand blender or in a food processor.
Stir in the shaved brussels sprouts, cover and simmer for 5 minutes.
Just before serving, stir in the coconut milk.
Notes
Low FODMAP diet: the recommended serve is one bowl as the allowed quantity of pumpkin is ½ cup and of brussels sprouts, 2.
 Recipe in Portuguese:
Sopa de Abóbora com Leite de Côco, Gengibre e Couves de Bruxelas raspadas
Ingredients
2 xícaras / 240gr de abóbora, sem sementes e cortada em pedaços
2 xícaras de água
Uma pitada de sal
½ xícara de leite de côco cremoso
2 colheres de chá de gengibre fresco ralado
8 couves de Bruxelas raspadas
Instructions
Raspe as couves de Bruxelas usando um cortador de legumes ou, alternativamente, uma faca. Reserve.
Ferva a água numa panela grande e adicione a abóbora. Cozinhe em lume médio durante 20 minutos, até que a abóbora esteja mole.
Adicione o gengibre fresco e sal e triture a sopa com uma varinha mágica ou num processador de alimentos até obter um puré cremoso.
Acrescente as raspas de couves de Bruxelas, tampe e cozinhe durante 5 minutos.
Pouco antes de servir, misture o leite de côco.
Notes
Dieta baixa em FODMAPs: a dose recomendada é de uma tijela pois a quantidade permitida de abóbora é ½ xícara e de couves de Bruxelas, 2.
You Might Also Like