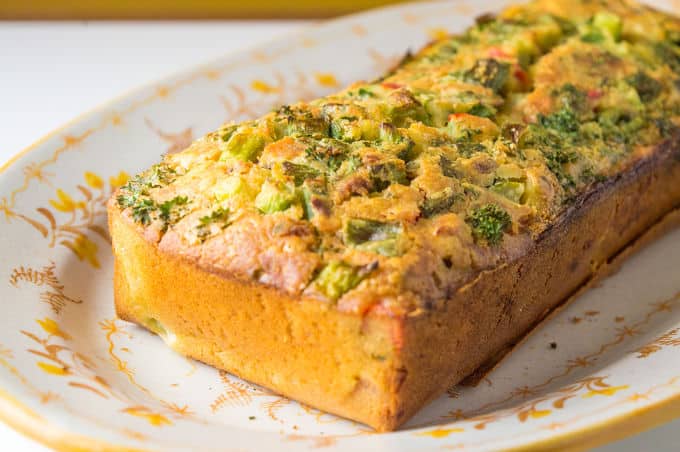 This low FODMAP loaf is inspired by the savory French quick bread, cake salé. It's moist, tender and very easy to make! The tuna, red pepper, herbs and olives add in an amazing combination of fresh flavors. Great sliced for a take-to-work lunch or with a green salad.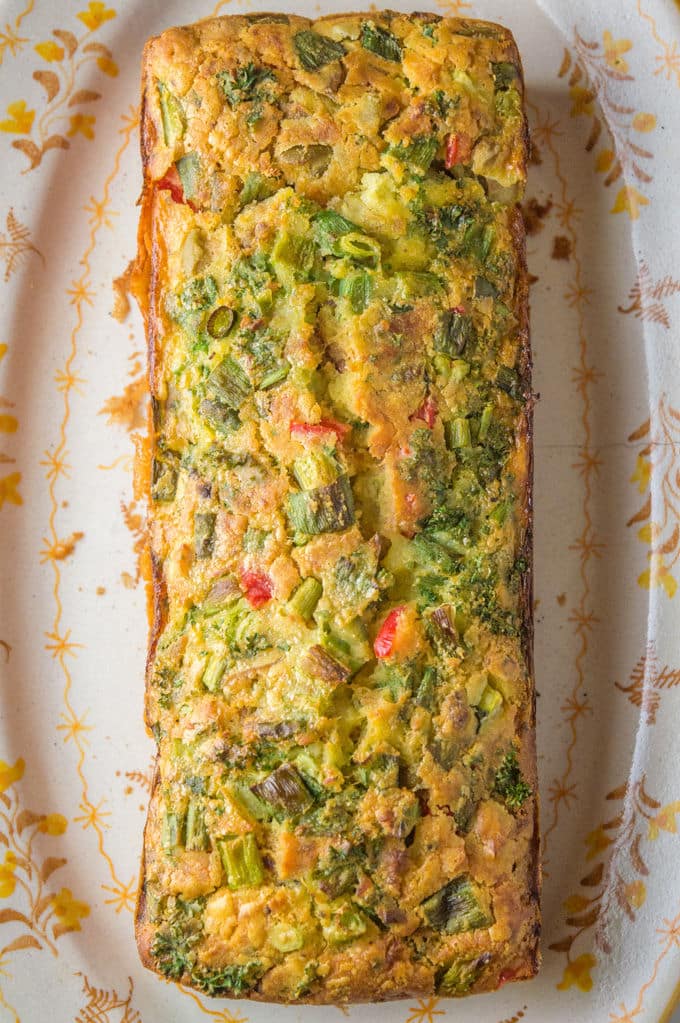 I've been dreaming of a good savory low FODMAP loaf for ages! I've tried a lot of quick bread recipes, even beer bread (!), but none seemed good enough to make a second time or to share with you, guys. I had pretty much given up until this Sunday when I came accross a fellow blogger's suggestion and decided to give it a shot! Charlotte is a vibrant gluten free and dairy free French chef who creates beautiful and simple recipes in her blog Charlotte No Glu. Her cake salé (a savory French quick bread) recipe looked wonderful so my Sunday kitchen adventure started!
I wanted to play around with the recipe a bit, so for the filling I thought about one of my favorite combinations: tuna+red peppers+olives. So fresh, so good! I added zome zucchini, green onion tops and parsley. The result? Well, I've been eating cake salé happily since Sunday, and I can hardly wait to bake another loaf.
Bon appétit 🙂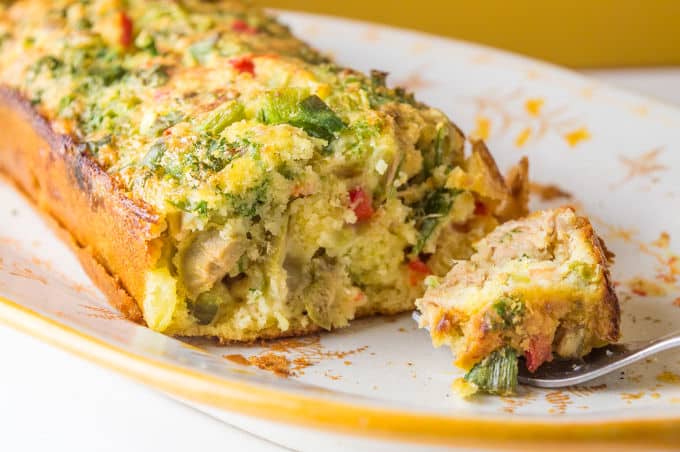 Tuna and Vegetable Loaf
Ingredients
⅔ cup/ 100 gr. rice flour
¼ cup/ 30 gr. corn flour
⅓ cup/ 50 gr. tapioca starch (corn or potato starch will work too)
1 tbsp/ 9 gr. baking powder
1 teaspoon of turmeric 
(optional)
1 egg
¾ cup/ 200 ml. of lactose free milk
3 tbsp olive oil + a dash to sautée
For the Filling
1 small red bell pepper, diced
1 small zucchini, diced
½ cup (15) green olives, pitted and chopped
1 can of tuna
Salt and pepper to taste
½ cup of green onions (green tops only), chopped
½ cup of parsley, chopped
Instructions
Preheat the oven to 360ºF/ 180°C.
For the filling, sautee the red pepper for five minutes in a pan coated with a dash of olive olive. Add the zucchini and cook for another 5 minutes. Mix in the tuna, olives, salt and pepper and set aside.
In a bowl combine rice flour, corn flour, starch and baking powder. Mix in the turmeric (optional). Gradually mix in the egg, olive oil and milk, stirring frequently. Finish with the green onion tops and parsley and give it all a gentle stir.
Finally add the tuna and pepper mixture to the dough and transfer everything to a 0,5kg/1lb loaf tin lined with parchment paper.
Bake in the middle of the oven for 30 to 45 minutes or until golden and the tip of the knife comes out clean.
Recipe in Portuguese:
Bola de Atum e Vegetais
Ingredients
100 gr. farinha de arroz
30 gr. farinha de milho
50 gr. polvilho azedo (ou fécula de batata)
9 gr. fermento em pó
1 colher de chá de açafrão (opcional)
1 ovo
200 ml. leite sem lactose
3 colheres de sopa de azeite + um fio para saltear
Para o recheio
1 pimento vermelho pequeno, em cubos
1 courgette pequena, em cubos
15 azeitonas verdes sem caroço e picadas
1 lata de atum
Sal e pimenta a gosto
15 gr. de cebolinho, picado
Molho de salsa picada
Instructions
Pré-aqueça o forno a 180°C.
Para o recheio, leve a saltear o pimento durante cinco minutos numa panela revestida com um fio de azeite. Adicione a courgette e salteie mais 5 minutos. Misture o atum, as azeitonas, sal e pimenta a gosto e reserve.
Numa tigela misture a farinha de arroz, farinha de milho, polvilho e fermento em pó. Adicione o açafrão (opcional). Aos poucos, misture o ovo, azeite e leite. Incorpore o cebolinho e a salsa, misturando bem.
Por fim, adicione o preparado de atum e pimento, envolva e coloque tudo numa forma de pão de 0,5 kg forrada com papel manteiga.
Coloque no meio do forno e coza durante 30-45 minutos ou até dourar (espete um palito, que deverá saír seco).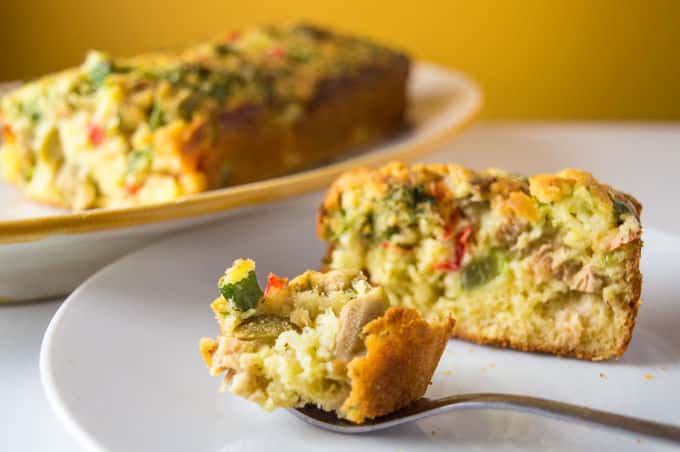 You Might Also Like