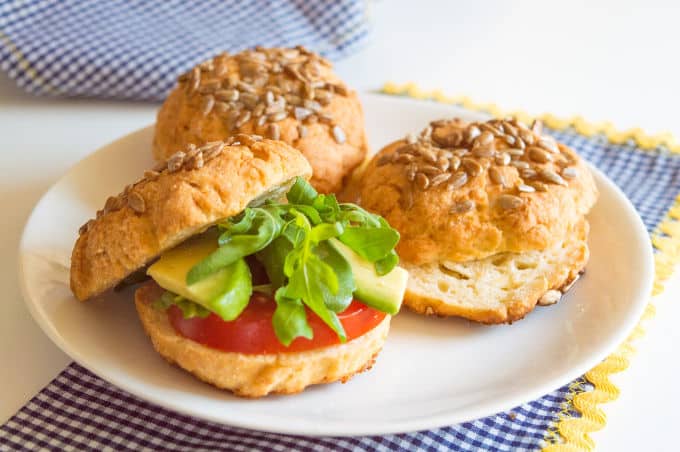 It´s summer in the northern hemisphere and it´s time for some well deserved holidays! Needless to say that for a gluten and lactose intolerant, the ritual of packing some allergen friendly sandwiches for the day becomes part of the daily routine. In order to make your holidays a bit easier, I´ve developed these savory milk buns, ideal for a day at the beach or for a picnic by the lake.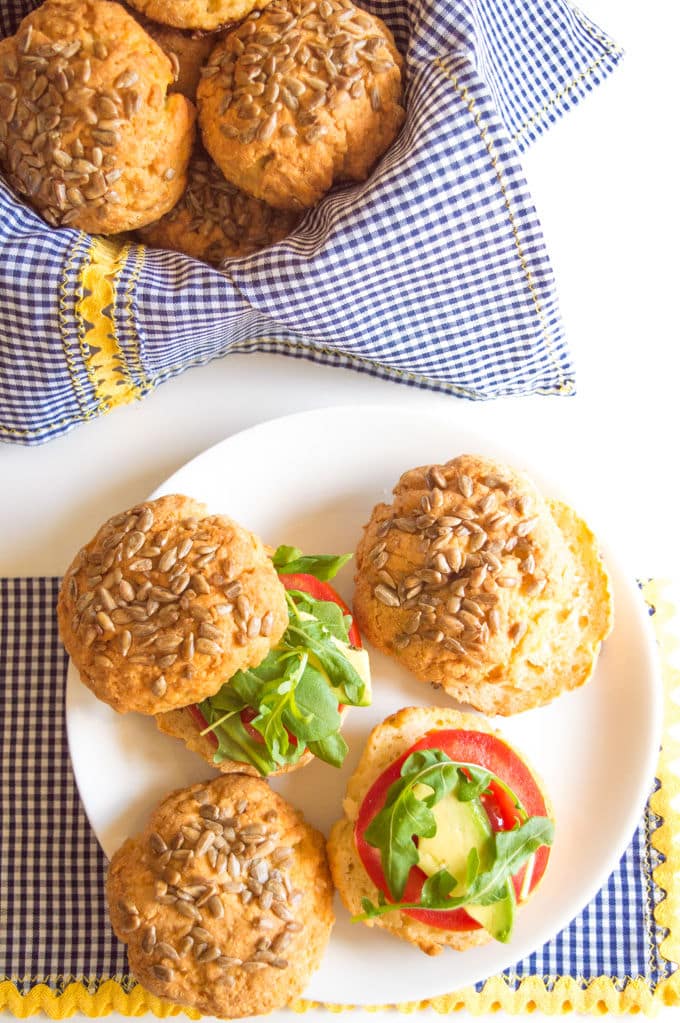 For a gluten free bread, they are surprinsingly easy to make and delicious. The secret is in the clarified  butter or ghee – the purest form of butter you can find, healthier than butter itself and naturally lactose free. If you cannot find it, you can also use lactose free butter. They won´t be as tasty but they will still be quite good.
The sunflower seeds topping gives these buns a special crunchiness and mild nutty taste. Packed with nutrients, they will curb your appetite and allow you to enjoy your holidays without thinking where to find a gluten free and lactose free sandwich bread. And you can even freeze a batch and defreeze whenever you need. How cool is that?
Sunflower Seeds Mini Milk Buns (Gluten Free and Lactose Free)
Ingredients
½ cup/ 130 ml warm water
½ cup/ 130 ml lactose free milk + more to brush
1 tsp apple cider vinegar
1½ cups/ 210 gr. rice flour
½ cup/ 75 gr. tapioca
1 tsp salt
1 tbsp xanthan gum
1 tbsp quick yeast
3 tbsp ghee OR lactose free butter
1 egg
½ cup sunflower seeds
Instructions
In a small bowl mix together with a fork warm water, milk and vinegar and set aside.
In a large bowl, add in by order flour, tapioca, salt, xanthan gum and yeast and mix.
Make a hole in the middle of the dry ingredients and add in the egg and ghee, mixing with your hands. Finish by adding the milk mixture and bring it together with your hands into a ball of dough (if dough is too sticky, add a bit more of tapioca).
In a baking tray lined with parchment paper, form 2 inches/ 5 cm balls with your hands and lightly flatten them with your fingers. Allow buns to rise by covering them with a dry kitchen cloth in a warm place for 1½ hours.
Brush tops with milk and sprinkle each bun with a generous amount of sunflower seeds (be sure to brush them to get the seeds to stick to the buns) 
Preheat the oven to 400ºF/200ºC and bake for 30 minutes or until tops are golden brown.
Let cool before eating or cutting.
Store in airtight container for up to 3 days or freeze.
 Recipe in Portuguese:
Pãezinhos de Leite com Sementes de Girassol (Sem Glúten e Sem Lactose)
Ingredients
½ xícara/ 130 ml de água morna
½ xícara/ 130 ml de leite sem lactose + para pincelar
1 colher de chá de vinagre de maçã
1½ xícaras / 210 gr. de farinha de arroz
½ xícara / 75 gr. polvilho azedo (ou doce)
1 colher de chá de sal
1 colher de sopa de goma de xantana
1 colher de sopa de fermento de padeiro
3 colheres de sopa de ghee ou manteiga sem lactose
1 ovo
½ xícara de sementes de girassol
Instructions
Numa tigela pequena misture com um garfo a água morna, o leite e o vinagre e reserve.
Numa tigela grande, adicione por ordem, a farinha, o polvilho, sal, goma de xantana, fermento e misture.
Faça um buraco no meio dos ingredientes secos e adicione o ovo e a manteiga, misturando com as mãos. Termine adicionando a mistura de leite e amasse com as mãos até obter uma bola de massa (se a massa estiver muito pegajosa, acrescente um pouco mais de polvilho).
Num tabuleiro forrado com papel vegetal, forme bolinhas de 5 centímetros com as mãos e achate ligeiramente com os dedos. Deixe os pãezinhos a levedar, cobrindo-os com um pano de cozinha seco num lugar quente durante 1 hora e meia.
Pincele os pães com leite e cubra com uma generosa quantidade de sementes de girassol (não se esqueça de pincelar os pães, caso contrário as sementes não irão aderir).
Pré-aqueça o forno a 200ºC / 400ºF e coza os pães durante 30 minutos ou até ficarem dourados.
Deixe arrefecer antes de comer ou de cortar.
Guarde num recipiente hermético até 3 dias ou congele.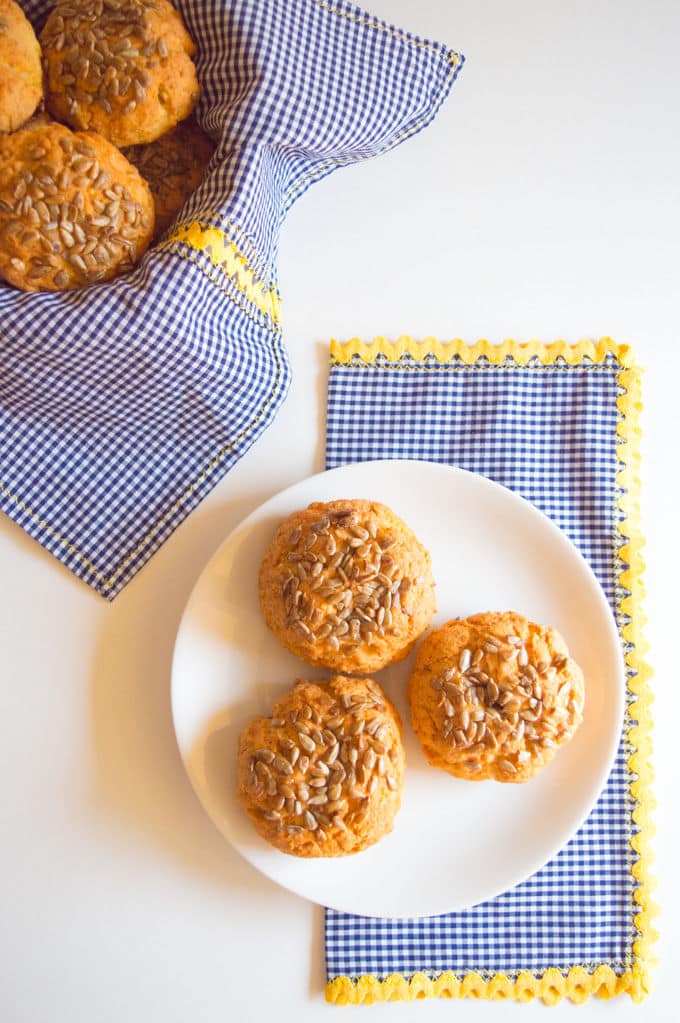 You Might Also Like