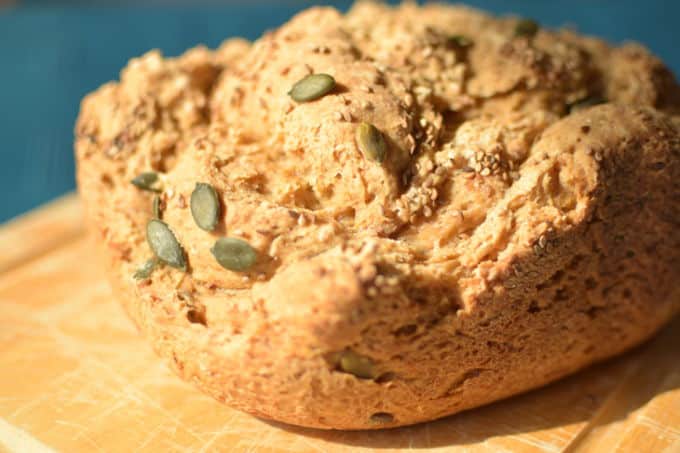 And here goes bread recipe number two. I particularly love this one because I made it when my nutritionist said I could try spelt flour (a moderate FODMAP such as rye but not low FODMAP), as my gluten intolerance was in fact "just" an intolerance to high FODMAP cereals. Please note that spelt can be tolerated by some sensitive guts but not all. Spelt flour is not officially low FODMAP. Spelt sourdough is. I personally don´t have any problem digesting it but I advise you to try a small quantity first to see how you feel.
This is a version of my Gluten Free Oven Baked Bread for bread machine. I added pumpkin seeds to give it a special twist or, as they say here, a "je ne sais quoi".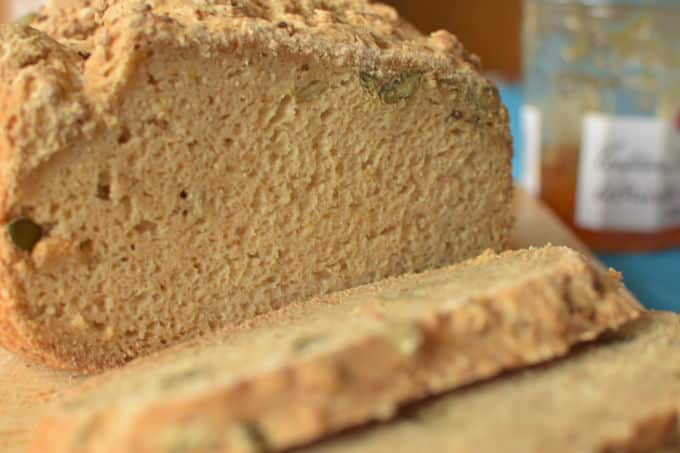 Spelt Bread for Bread Machine
You will need:
measuring cups and spoons, a blender and a spatula
Ingredients
2 tbsp golden flaxseeds + 6 tbsp warm water
1 ½ cups/ 350 ml warm water
4 tbsp olive oil
1 cup/ 150 gr. tapioca
1 cup/ 140 gr. rice flour (I suggest brown)
1 cup/140 gr. spelt flour
1 tbsp xanthan gum
1 tsp fine sea salt
3 tbsp brown sugar
2 ¼ tsps quick yeast
½ cup pumpkin seeds
½ cup sesame seeds
Instructions
Combine flaxseeds and warm water, allow to sit for about 5 minutes and mix in the blender.
Pour the water into the bread machine pan then beat in the flaxseeds mix and the oil.
Add the tapioca, flours, xantham gum, salt and sugar to the pan and stir.
Sprinkle the yeast on top.
Start the machine on the normal bread programme for 0,5kg/1lb loaf.
After a few minutes, lift the machine lid and scrape down the sides of the pan using a spatula.
Continue the machine on the normal baking programme.
Put in the seeds when the machine makes a beep. (If your machine doesn´t have this function just sprinke them 15 minutes after the programme starts.)
Remove loaf from the pan and let it rest for 10 minutes on a cooling rack before slicing.
Notes
This is NOT a gluten free or a low FODMAP bread, although it can be well tolerated by people on the low FODMAP diet. For a Gluten Free and low FODMAP version, substitute spelt flour for millet or quinoa flour.

The flaxseeds mix is also called "flax egg". 1tbsp flax+3tbsp warm water sustitutes one egg. So this recipe can be done with two eggs if not vegan, egg intolerant or sensitive.
 Recipe in Portuguese:
Pão de Espelta para máquina de pão
Ingredients
2 colheres de sopa de sementes de linhaça dourada + 6 colheres de sopa de água morna
350 ml/ 1 ½ xícaras de água morna
4 colheres de sopa de azeite
150 gr. / 1 xícara de polvilho azedo (ou doce)
140 gr./ 1 xícara de farinha de arroz (sugiro integral)
140 gr./ 1 xícara de farinha de espelta
1 colher de sopa de goma de xantana
1 colher de chá de sal fino
3 colheres de sopa de açúcar amarelo
2 ¼ colheres de chá de fermento de padeiro seco
½ xícara de sementes de abóbora
½ xícara de sementes de sésamo
Instructions
Coloque as sementes de linhaça em água morna, deixe repousar durante cerca de 5 minutos e misture no liquidificador.
Coloque a água na cuba da máquina de pão e em seguida, adicione a mistura de linhaça e o azeite.
Adicionar as farinhas, o polvilho, a goma xantana, o sal e o açúcar e misture.
Polvilhe o fermento por cima.
Inicie a máquina no programa de pão normal para 0,5kg / £1 de pão.
Depois de alguns minutos, levante a tampa da máquina e raspe as laterais da cuba com uma espátula.
Continue no programa normal.
Adicione as sementes quando a máquina fizer um sinal sonoro (se a sua máquina não possui esta função, adicione-as 15 minutos após o início do programa)
Retire o pão da cuba e deixe-o repousar durante 10 minutos numa grelha antes de cortar.
Notes
Este não é um pão sem glúten ou com baixo teor de FODMAPs, embora possa ser bem tolerado pelos que seguem a dieta low FODMAP. Para uma versão sem glúten e com baixo teor de FODMAPs, substitua a farinha de espelta por outra farinha como painço ou quinoa.

A mistura de sementes de linhaça é também chamada de "ovo de linhaça". 1 colher de sopa de sementes de linhaça + 3 colheres de sopa de água morna sustitutem um ovo. Esta receita pode também ser feita com dois ovos, caso não seja vegan, intolerante ou sensível.
You Might Also Like