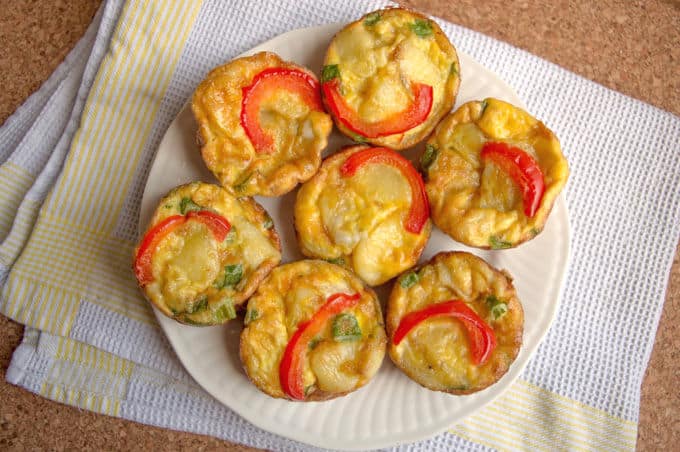 Fact 1: I miss the sun! Fact 2: I missed eggs! Fact 3: winter blues have arrived…
Off I went to the kitchen with an idea on my mind: Tortilla de Patatas (Spanish Omelette) that I could easily cook and pack.
Felt much better after creating and tasting these beauties 😉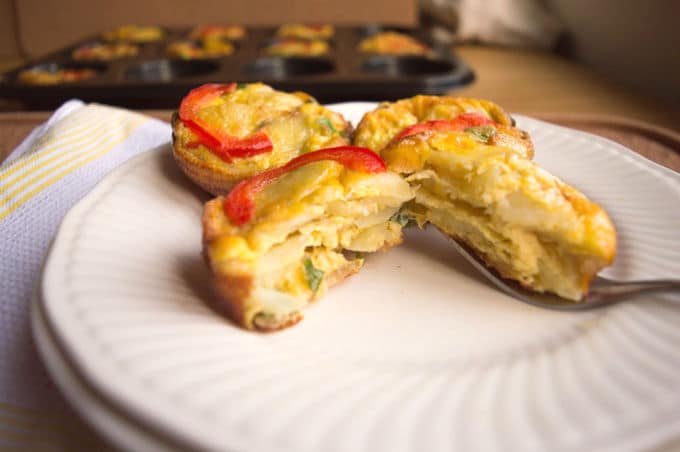 I first learned how to make tortilla with a Spanish friend. I remember to have tried several times before with little success… I learned with my friend that there are two small tricks that make all the difference: the way you cut the potatoes and the way you flip the spanish omelette. The first one is easy (you just need to shave the potatoes) but the second took me a while to master…  the dramatic climax of tortilla flipping that can ruin your creation in just seconds. And it did! So this time, to avoid any unpleasant surprises I´ve used the fritatta trick: oven with it and problem solved. With the plus that it´s the perfect pack lunch. Lunch or brunch or breakfast, any excuse is good to eat these savory sunny muffins.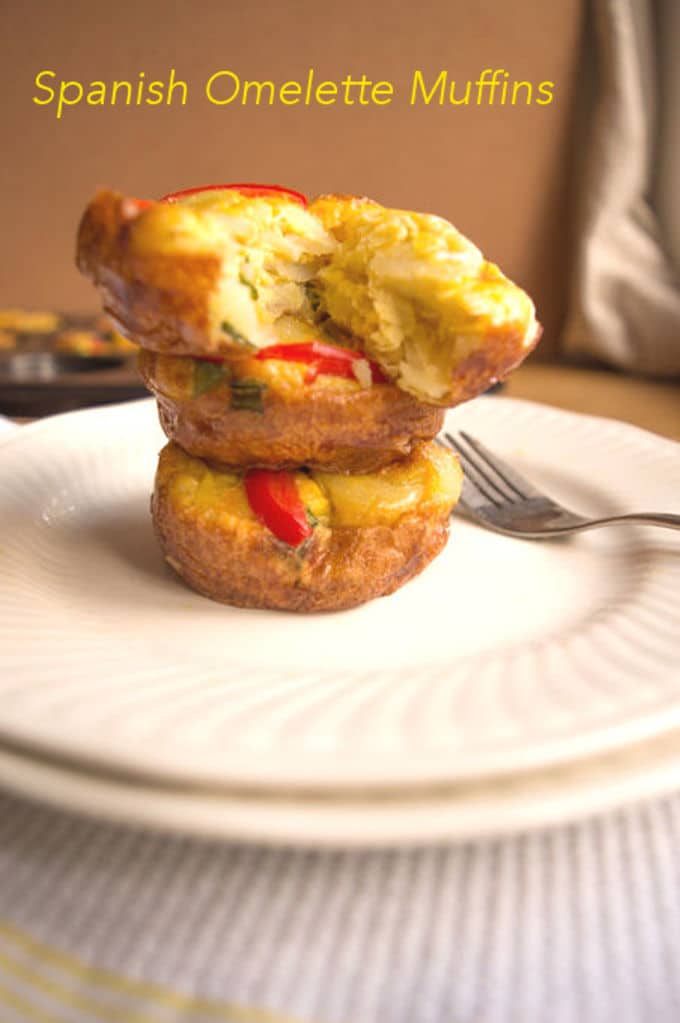 Spanish Omelette Muffins (low FODMAP)
Ingredients
4 tbsp olive oil
1 garlic clove
2 medium potatoes, peeled and shaved in small pieces
6 eggs, beaten
½ cup green onions (green tops only), chopped
½ red bellpeper, cut into thin slices
Pinch of salt
Pinch of black pepper
Instructions
Preheat oven to 360ºF/180ºC.
Heat the olive oil with the garlic clove in a skillet over medium–high heat. Remove the garlic clove and reduce heat to medium.
Add the shaved potatoes and let them cook for 15 minutes or until tender and slightly golden in the edges.
Whisk the eggs in a big bowl and add in the chives, salt and pepper.
Place the potatoes in the egg mixture and incorporate.
Pour the mixture on a 12 muffins baking tray (or 12 muffins cups) and place the pepper slices on top.
Bake for about 15 minutes.
Let cool for 5 minutes, unmold and serve.
 Recipe in Portuguese:
Queques de Tortilha Espanhola (low FODMAP)
Ingredients
4 colheres de sopa de azeite
1 dente de alho
2 batatas médias, descascadas e cortadas em pequenas raspas
6 ovos batidos
½ xícara de cebolinha verde (apenas a parte verde), picado
½ pimento vermelho, cortado em fatias finas
Uma pitada de sal
Uma pitada de pimenta preta
Instructions
Preaqueça o forno a 180ºC/360ºF.
Aqueça o azeite com o dente de alho numa frigideira em lume médio-alto. Retire o dente de alho e reduza o lume para médio.
Adicione as batatas raspadas e deixe cozinhar durante 15 minutos ou até ficarem moles e ligeiramente douradas nas pontas.
Bata os ovos numa tigela grande e adicione o cebolinho, sal e pimenta.
Coloque as batatas na mistura de ovo e incorpore.
Deite a mistura numa forma de 12 queques (ou 12 formas individuais) e coloque as fatias de pimento em cima dos queques.
Leve ao forno durante cerca de 15 minutos.
Deixe arrefecer durante 5 minutos, deserforme e sirva.
You Might Also Like