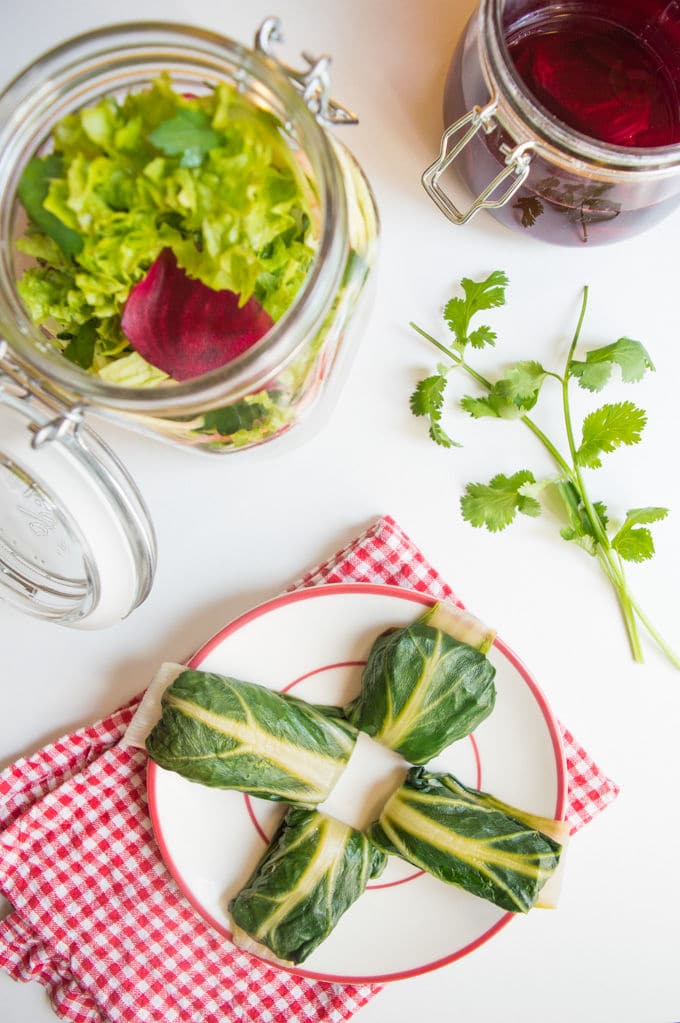 There is a long story behind this recipe but as usual, I´ll try to make it short 😉
I´ve entered the contest for Best Portuguese Food Blog organised by Teka and am happy to announce that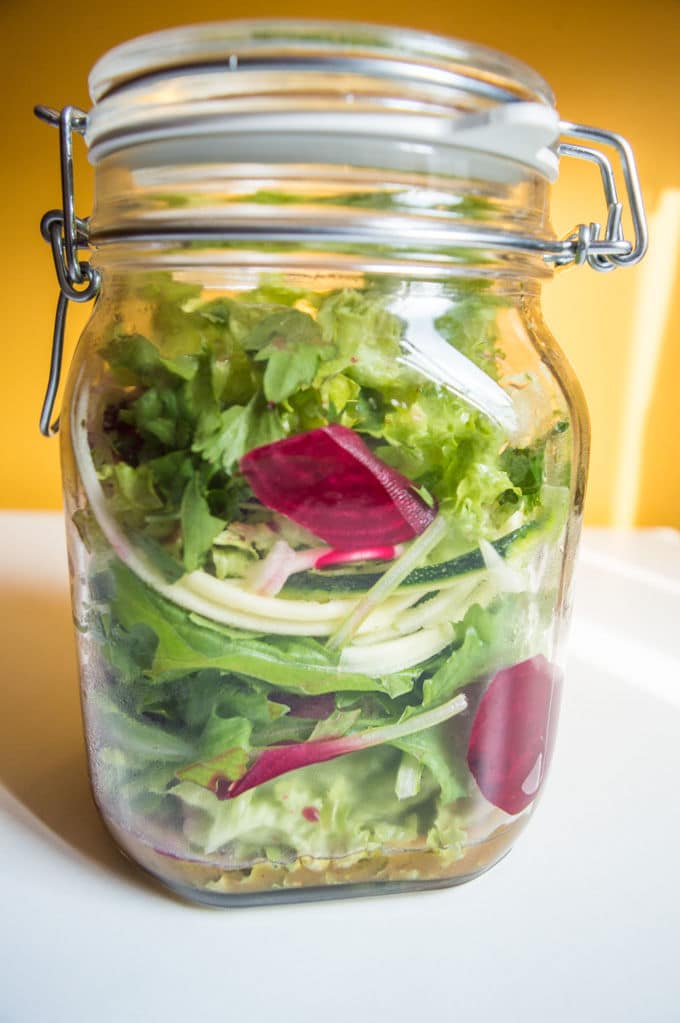 My Gut Feeling got to the top 20. Not bad, hein? I´m quite honoured and happy to share the "stage" with some of my favorite Portuguese Food Bloggers.
After receiving a food basket with lots of fresh vegetables (parsley, cilantro, mizuna, beetroot, lettuce and chard), we were challenged to create original recipes with them.
My proposal was this take-to-work salad in a jar (also known as mason jar salad, named after the American brand of glass canning jars with a metal lid) that you can easily prepare, store in the fridge and carry with you. You just need to shake it before eating in order for the vinaigrette to work its magic 😉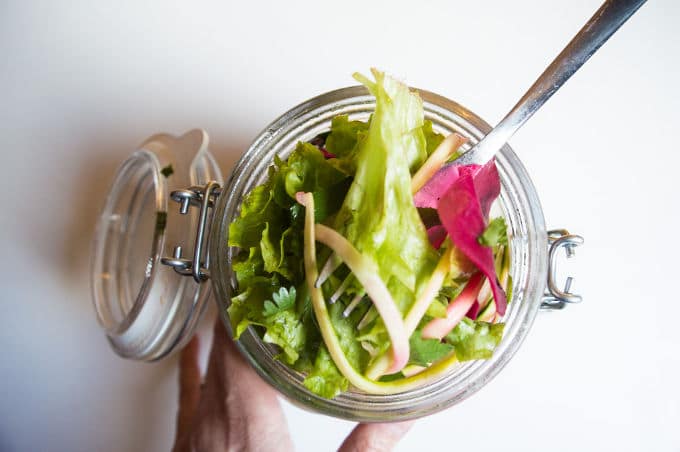 Then I thought about how to use beetroot, that I love but can only eat a small portion, due to my dietary restrictions (the low FODMAP diet allows only 20 grams/ 0,7 ounces of beets). So, if I extended the hermetic jar concept, I could easily make some low FODMAP quick pickled beets and use them in different occasions. This way I was able to enjoy my small portion of beetroot without worrying about what to do with the rest of it. Ah and these pickled veggies are very easy to make 😉
Last but not least, while thinking of what to do with the chard, two things came to my mind: chard leaves stuffed with ground meat and Dolma, the Greek dish with olive leaves stuffed with rice. I love them both so I decided to make a combo: stuffed chard leaves with rice.
Mission accomplished 😀

Salad in a Jar with Stuffed Chard + Quick Pickled Beets
Ingredients
For the Salad
Bunch of romain lettuce
Bunch of mizuna (or arugula)
Fresh parsley and coriander, chopped
1 small zucchini, julienned "zoodles style" (optional)
For the Pickled Beets
½ cup/ 100 ml apple cider vinegar
½ cup/ 100 ml water
¼ cup/ 50 gr. brown sugar
Pinch of salt
1 medium beet cut into paper thin slices
For the Vinaigrette
3 tablespoons extra-virgin olive oil
1 tablespoon apple cider vinegar
1 tablespoon tahini
Pinch of salt
Pinch of black pepper
For the Stuffed Chard
Bunch of Swiss Chard
White rice, cooked
Pinch of salt
Instructions
Start by making the pickles: combine all the ingredients except the beets in a small saucepan and bring to medium heat until the sugar dissolves (about 1 minute after boiling). Remove from heat and set aside. Cut the beets into thin slices and place in an airtight container. Add the warm liquid and let stand without lid for one hour. Seal the jar and refrigerate until use. You can save the remaining pickles in the refrigerator for up to one week.
Prepare the vinaigrette by putting all ingredients in a small bowl. Mix well until you have a smooth consistency. Taste and adjust the seasoning if necessary and place in a large airtight jar.
Wash the lettuce and mizuna and place them in the jar after the vinaigrette. Add a layer of pickled beets (approx. 20 thin slices), another layer of lettuce or mizuna and end with the zucchini noodles. Before sealing the jar, add parsley and chopped coriander.
Your salad is ready. Shake the jar before eating so that the vinaigrette is mixed with the rest of the ingredients.
Serve with ...
Stuffed Chard
In a large saucepan of boiling water, put the chard leaves, add a pinch of salt and cook for 10 minutes or until the stems are soft. Remove the chard leaves and drain well. Gently open each leaf and put a bit of cooked rice in the middle of it. Fold from the sides, covering the rice then close with the tip of the leaf and turn toward the stem. Repeat until all the leaves are stuffed with rice.
Notes
Low FODMAP diet: 20 grams (0,7 oz) of beetroot is considered low FODMAP, which is equivalent to 20 paper thin slices of pickled beets. This recipe has been developed with that in mind: due to the small allowed amount per meal, pickling it actually allows you to enjoy beets, store them and save for later 😉
 Recipe in Portuguese:
Salada em Frasco com Acelgas Recheadas + Picles de Beterraba
Ingredients
Para a Salada
Molho de alface frisada
Molho de mizuna (ou rúcula)
Salsa e coentros picados
1 courgette pequena, cortada em juliana, estilo "espargette" (opcional)
Para os Picles de Beterraba
100 ml de vinagre de maçã
100 ml de água
50 gr. de açúcar amarelo
Pitada de sal
1 beterraba média cortada às fatias muito finas
Para o Vinagrete
3 colheres de sopa de azeite extra-virgem
1 colher de sopa de vinagre de maçã
1 colher de chá de pasta de sésamo (tahini)
Pitada de sal
Pitada de pimenta preta
Para as Acelgas Recheadas
Molho de Acegas
Arroz branco cozido
Pitada de sal
Instructions
Comece por fazer os picles, combinando todos os ingredientes, excepto a beterraba, numa panela pequena e leve ao lume até que o açúcar se dissolva (cerca de 1 minuto após levantar fervura). Retire do lume e reserve. Corte a beterraba em fatias muito finas e coloque num recipiente hermético. Adicione o líquido morno e deixe repousar sem tampa durante uma hora. Sele o frasco e leve ao frigorífico até utilizar. Pode guardar os restantes picles no frigorífico durante uma semana.
Prepare o vinagrete adicionando todos os ingredientes numa tigela pequena. Misture bem até obter uma consistência homogénea. Prove e ajuste os temperos, se necessário e coloque num frasco grande hermético.
Lave bem a alface e a mizuna e coloque-as no frasco após o vinagrete. Adicione uma camada de picles de beterraba (aprox. 20 fatias finas), outra camada de alface ou mizuna e termine com o "espargette". Antes de fechar o frasco, adicione salsa e coentros picados.
A sua salada está pronta para levar. Antes de utilizar, agite bem o frasco para que o vinagrete envolva os restantes ingredientes.
Acompanhe com…
Acelgas Recheadas
Numa panela grande com água a ferver, coloque as acelgas, adicione uma pitada de sal e deixe cozer durante 10 minutos ou até que a parte branca amoleça. Retire as acelgas e escorra bem. Delicadamente abra cada folha e coloque um pouco de arroz no meio da folha. Dobre as laterais, cobrindo o arroz e depois a ponta da folha e vire na direção do caule. Repita até que todas as folhas estejam recheadas de arroz.
Notes
Dieta low FODMAP: 20 gramas de beterraba têm baixo teor de FODMAP, o que equivale a 20 fatias finas de beterraba em conserva. Esta receita foi desenvolvida tendo isso em mente: devido à pequena quantidade permitida por refeição, este método permite desfrutar da beterraba, guardando o resto no frigorífico para utilizar mais tarde 😉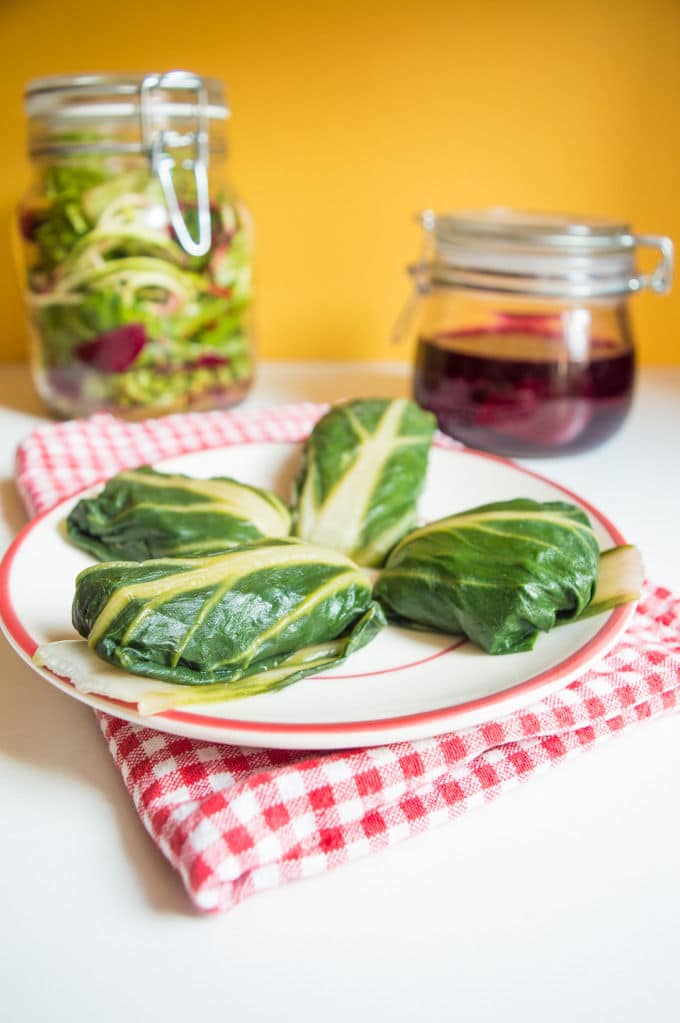 You Might Also Like