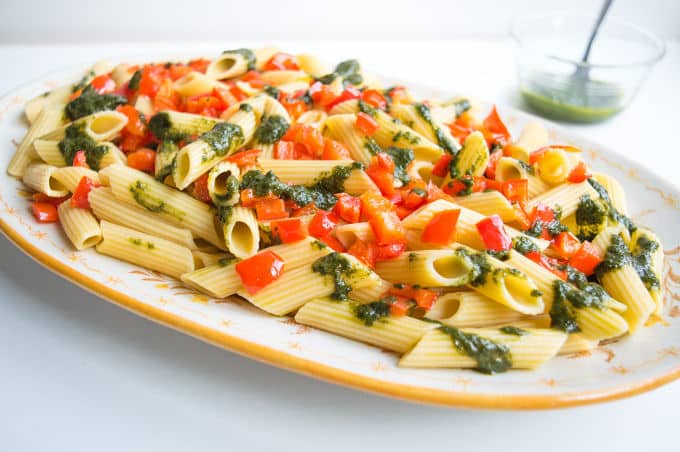 Ciao Pesto, Bonjour Pistou!
It took me a while to share with you a pasta salad. Not because I don´t like them, but because I felt that everything had been more or less covered in the field of pasta salad recipes: how to make them, which are the best ingredients, which pasta works best,… Now when I learned how to make pistou I said to myself that this would be the beginning of a beautiful edible friendship. And it gave me the will to make a cold pasta and share it with you 🙂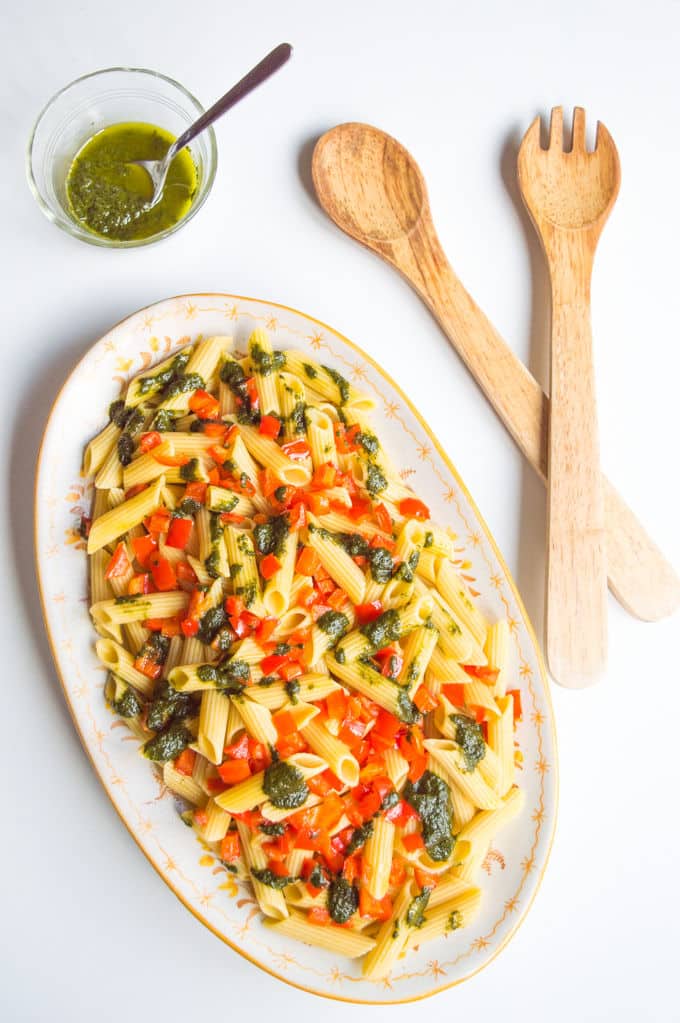 For this recipe I used gluten free quinoa penne pasta. Penne is my favorite pasta for salads. Fusilli also works well but I do prefer the stronger consistency of the first, able to absorb my rich and oh so easy to make red bell pepper sauce but still perfectly al dente.
And if you´re wondering what pistou is, it´s basically the French version of pesto but without pine nuts nor cheese. French people use it mostly in summer vegetable soups to give them an aromatic punch at the end of cooking. So I decided to top my pasta salad with a generous drizzle of this vibrant basil pistou and I don´t regret doing it 😉 It´s so goooooood!!!
And if you happen to have too much basil, you can make more pistou by adapting the quantities below. In order to preserve basil pistou, simply spoon the leftover paste into ice cube trays, freeze, and then transfer to vacuum sealed freezer bags, like shown in the picture below. One ice cube is enough for a dinner for two. Simply add a cube to a fresh made soup, pasta, or rice.

Red Pepper Pistou Pasta
Ingredients
8 oz/ 250 gr. gluten free penne (I used quinoa)
1 red bell pepper, cubed
2 tbsp extra virgin olive oil
1 garlic clove with skin, crushed
For the Pistou
2 cups/ 32 gr. loosely packed basil leaves
½ teaspoon sea salt
¼ cup / 50 ml extra virgin olive oil
Instructions
Cook the pasta according to package instruction, drain and immediatly put it under cold running water to stop the cooking process (this little trick allows the pasta to be cooked but firm for the salad). Set aside.
Heat the olive oil with the garlic clove in a skilled over medium–high heat. Remove the garlic clove and reduce the heat to medium.
Add the bell pepper and sauté for approximately 10 minutes or until cooked, mixing frequently. Remove from the heat and let cool.
For the pistou, mix the basil and salt in a blender or food processor until a thick paste forms. Slowly add the olive oil until you get a smooth green paste.
Finally transfer the pasta into a big bowl or serving plate and add in the red bell peppers and its delicious juice gently mixing everything in order for the pasta to absorb all the flavour.
Serve cold, topped with a generous drizzle of the pistou. Put the rest of the pistou in a small bowl and serve it along with the pasta salad.
Recipe in Portuguese:
Massa com Pimentos Vermelhos e Pistou
Ingredients
250 gr./ 8 oz penne sem glúten (eu usei de quinoa)
1 pimento vermelho, em cubos
2 colheres de sopa de azeite extra-virgem
1 dente de alho com a pele, esmagado
Para o Pistou
32 gr./ 2 xícaras de folhas de manjericão
½ colher de chá de sal marinho
50 ml/ ¼ xícara de azeite extra-virgem
Instructions
Coza a massa segundo as instruções da embalagem, escorra-a e coloque-a imediatamente debaixo de água fria corrente para parar o processo de cozedura (este pequeno truque permite que a massa se mantenha firme). Reserve.
Numa frigideira, aqueça o azeite com o dente de alho em lume médio-alto. Retire o dente de alho e reduza o lume para médio.
Adicione o pimento e refogue durante aproximadamente 10 minutos ou até estar cozido, mexendo com frequência. Retire do lume e deixe arrefecer.
Para o pistou, triture o manjericão e o sal num liquidificador ou processador de alimentos até obter uma pasta grossa. Adicione lentamente o azeite até obter uma pasta cremosa.
Finalmente coloque a massa numa tigela ou travessa grande e adicione os pimentos vermelhos e o seu molho delicioso, misturando gentilmente para que a massa absorva todo o sabor.
Sirva fria e adicione uma generosa quantidade de pistou. Coloque o resto do pistou numa tigela pequena e sirva-o juntamente com a massa.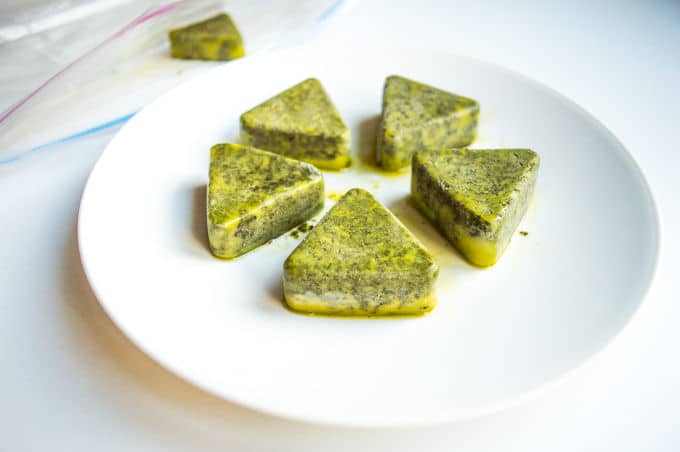 You Might Also Like