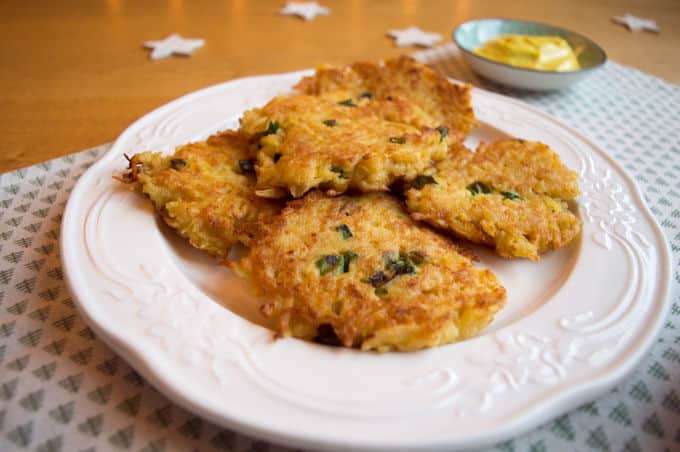 A latke is a traditional potato pancake served at the jewish Hanukkah celebrations. It is also very common in Germany where it´s called kartoffelpuffer or reibekuchen. It is traditionally eaten at Xmas markets and served with applesauce. I suggest you try these beauties with my special celebration mayonnaise.
A wonderful, easy and delicious recipe for Christmas that all your family will love!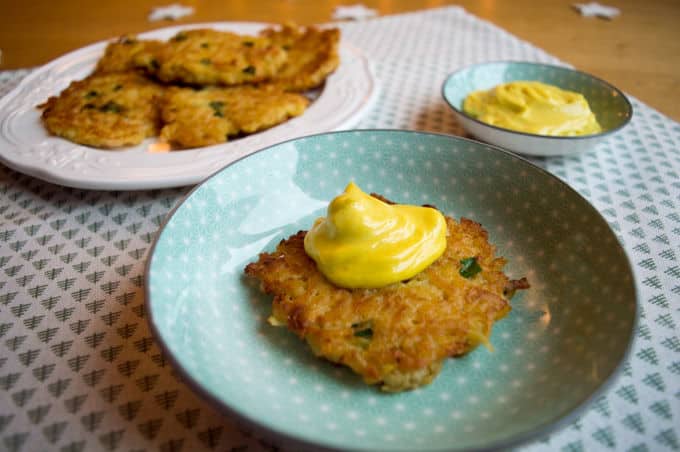 I´ve added a special ingredient to the traditional recipe: parsnip. This pale white carrot-like veggie is packful of nutrients, specially potassium and gives the latkes a unique sweet flavor.
To accompany these beautiful latkes, I´ve created a special celebration citrus mayo. It is a light mayonnaise with lemon, inspired by the dutch popular fritessaus to serve with fries. Instead of the typical mustard, I´ve added turmeric for a healthier touch and a brighter colour.
The recipe has also some minor adaptations to the gluten free and low FODMAP diets: flour has been substituted by potato starch and onions by green onions (green parts only).
If you would like to know a bit more about these diets, my story has just been published by the British Gluten Free Centre. You can check it here.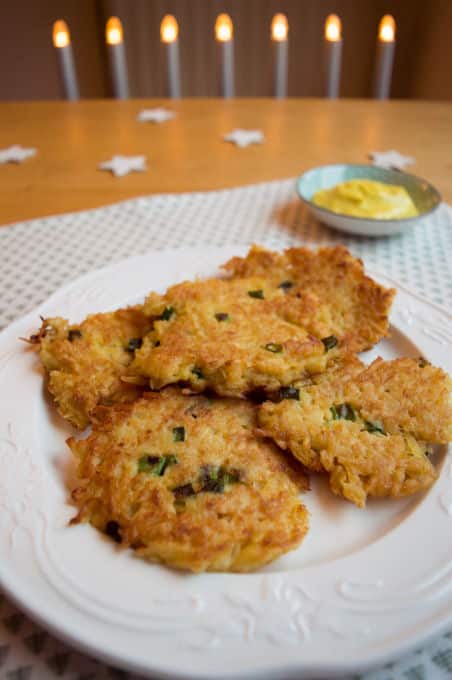 Potato Parsnip Latkes with Celebration Mayo (Gluten Free, low FODMAP)
Ingredients
For the Latkes
1 medium russet potato (or other starchy kind), pealed
1 medium parsnip, pealed
2 tbsp potato starch
1 egg
½ tsp salt
2 tbsp green onions green tops, sliced
4 tbsp olive oil (or any other oil to fry)

For the Mayonnaise
¾ cup (200 ml) olive oil
1 egg
2 tsp lemon juice
½ tsp salt
½ tsp turmeric
Instructions
For the Latkes
On the large holes of a box grater, grate the potato and parsnip.
Pile the mixture on a clean dish towel and squeeze out excess liquid. This is an essential step for cooking the perfect latkes.
Transfer to a bowl and mix in the potato starch, egg and salt until well blended. Finally gently mix in the green onions.
In a large nonstick skillet, heat oil over medium. Carefully drop into the skillet a big tablespoon of the potato and parsnip mixture, pressing to flatten.
Cook until crisp and golden, about 4 minutes per side, adjusting heat as needed. Drain on paper towels and serve warm with mayonnaise.

For the Mayonnaise
Put all the ingredients by the order above into a tall slim cup.
Blitz with a stick hand blender for approx. 3 minutes or until desired consistency.
Serve with latkes.
Notes
For a traditional latke you can use another potato instead of the parsnip.
You Might Also Like