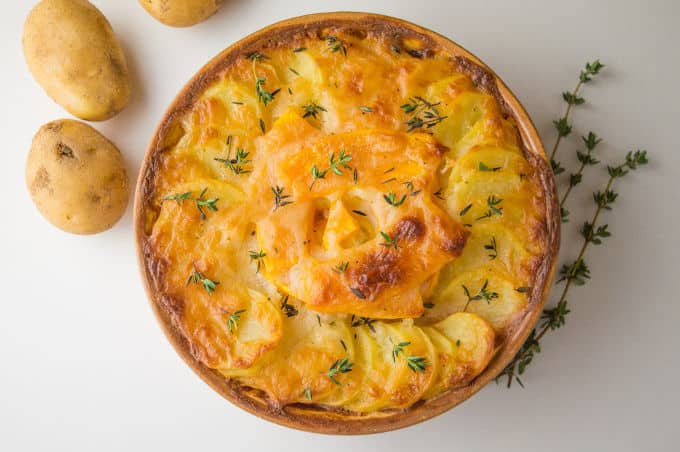 Today´s recipe is inspired by the very French Gratin Dauphinoise, typically made with thinly sliced and layered potatoes and cream. But you know that when we see the word cream in a recipe, besides the calories, it usually has too much dairy, making it impossible to digest. For this low FODMAP gratin, I´ve created a light white sauce, inspired by the also very famous French béchamel sauce.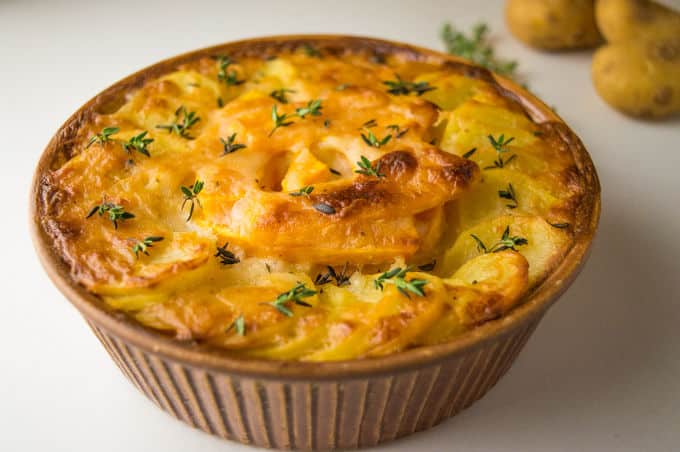 I´ve also added a FODMAP safe serving of pumpkin, for less calories and a richer source of nutrients. Ok, and also because I love pumpkin and wanted to try it in a gratin for a long time 🙂
This potato and pumkin gratin is the perfect autumn side dish and can also be served as a main dish. In this case I suggest a green or, if you like the flavour, a Belgian endive salad. So comforting and yummy!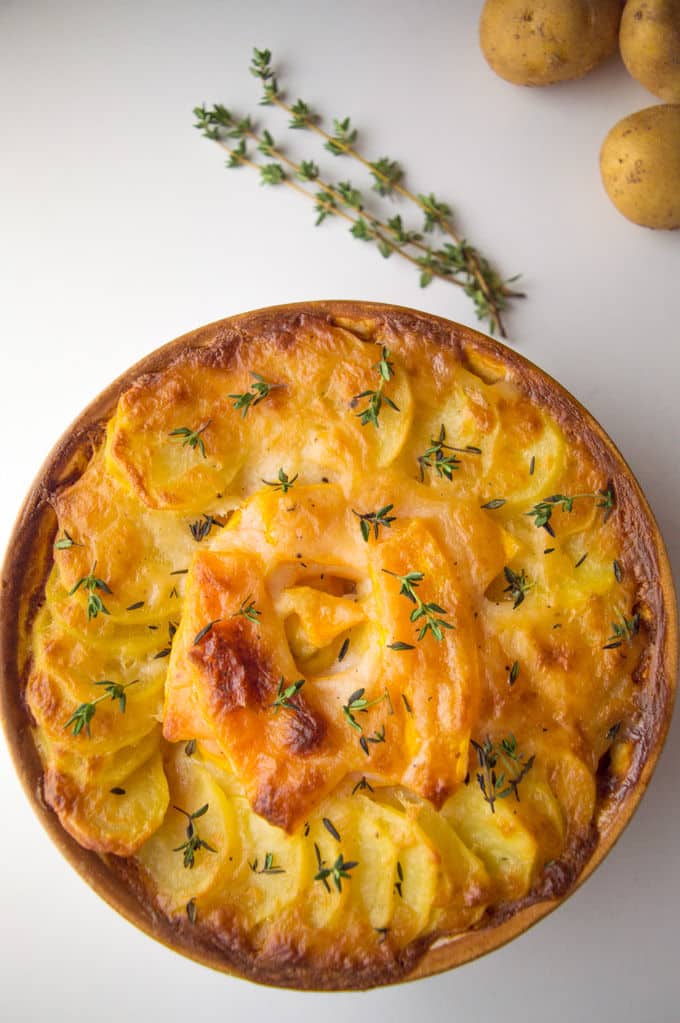 Potato and Pumpkin Gratin
Ingredients
4 small / 244 gr. potatoes, cut in thin round slices
1 cup/ 120 gr. pumpkin, thinly sliced
2 tbsp lactose free butter
2 tbsp corn or potato starch
1 cup/ 200 ml lactose free milk
1½ tsp of salt
Pinch of nutmeg
Pinch of black pepper
Fresh thyme (optional)
Instructions
Start by placing the thinly sliced potatoes and pumpkin by layers in a gratin dish and set aside.
For the bechamel, use a medium saucepan to heat the butter over medium-low heat until melted. Add the corn starch and stir until smooth. Cook until the mixture turns light golden, about 5 minutes.
Meanwhile, heat the milk and add it to the butter mixture in three times, whisking continuously until very smooth. Bring to a boil. Cook 10 minutes, stirring constantly, then remove from heat. Season with salt, nutmeg and pepper, and pour it over the potatoes and pumpkin.
Preheat the oven to 350ºF/ 180ºC.
Transfer gratin dish to oven, and bake for 45 minutes to one hour.
Top with fresh thyme and serve.
Notes
Low FODMAP save serving per meal:
2 small/ 122gr. potatoes
1/2 cup/ 60 gr. pumpkin
So it´s safe to eat half of the gratin.
Recipe in Portuguese:
Gratinado de Batata e Abóbora
Ingredients
4 batatas pequenas/ 244gr., cortadas às rodelas muito finas
120 gr. abóbora, cortada em fatias muito finas
2 colheres de sopa de manteiga sem lactose
2 colheres de sopa de maizena ou fécula de batata
1 copo / 200 ml de leite sem lactose
1½ colher de chá de sal
Pitada de noz-moscada
Pitada de pimenta preta
Tomilho fresco (opcional)
Instructions
Num prato de forno, comece por colocar em camadas as batatas e a abóbora cortadas.
Para o bechamel, utilize uma panela média e aqueça a manteiga em lume brando até derreter. Adicione a maizena e misture até obter uma consistência homogénea, conzinhando até que a mistura se torne amarela clara, cerca de 5 minutos.
Enquanto isso, aqueça o leite e adicione-o em três vezes, mexendo continuamente até obter uma textura cremosa. Deixe ferver e continue a mexer constantemente durante 10 minutos. Tempere com sal, noz-moscada e pimenta e deite sobre as batatas e a abóbora.
Pré-aqueça o forno a 180ºC.
Leve ao forno entre 45 minutos a uma hora.
Adicione o tomilho fresco e sirva.
Notes
Doses recomendadas por refeição na dieta Low FODMAP:
122gr. de batata (2 batatas pequenas)
60 gr. de abóbora
A porção segura é, portanto, de meio gratinado.