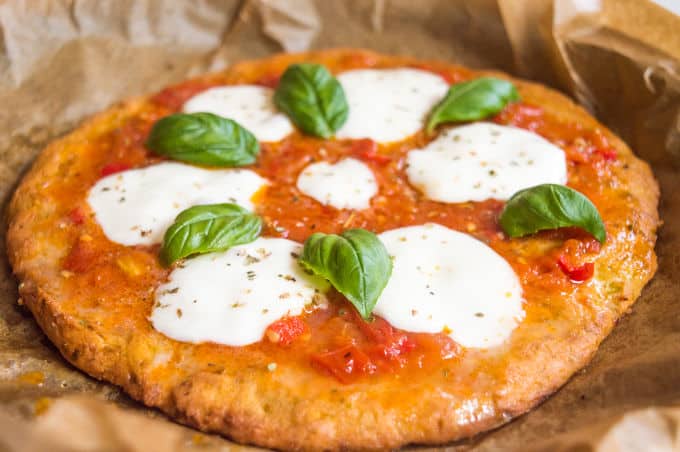 Looks like a pizza, tastes like a pizza, it´s a pizza!! I finally came up with the real deal. Not just for me but also for my fellow low fodmappers, celiacs and clean eating lovers. Yeah!!!
The special ingredient for the best natural crust ever is…. a vegetable!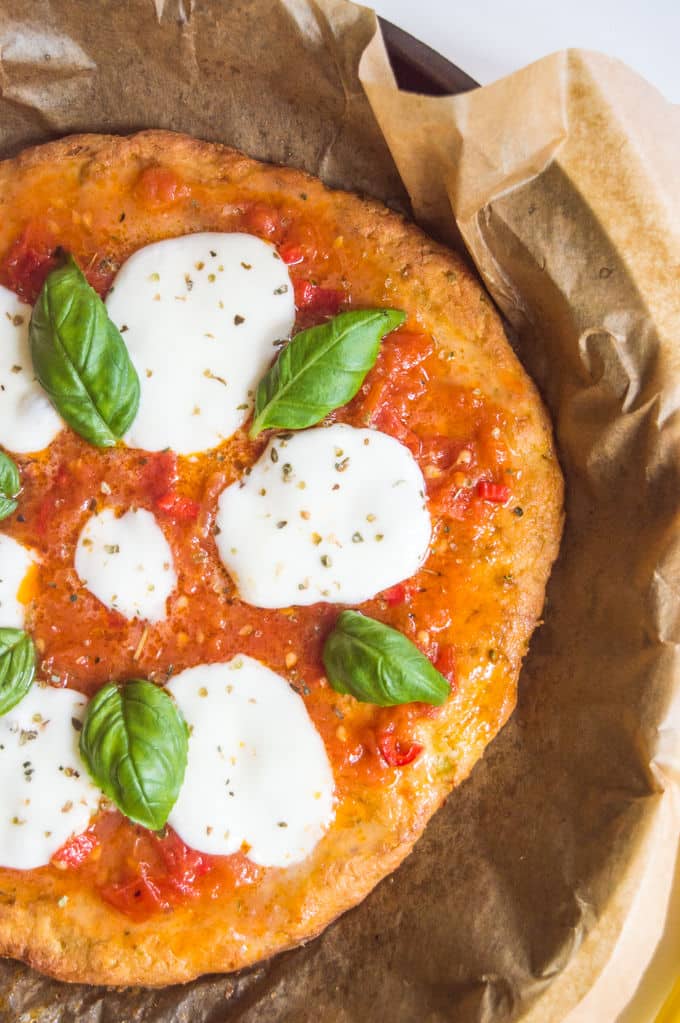 Believe it or not, this crust is made with one zucchini, rice flour, millet flour and tapioca! Besides the fact it can be eaten by regular and food sensitivities foodies alike, it´s also a great way to eat an extra portion of vegetables*!
For the pizza toppings I chose my favorites: homemade tomato sauce, mozarella and fresh basil, the key ingredients of the Napolitan Pizza Margherita. Legend says that this is the original recipe and therefore the best one! I must agree, as the best pizza I ever ate was in Naples and, yes, it was a Margherita 😉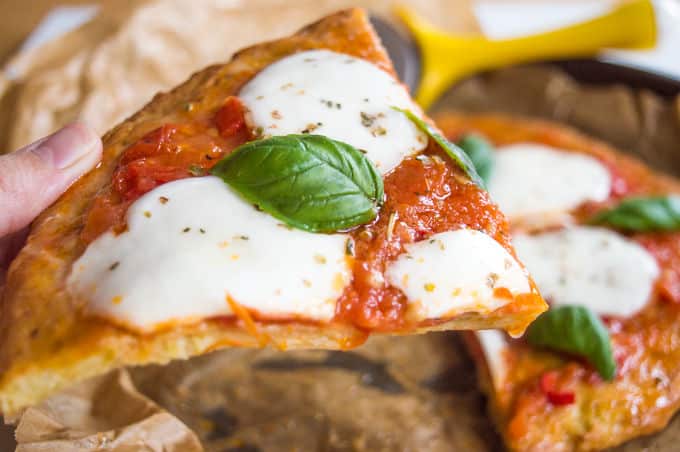 Pizza Margherita with Zucchini Crust (Gluten Free, Low FODMAP)
Ingredients
For the Pizza Crust
1 cup/ 130 gr (1 big) zucchini, skinless, grated and squeezed dry
1 egg
½ cup/ 70 gr rice flour
½ cup/ 70 gr millet flour
4 tbsp tapioca
Pinch of salt
1 tbsp extra virgin olive oil
For the Pizza Topping
4 oz/ 120 gr (1 cup) mozzarella, thinly sliced
1 teaspoon dried oregano
Handful of fresh basil
and…
Homemade Tomato Sauce
2 tomatoes (240 gr), diced
2 tbsp extra virgin olive oil
1 garlic clove with skin, crushed (for infusing)
Pinch of salt
1 chili pepper, seeds and membrane removed and minced (optional)
Instructions
Start by making the homemade tomato sauce. In a medium sauce pan, infuse the crushed garlic with skin in the olive oil on a fairly low hear for 2 minutes. Remove the garlic clove. Add the tomatoes and sauté for 10 minutes over medium-high heat. Lower the heat and simmer for at least 20 minutes. Add the chili peppers (optional) and salt and cook for about 5 minutes. Set aside.
Preheat the oven to 200ºC/ 400ºF and line a baking tray or a pizza pan with parchment paper.
Grate the skinless courgette into a colander and let drain. After a few minutes, place the zucchini in the middle of a kitchen towel, wrap and use your hands to squeeze as much water as you can (the more you extract, the better the crust will turn out).
In a medium bowl, combine zucchini, egg, flours, tapioca, salt and mix well with your hands.
Pat the zucchini mixture into a round pizza crust of 0,5 inch/ 1 cm high and a diameter of 12 inches/ 30 cm. Make some holes in the crust with a fork and brush the olive oil on top.
Bake for 30 minutes, or until golden brown.
Remove the crust from the oven and add first the tomato sauce (spreading evenly), then the mozzarella and sprinkle with oregano.
Return to the oven for five to 10 minutes more or until the mozzarella is melted.
Top with fresh basil, slice and serve.
Notes
Low FODMAP safe quantities:
1/2 cup/ 66 gr zucchini
1/2 cup/ 60 gr mozzarella
120 gr/ one tomato
Therefore, the recommended serving is half of the pizza.
 Recipe in Portuguese:
Pizza Margherita com base de Courgette (Sem Glúten, low FODMAP)
Ingredients
Para a Base da Pizza
1 xícara/ 130 gr (1 grande) courgette, descascada, ralada e espremida
1 ovo
½ xícara / 70 gr farinha de arroz
½ xícara / 70 gr farinha de millet ou milho-painço
4 colheres de sopa de polvilho azedo
Pitada de sal
1 colher de sopa de azeite extra-virgem
Para a Pizza
4 oz / 120 g (1 xícara) mozarella cortada em fatias finas
1 colher de chá de orégãos
Mão cheia de manjericão fresco
e ...
Molho de tomate caseiro
2 tomates (240 gr), em cubos
2 colheres de sopa de azeite extra-virgem
1 dente de alho com casca, esmagado (para a infusão)
Pitada de sal
1 pimenta malagueta, sementes e membrana removidas e picada (opcional)
Instructions
Comece por fazer o molho de tomate caseiro. Numa panela média, adicione o alho esmagado com casca ao azeite (para fazer a infusão) e deixe cozinhar em lume brando durante 2 minutos. Retire o dente de alho, adicione os tomates e refogue durante 10 minutos em lume médio-alto. Reduza o lume e cozinhe durante pelo menos 20 minutos. Adicione a pimenta malagueta (opcional) e sal e cozinhe durante cerca de 5 minutos. Reserve.
Pré-aqueça o forno a 200ºC / 400ºF e forre um tabuleiro ou recipiente de pizza com papel vegetal.
Rale a courgette descascada para um escorredor e deixe escorrer o líquido. Após alguns minutos, envolva a courgette ralada numa toalha de cozinha e esprema com as mãos até retirar o máximo de líquido que conseguir (quanto mais extrair, melhor será a base da pizza).
Numa tigela média, adicione a courgette ralada, o ovo, as farinhas, o polvilho e o sal e misture bem com as mãos.
Espalhe a mistura de courgette no tabuleiro até obter uma pizza redonda de 1 cm de altura e 30 cm de diâmetro. Faça alguns furos na massa com um garfo e pincele com o azeite.
Leve ao forno durante 30 minutos, ou até dourar.
Remova a base da pizza do forno e adicione em primeiro lugar a polpa de tomate (espalhando uniformemente), depois o queijo mozarella e por fim polvilhe com oregãos.
Leve de novo ao forno durante 5 a 10 minutos ou até a mozarella derreter.
Adicione o manjericão fresco, fatie e sirva.
Notes
Quantidades seguras na dieta com baixo teor de FODMAPs:
1/2 xícara / 66 gr courgette
1/2 xícara / 60 gr mozzarella
120 gr / Um tomate
Portanto, a dose recomendada é de metade da pizza.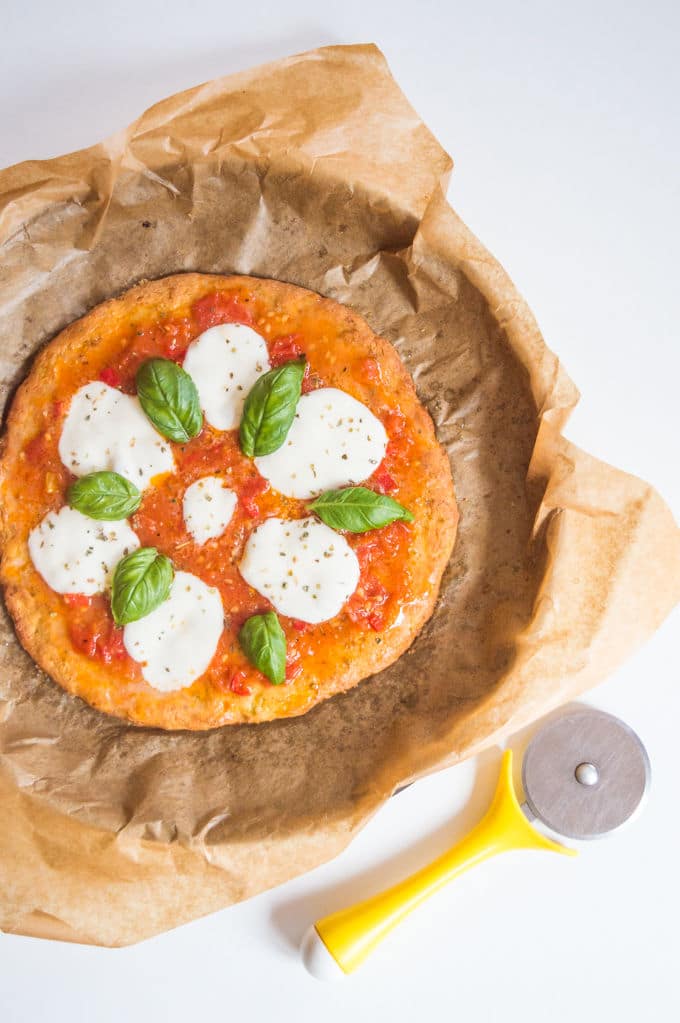 * And I also found a great way to share my love for cooking and baking with veggies, by entering this ExtraVeg food blog challenge from Kate @ Veggie Desserts, Helen @ Fuss Free Flavours and Michelle @ Utterly Scrummy. Great idea and awesome blogs. Hope they enjoy this veggie crust pizza 😉
You Might Also Like