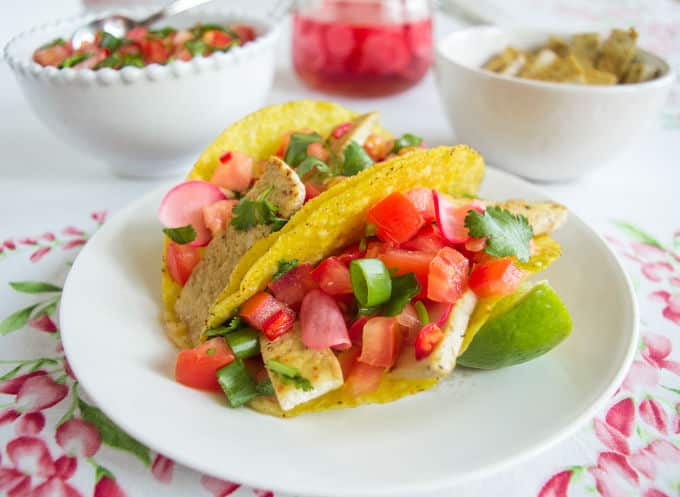 Today is Cinco de Mayo (May, 5th), a celebration of Mexican culture and heritage around the globe, even if it´s not Mexico´s National Day (that would be September, 16th). In the past weeks I´ve seen my fellow bloggers create mexican inspired recipes and got the will to try one myself. So I came up with this simple mexican taco recipe with fresh flavors and colors that is also gluten free, vegan and low FODMAP. Buen provecho 🙂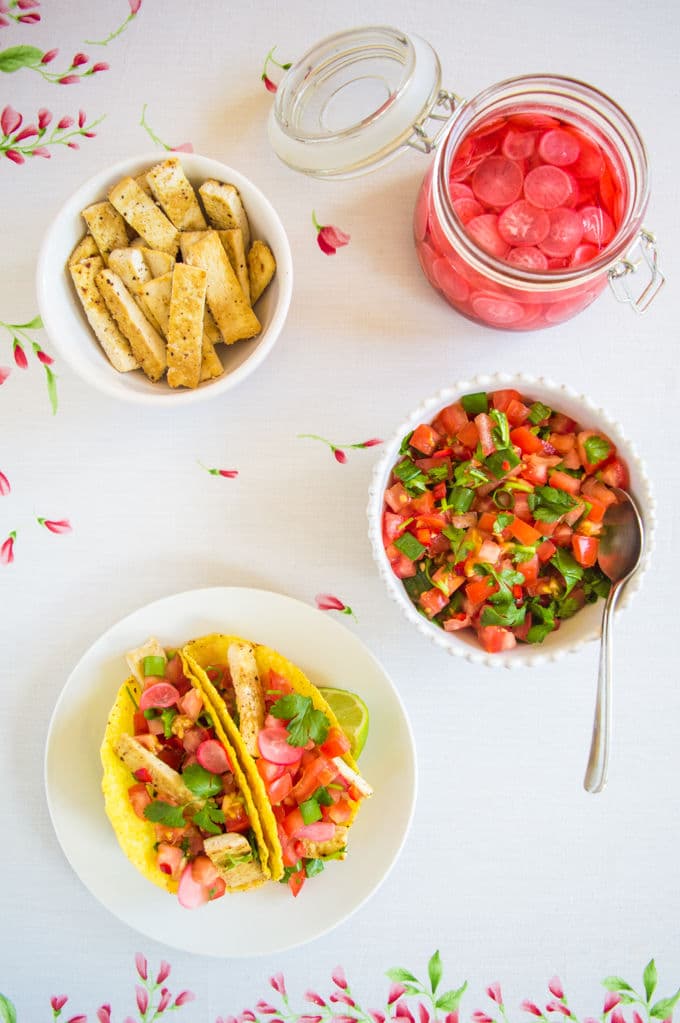 For these tacos I´ve used hard-shell crisp-fried corn tortillas that I filled with pico de gallo, seasoned tofu and pickled radishes. If you prefer soft tortillas, it also works very well.
Pico de gallo, also know as salsa fresca or salsa mexicana is a fresh, uncooked tomato salsa, similar to the Italian tomato bruschetta. The touch of heat and cilantro and the lime juice make all the difference!
The quick pickled radishes and grilled tofu spiked with cumin will give your tacos a special boost.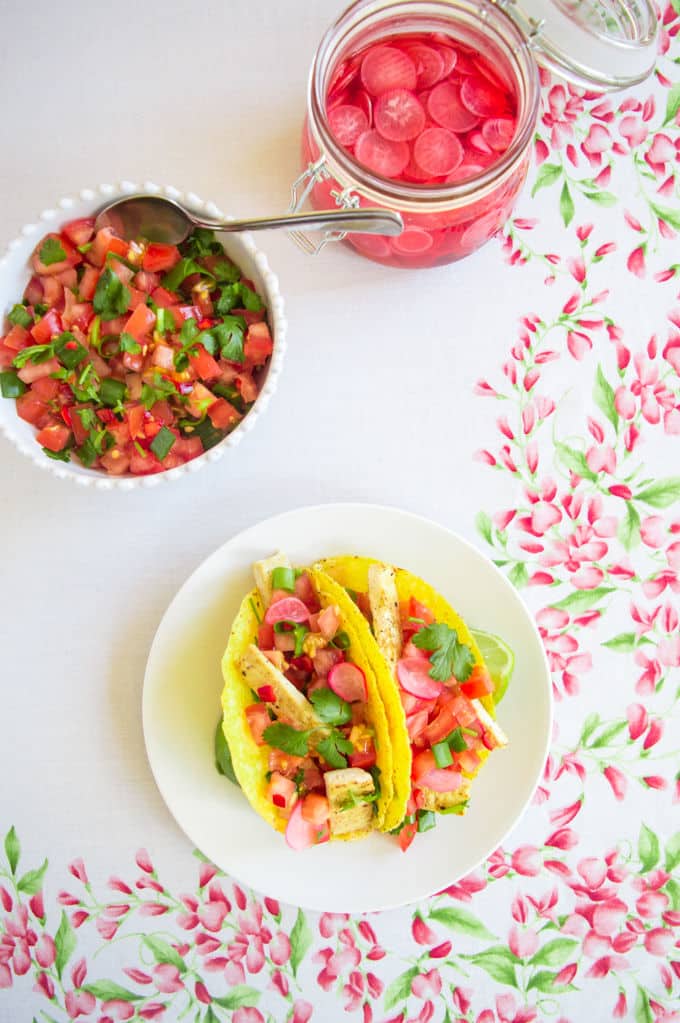 Pico de Gallo and Tofu Tacos with Quick Pickled Radishes
Ingredients
Pico de gallo
2 tomatoes (240 gr), diced small
¼ cup scallions (2), sliced, green parts only
1 chili pepper, seeds and membrane removed and minced (optional)
½ cup loosely packed fresh cilantro leaves, roughly chopped
Big pinch of salt
Juice of ½ lime (2 tablespoons), more to drizzle
Grilled tofu

Block of extra firm tofu
½ teaspoon cumin
Pinch of salt
Pinch of black pepper
Quick pickled radishes
½ cup/ 100 ml apple cider vinegar
½ cup/ 100 ml water
¼ cup/ 50 gr. brown sugar
Pinch of salt
4 radishes (80 gr), thinly sliced or shaved on a mandolin
Instructions
Start by making the pickles: combine all the ingredients except the radishes in a small saucepan and bring to medium heat until the sugar dissolves (about 1 minute after boiling). Remove from heat and set aside. Slice off the tops and bottoms of the radishes, cut them into paper thin slices and place in an airtight container. Add the warm liquid and let stand without lid for one hour. Seal the jar and refrigerate until use. You can save the remaining pickles in the refrigerator for up to one week.
In a small bowl, stir together tomatoes, scallions, chilli pepper (optional), cilantro and fresh lime juice. Season with salt and stir to combine. Let sit at least 15 minutes, covered in the fridge until serving (ideally one hour). Stir in some more cilantro leaves just before serving.
Slice the tofu into halves and wrap with paper towel. Place a plate and a heavy object on top of the tofu and set aside for 15 minutes. This process will help tofu drain faster. After pressing the tofu, cut into medium rectangular strips and coat both sides with salt, pepper and cumin. In a hot grill pan, grill 5 minutes per side or until crispy and golden brown.
Place the tofu strips in each tortilla, top with two tablespoons of pico de gallo and some drained pickled radishes. Drizzle with lime juice and serve.
Notes
Low FODMAP diet: the recomended amounts are one tomato, one chili pepper and two radishes, so you can eat up to two tacos.
 Recipe in Portuguese:
Tacos de Pico de Gallo e Tofu com Picles de Rabanete
Ingredients
Pico de Gallo
2 tomates (240 gr), cortados em cubos pequenos
¼ xícara cebolinha (2), cortada, apenas as partes verdes
1 pimenta malagueta, sementes e membrana removidas e picada (opcional)
½ xícara de coentros frescos, picados
Pitada generosa de sal
Sumo de ½ lima (2 colheres de sopa), mais para os tacos
Tofu grelhado
Bloco de tofu firme
½ colher de chá de cominhos
Pitada de sal
Pitada de pimenta preta
Picles de Rabanete
½ xícara / 100 ml de vinagre de maçã
½ xícara / 100 ml de água
¼ xícara / 50 gr. açúcar amarelo
Pitada de sal
4 rabanetes (80 gr), cortados em fatias muito finas
Instructions
Comece por fazer os picles, combinando todos os ingredientes, excepto os rabanetes, numa panela pequena e leve ao lume até que o açúcar se dissolva (cerca de 1 minuto após levantar fervura). Retire do lume e reserve. Corte os rabanetes em fatias muito finas e coloque num recipiente hermético. Adicione o líquido morno e deixe repousar sem tampa durante uma hora. Sele o frasco e leve ao frigorífico até utilizar. Pode guardar os restantes picles no frigorífico durante uma semana.
Numa tigela pequena, misture os tomates, cebolinha, malagueta (opcional), coentros e sumo de lima. Tempere com sal e misture bem. Deixe repousar pelo menos 15 minutos, cubra e leve ao frigorífico até servir (o ideal é uma hora). Adicione mais algumas folhas de coentros antes de servir.
Corte o tofu a meio e embrulhe-o em papel de cozinha. Coloque um prato e um objeto pesado em cima do tofu e reserve durante 15 minutos. Este processo permite que o tofu seque mais rapidamente. Depois de pressionar o tofu, corte-o em tiras médias rectangulares e tempere ambos os lados com sal, pimenta e cominhos. Numa frigideira anti-aderente quente, grelhe durante 5 minutos de cada lado ou até o tofu ficar crocante e dourado.
Em cada tortilha coloque as tiras de tofu e adicione duas colheres de sopa de pico de gallo e os rabanetes em conserva, sem líquido. Regue com sumo de lima e sirva.
Notes
Dieta com baixo teor de FODMAPs: as quantidades recomendadas são um tomate, uma pimenta malagueta e dois rabanetes, o que significa que pode comer até dois tacos.
You Might Also Like