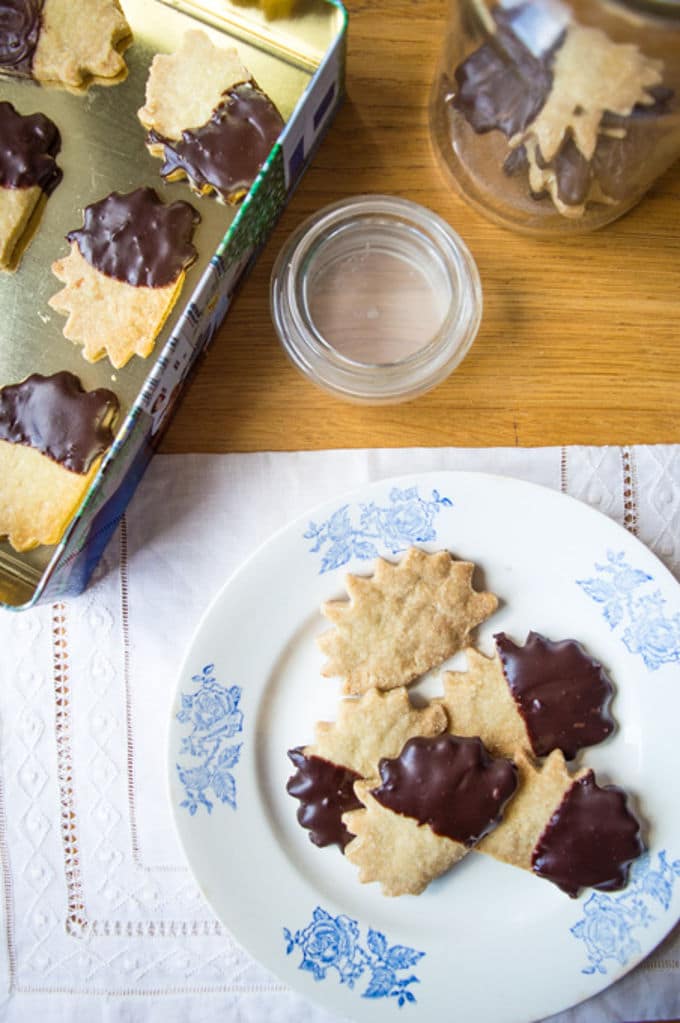 Olive oil is a staple food in mediterranean cuisine. Cooking with it comes naturally. Now baking is another story… even if it´s been done for centuries, butter seems to be most commonly used mainly due to the influence of French pâtisserie. As a matter of fact, olive oil can be used with confidence in lieu of butter. It is a fresh-tasting alternative, even if you're not looking to cut down on saturated fat. It produces lighter-tasting baked goods and allows the flavor of the other ingredients to come forth. It also contains vitamin E, which helps to naturally maintain the freshness of baked goods and creates moist cakes, biscuits and muffins.
So, with this in mind, I adventured myself in creating a traditionally buttery shortbread cookie with olive oil instead.  But the challenge didn´t end here. I also needed to make it gluten free…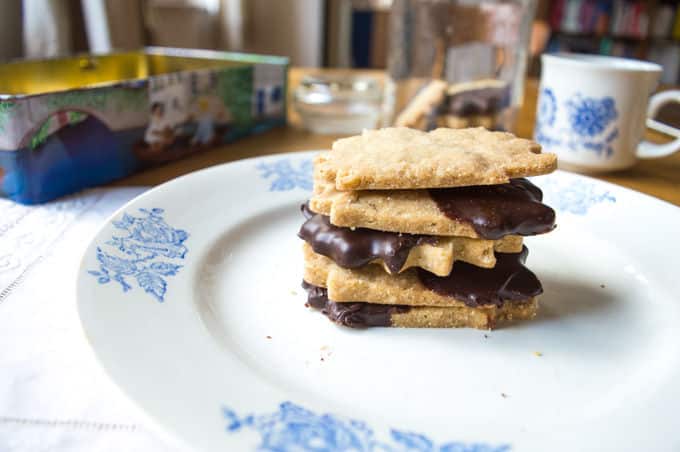 So, instead of the traditional recipe that calls for one part sugar, two parts butter and three parts wheat flour, these shortbreads are made with one part sugar, a bit less than two parts olive oil and 3 parts rice flour+tapioca.
I can tell you they are perfectly moist and soft to the point they almost melt in the mouth and the taste is amazing! The dark chocolate adds texture and a bittersweet taste.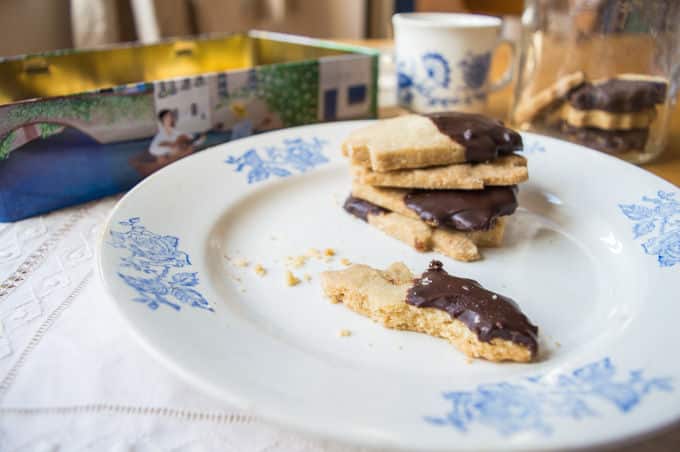 They are easy to make but require patience and love, as the dough crumbles easily. It is important to follow the instructions carefully and to let the cookies cool down before dipping and wait again until chocolate solidifies.
I would say the biggest challenge was no to make these shortbreads dairy or gluten free, it was having to wait before eating (or should I say, devouring) them 😉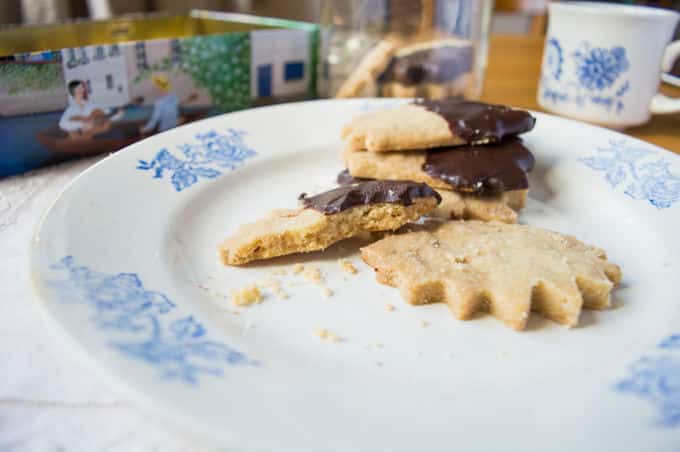 Olive Oil Shortbread Cookies with Dark Chocolate (gluten free, vegan)
Ingredients
1 cup rice flour
½ cup tapioca
½ cup powdered sugar
½ cup + 1 tbsp extra virgin olive oil
½ tsp salt
½ tsp vanilla extract
8-10 oz/250gr. good quality dark chocolate, roughly chopped
Instructions
In a mixing bowl, whisk together the flour, tapioca, sugar, salt and vanilla extract. Pour in slowly the olive oil and combine with your hands until all of the dry mixture is incorporated and you make a ball of dough.
Preheat the oven to 350ºF/180ºC.
Line a baking pan with parchment paper and spread the dough, pressing it with your fingers in an even layer of approx. 0.2inch / 0.5 cm thick.
Cut with a cookie cutter or with a large upside-down glass.
Bake until it is just beginning to turn slightly golden around the edges (keep a close eye on it), about 15 to 20 minutes.
Remove from oven and let them cool for 30 minutes. Don´t remove them before they're totally cooled, or they'll crumble to bits.
Melt dark chocolate in a double boiler, or 45 seconds in the microwave, until smooth and shiny.
Dip half of the cooled cookies, one at a time, in chocolate.
Transfer back to parchment and let chocolate set completely before removing and serving. (you can use the refrigerator to speed this up)
Store the cookies in a cookie jar or a metal box.
 Recipe in Portuguese:
Biscoitos Húngaros de Azeite com Chocolate Negro (sem glúten, vegan)
Ingredients
1 xícara de farinha de arroz
½ xícara de polvilho doce (ou azedo)
½ xícara de açúcar em pó
½ xícara + 1 colher de sopa de azeite virgem extra
½ colher de chá de sal
½ colher de chá de essência de baunilha
250gr./ 8-10 oz chocolate preto de boa qualidade, cortado aos pedaços
Instructions
Num recipiente, misture a farinha, o polvilho, o açúcar, o sal e a baunilha. Adicione lentamente o azeite e vá mexendo com as mãos até ficar bem incorporado, fazendo uma bola com a massa.
Pré-aqueça o forno a 350ºF / 180ºC.
Forre o tabuleiro com papel vegetal e espalhar a massa, pressionando-a com os dedos até obter uma camada uniforme de aprox. 0,5 cm/0.2inch de espessura.
Corte com um cortador de biscoitos ou com um copo largo virado de cabeça para baixo.
Leve ao forno até os biscoitos dourarem ligeiramente nas pontas (vá controlando), durante 15 a 20 minutos.
Retire do forno e deixe arrefecer durante 30 minutos. Não mexa neles até que arrefeçam por completo, caso contrário desfazer-se-ão em pedaços.
Derreta o chocolate negro em banho-maria, ou durante 45 segundos no microondas, até que esteja derretido e brilhante.
Um a um, mergulhar metade dos biscoitos arrefecidos no chocolate.
Transfira para o papel vegetal e deixe o chocolate endurecer antes de servir. (pode colocar os biscoitos no frigorífico para acelerar o processo)
Guarde os biscoitos num frasco de biscoitos ou numa caixa de metal.
You Might Also Like