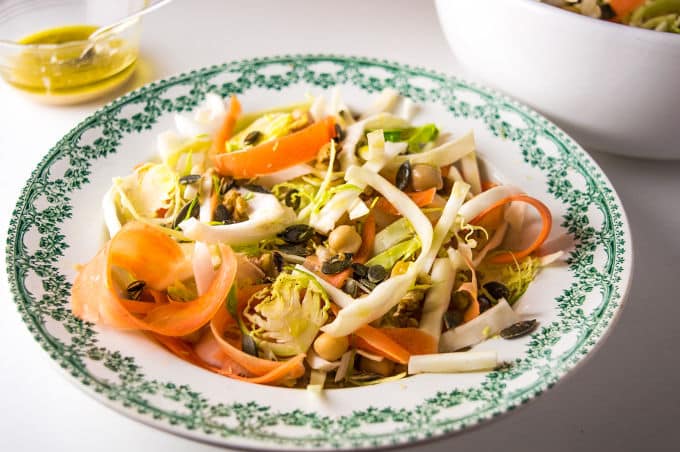 A crunchy and healthy mix of shredded wintertime veggies might just be the perfect clean eating detox plan after the heavy food holiday season + it's a great make-ahead lunch option to take to work!
But how to make a vibrant, flavorful and satisfying no-lettuce salad on a low FODMAP diet? With all our food limitations and restrictions, sounds like quite an ordeal…

Actually there are some great lettuce-free low FODMAP options that you can easily bring to the table. Just think about winter-friendly veggies like celeriac or chicory. They are bright, crisp, slightly bitter and packed full of  nutrients.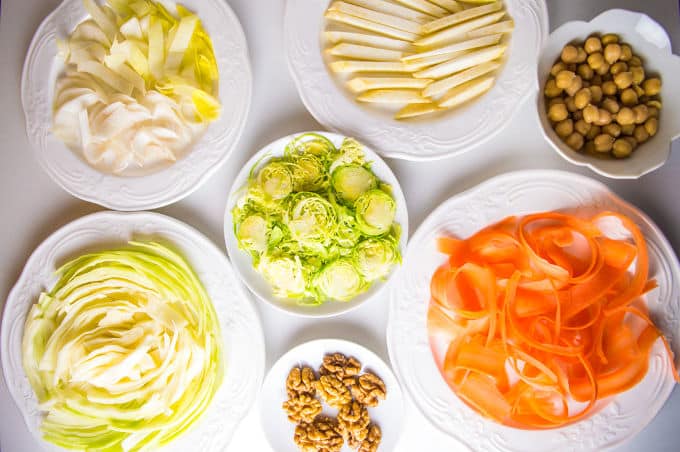 To bring out the best flavor and texture of your veggies, you can also try new ways of cutting them: shaved brussels sprouts (in the middle of the photo), ribboned carrots (bottom right), julienne-cut celeriac (top middle),… It's easy and you'll be surprised how a simple cut can enhance their taste.
And don't forget to add-in some nutrient-dense ingredients such as pulses, nuts and seeds (please check all low FODMAP options and safe serving sizes in the recipe below).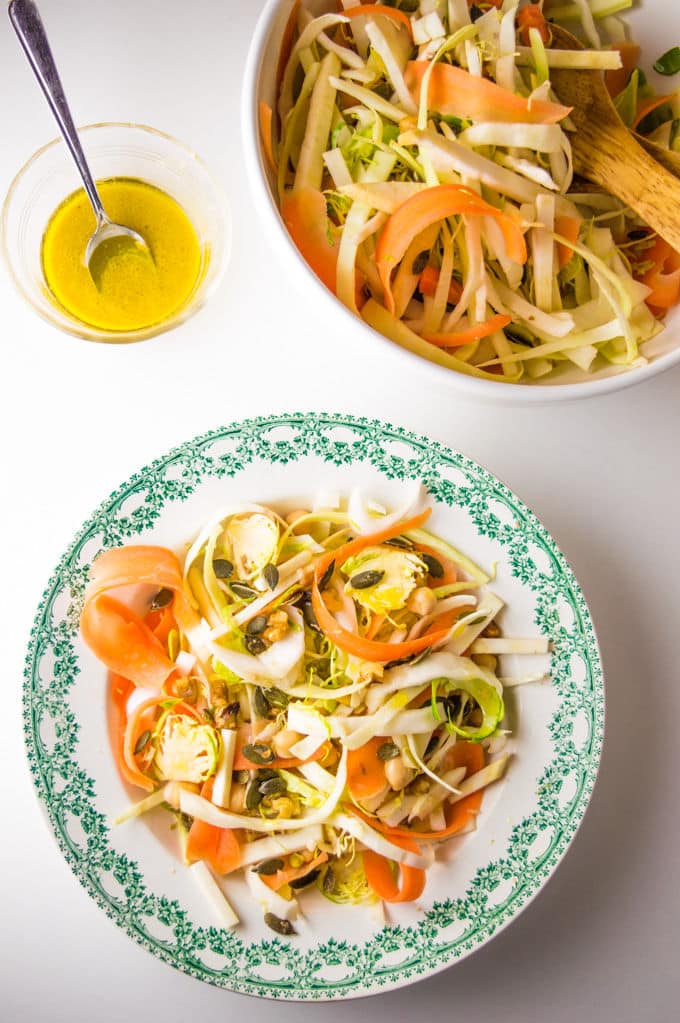 To pull it all together, you'll need a gorgeous mustard vinaigrette. When there's enough acid, tougher vegetables grow soft and tender, which gives them major make-ahead potential. So, for the perfectly seasoned no-lettuce salad, simply toss the veggies in the vinaigrette the night before and you won't have to worry about that little extra jar of dressing leaking all over your lunch bag.
From now on, you can leave the lettuce out of your bowl and allow this salad to become your new lunchtime favorite!

No-Lettuce Low FODMAP Salad
Ingredients
Winter Vegetables
1 cup (94g) finely sliced cabbage (use a sharp knife)
1 medium (62g) ribboned carrot (use a simple potato peeler)
½ (36g) julliene-cut celeriac (use a julienne peeler, a mandoline or a sharp knife) OR ½ cup (62g.) parsnip OR 1 cup (65g) turnip
2 (38g) shaved brussels sprouts (use a mandoline or a sharp knife)
4 (22g) bias-stripped chicory leaves (use a sharp knife)
Pulses
¼ cup (42g) canned chickpeas OR ½ cup (46g) canned lentils
Nuts
10 walnut halves (30g) OR 10 brazil nuts (41g), roughly chopped
Seeds
2 tablespoon (23g) pumpkin seeds OR 2 teaspoons (6g) sunflower seeds
Mustard Vinaigrette
3 tablespoons extra virgin olive oil
1 tablespoon apple cider vinegar
1 teaspoon dijon mustard
Pinch of salt
Instructions
In a large bowl toss all sliced ingredients and mix gently until well combined.
Season and coat with the...
Mustard Vinaigrette
Combine all the vinaigrette ingredients and whisking until smooth.
Taste and adjust seasonings if needed.
Place in the fridge for a couple of hours, preferably overnight.
Recipe in Portuguese:
Salada Low FODMAP sem Alface
Ingredients
Vegetais de Inverno
1 xícara (94g) de repolho em fatias finas (use uma faca afiada)
1 (62g) cenoura média cortada em fitas (use um descascador de batatas)
½ (36g) aipo-rábano cortado em juliana (use um descascador em juliana, uma mandolina ou uma faca afiada ) OU ½ xícara (62g) de pastinaca OU 1 xícara (65g) de nabo
2 (38g) couves de Bruxelas cortadas em raspas (use uma mandolina ou uma faca afiada)
4 (22g) folhas de chicória cortadas às tiras transversais (use uma faca afiada)
Leguminosas
¼ xícara (42g) de grão de bico enlatado OU ½ xícara (46g) de lentilhas enlatadas
Nozes
10 meias nozes (30g) OU 10 castanhas do Pará (41g), picadas grosseiramente
Sementes
2 colher de sopa (23g) de sementes de abóbora OU 2 colheres de chá (6g) de sementes de girassol
Vinagreta de mostarda
3 colheres de sopa de azeite extra-virgem
1 colher de sopa de vinagre de cidra
1 colher de chá de mostarda de Dijon (ou à antiga)
Pitada de sal
Instructions
Numa tigela grande adicione todos os ingredientes bem cortados e misture bem.
Tempere com a ...
Vinagreta de Mostarda
Misture todos os ingredientes da vinagreta até obter uma consistência homogénea.
Prove e ajuste os temperos, se necessário.
Leve ao frigorífico durante duas horas ou deixe repousar de preferência durante a noite.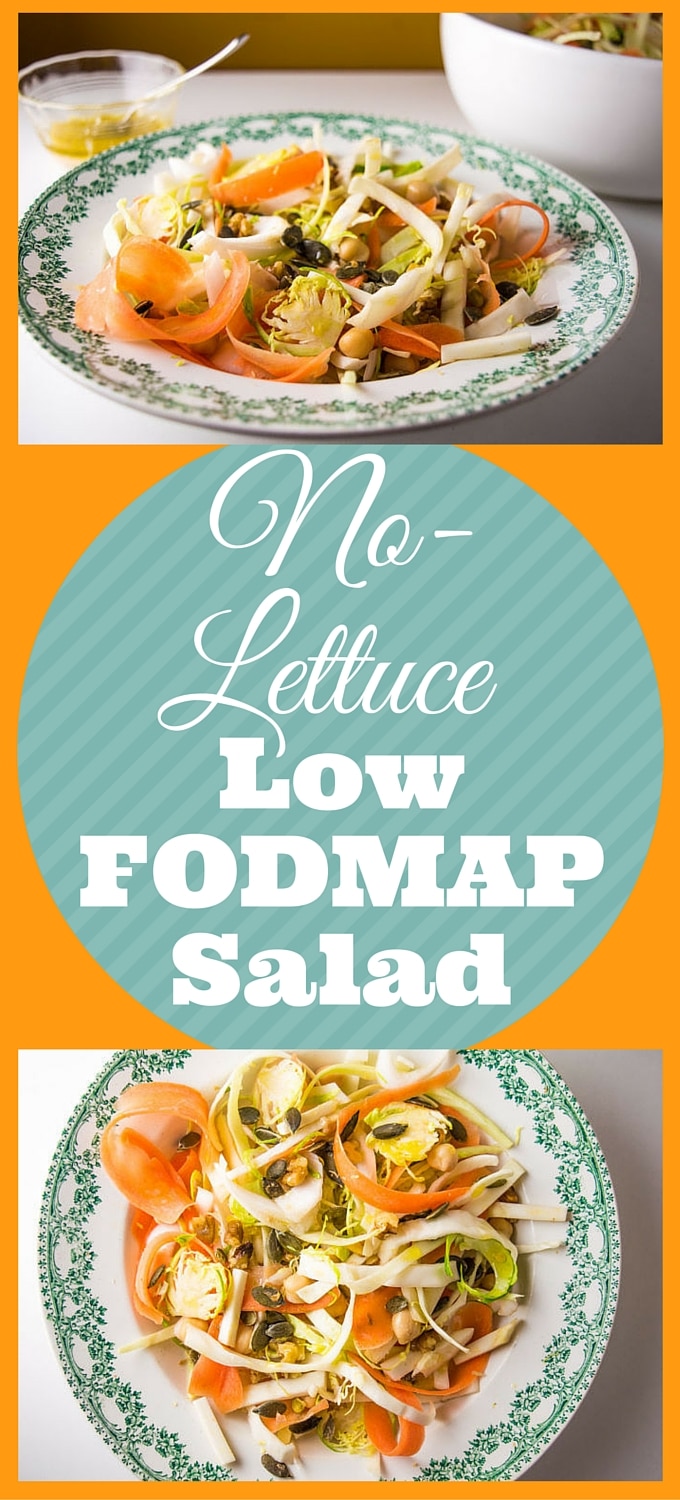 You Might Also Like