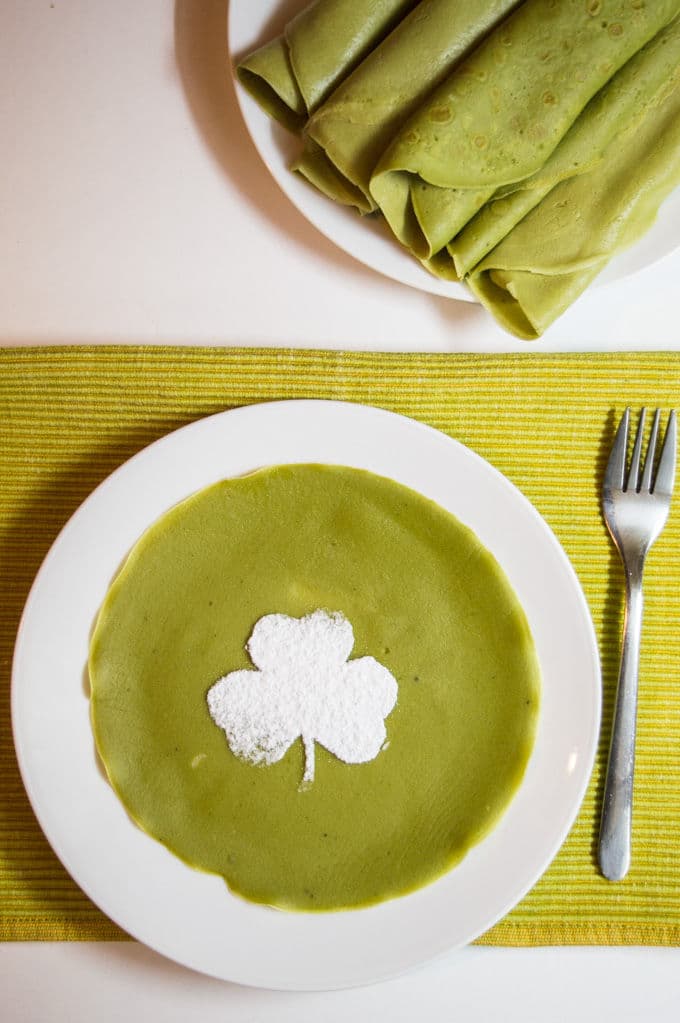 Happy to share with you my first matcha recipe ever, right on time for St. Patrick´s day!
Tradition says you should wear green and a three-leaved shamrock, so I "dressed up" these crepes accordingly.
But what is matcha?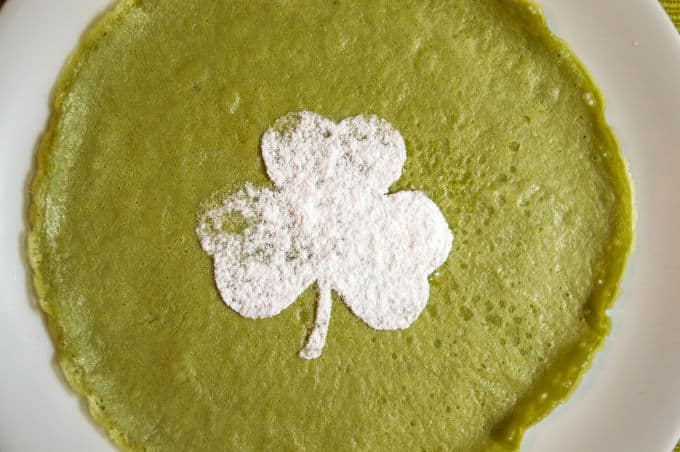 Matcha is a finely ground powder made from high quality green tea leaves and original from Japan. This finely milled green tea is becoming very popular for its intense rich, smooth flavor, its vivid green color and specially its high antioxidant content. It contains all the benefits of green tea but at much higher concentrations. It is also very versatile as you can enjoy it in a tea, smoothie, latte, baked goods,…
I´ve decided to add this wonderful powder to my gluten free and dairy free easy crepe recipe that I´ve already shared here. These crepes are made from an easy liquid batter of rice flour, potato starch (or tapioca), eggs and vegetable milk that is ready to use after resting for just 15 minutes. I find this small size ideal to keep them light and aerated.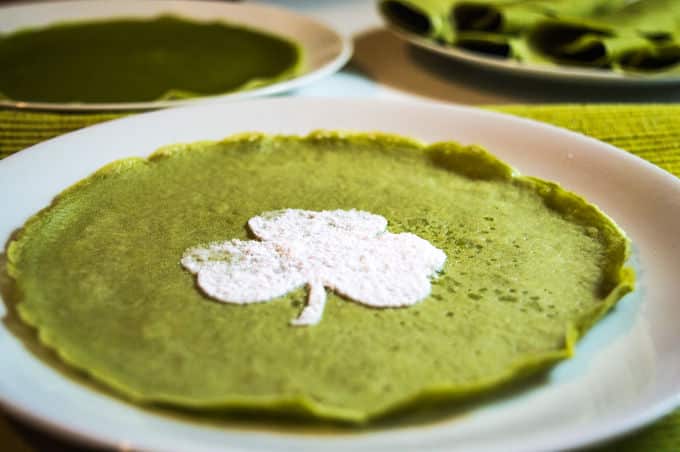 For more inspiration, you can check my matcha pinterest board.

Matcha Mini Crepes (gluten free & dairy free)
Ingredients
½ cup / 50 gr. rice flour
½ cup / 50 gr. potato starch (or tapioca)
1 tsp matcha powder
2 eggs
1 cup / 200 ml almond milk (or rice milk)
Instructions
In a big bowl add the four, potato starch and matcha and combine.
Add in the eggs and beat until well incorporated.
Slowly pour in the vegetable milk while beating.
Let stand for 15 minutes, minimum.
Pour in a ladle of batter in a hot small non-stick pan.
Cook over medium heat for 2 to 4 minutes and flip. Cook for another minute and remove to a plate.
Continue until all batter is gone.
Recipe in Portuguese:
Mini Crepes de Matcha (sem glúten e sem produtos lácteos)
Ingredients
½ chávena (50gr) farinha de arroz
½ chávena (50gr) fécula de batata (ou polvilho)
1 colher de chá de matcha
2 ovos
1 chávena (200 ml) leite de amêndoa (ou arroz)
Instructions
Numa tigela misture a farinha, a fécula de batata e o matcha.
Adicione os ovos e misture bem.
Adicione lentamente o leite enquanto bate.
Deixe repousar durante 15 minutos, no mínimo.
Deite uma concha do preparado numa pequena frigideira anti-aderente bem quente.
Cozinhe em lume médio durante 2-4 minutos e vire o crepe. Cozinhe mais um minuto e retire para um prato.
Continue até acabar o preparado.
You Might Also Like