Healthy donuts? Hmmmmm maybe yes… but fluffy and tasty donuts while still gluten free and low FODMAP?? My answer is a big YES!  So you must be wondering…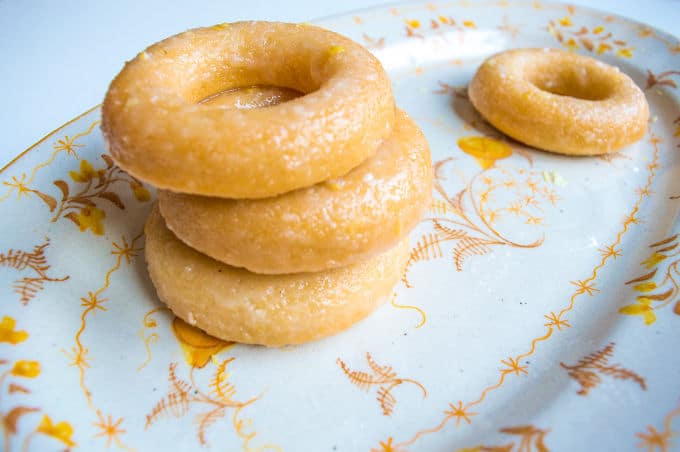 How? Well, two of the advantages of baking with yogurt is that the batter stays moist and light. You can try my Natural Yogurt and Lemon Cake, my Rhubarb Upside-Down Cake or even my savory Cornbread, and you´ll see how it´s possible to have wonderful results in a gluten free kitchen by simply adding yogurt.
Before today, I´ve been using lactose free yogurt but this time, I went for greek yogurt as it has negligible amounts of lactose. If you are not severely intolerant to lactose or if you´re following the low FODMAP diet, I would suggest that you give it a try. I also use clarified butter (ghee), as it´s healthier than regular butter and naturally lactose and caseine free. Baking and cooking with yogurt and ghee allows us to have calcium in our diets, no matter which one we follow.
For the glaze, I stayed faithful to the recipe´s main ingredients: lemon and greek yogurt. You can omit this part, if you want a very healthy dessert but I think these not-fried-but-baked donuts with a healthy batter deserve an indulgent topping. They are really good and so much better than store-bought donuts 😉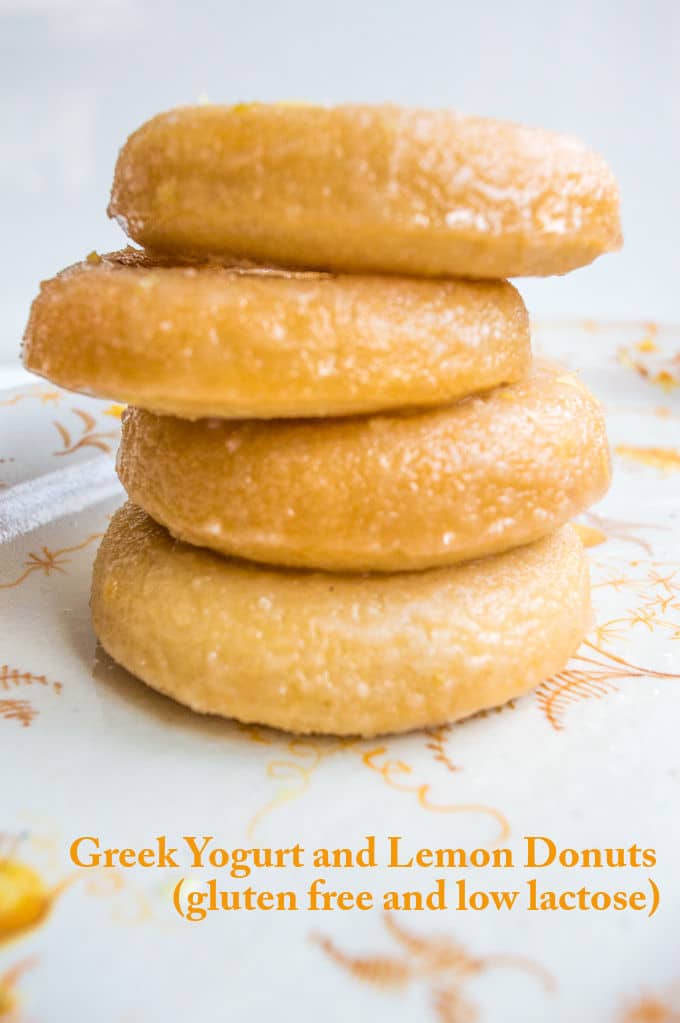 Greek Yogurt and Lemon Donuts (Gluten Free and Low Lactose)
Ingredients
½ cup/ 70 gr rice flour
⅓ cup/ 50 gr. tapioca
1oz/ 30gr (30) ground almonds or almond meal
1 tsp gluten free baking powder
½ tsp salt
2 tbsp ghee/ clarified butter (olive oil, if you prefer)
⅓ cup/ 85 gr. brown sugar
2 eggs
4 oz/ 125gr greek yogurt (lactose free, if you prefer) - leave a tablespoon for the glaze
1 tsp lemon zest
½ tsp vanilla extract
For the lemon glaze
1 cup/ 150 gr. powdered sugar
3 tablespoons lemon juice
1 tablespoon greek yogurt (lactose free, if you prefer)
1 tablespoon lemon zest (optional)
Instructions
Preheat oven to 325ºF/ 160ºC.
In a large bowl whisk the sugar with the ghee (or olive oil) for 2 minutes. Add in the eggs and beat until the batter starts to bubble.
Add in the yogurt, lemon zest and vanilla extract and combine.
In another bowl, combine flour, tapioca, almonds, baking powder and salt and slowly add to the batter, beating until completely blended.
Spoon the batter into a donut pan or donut molds and bake for 15-20 minutes, or until golden.
Remove from the oven and leave to cool for 10 minutes before unmolding.
Dip with...
Lemon glaze
Whisk together powdered sugar and lemon juice until smooth. Add in the greek yogurt and whisk well.
Dip each donut into the glaze and sprinkle with lemon zest (optional).
 Recipe in Portuguese:
Donuts de Iogurte Grego e Limão (Sem Glúten, baixo teor de Lactose)
Ingredients
70 gr./ ½ xícara de farinha de arroz
50 gr./ ⅓ xícara polvilho doce (ou azedo)
30gr./1 oz (30) amêndoas moídas
1 colher de chá de fermento sem glúten
½ colher de chá de sal
2 colheres de sopa de ghee / manteiga clarificada (azeite, se preferir)
85 gr./ ⅓ xícara de açúcar amarelo
2 ovos
125 gr./ 4 oz iogurte grego (sem lactose, se preferir) - deixar uma colher de sopa para a cobertura
1 colher de chá de raspas de limão
½ colher de chá de essência de baunilha
Para a cobertura de limão
150 gr./1 xícara de açúcar em pó
3 colheres de sopa de sumo de limão
1 colher de sopa de iogurte grego (sem lactose, se preferir)
1 colher de sopa de raspas de limão (opcional)
Instructions
Pré-aqueça o forno a 160ºC/ 325ºF.
Numa tigela grande misture o açúcar com o ghee (ou azeite) durante 2 minutos. Adicione os ovos e bata até a massa começar a borbulhar.
Adicione o iogurte, as raspas de limão e a essência de baunilha e misture.
Noutra tigela, misture a farinha, tapioca, amêndoas, fermento e sal e adicione lentamente à massa, batendo até ficar tudo completamente misturado.
Coloque a massa em forminhas de donuts e leve ao forno durante 15-20 minutos, ou até dourar.
Retire do forno e deixe arrefecer durante 10 minutos, antes de desenformar.
Cobertura de açúcar e limão
Misture o açúcar em pó e sumo de limão até obter uma consistência homogénea. Adicione o iogurte grego e bata bem.
Mergulhe cada donut no preparado anterior e polvilhe com raspas de limão (opcional).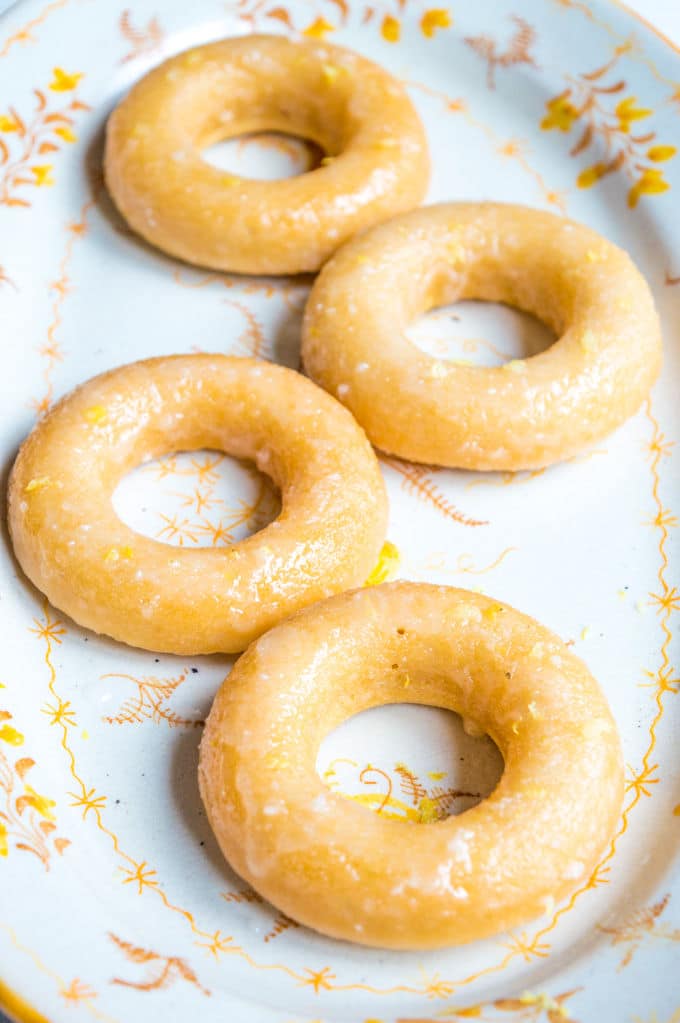 You Might Also Like