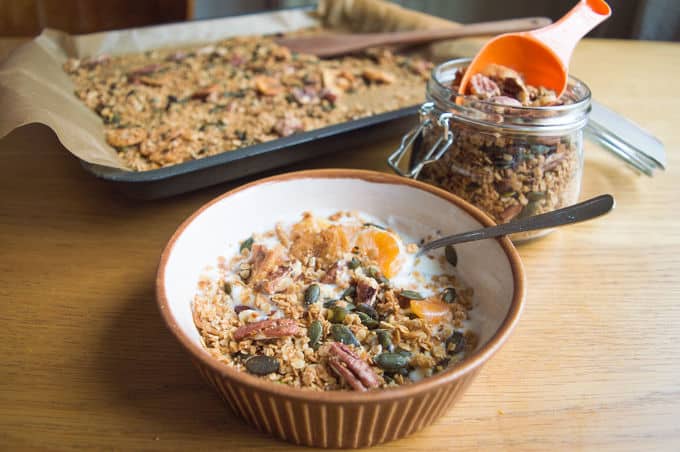 Bom dia Granola; Good morning, Granola!
Hey, been trying to (m)eat you (…) But hey, where have you been?
Granola, glorious granola! The kind that makes you sing and dance to the sound of The Pixies or Otis Redding  🙂
But why all the excitment? You might ask. After all, this is just another granola recipe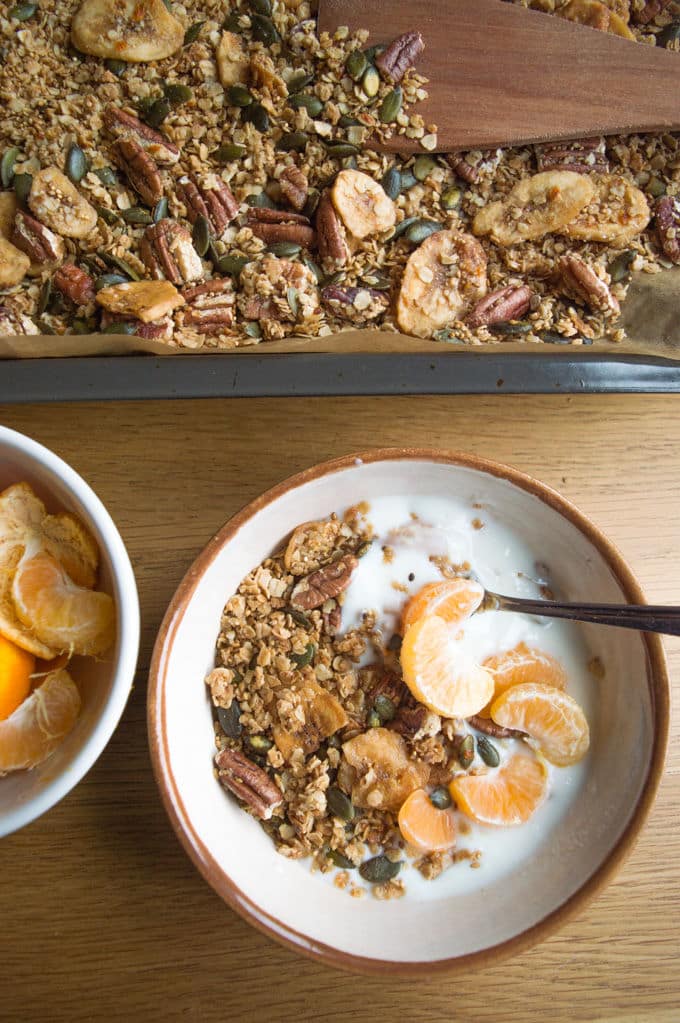 Maybe this is just another granola recipe but for me it is the first one and I am really happy with it 🙂
Actually this breakfast and snack food is very popular in the US but not so much here in Europe. This is why my post today is entitled Good Morning, Granola in Portuguese, a kind of wake up call to everybody (me included) to make homemade granola. It is easy, nutricious and delicious! And the house smells so good after baking it!
But for all of you already familiar with Granola, I´ve developed a slightly different recipe. It is gluten free, vegan and low FODMAP. It has a lot of goodness in it like oats, quinoa, flax seeds, banana chips, pecans, pumpkin seeds,… and a plus – tangerine!
I call it Citrus Granola and it got me chained and bound, like in the Otis Redding song 🙂
Ready to give it a try?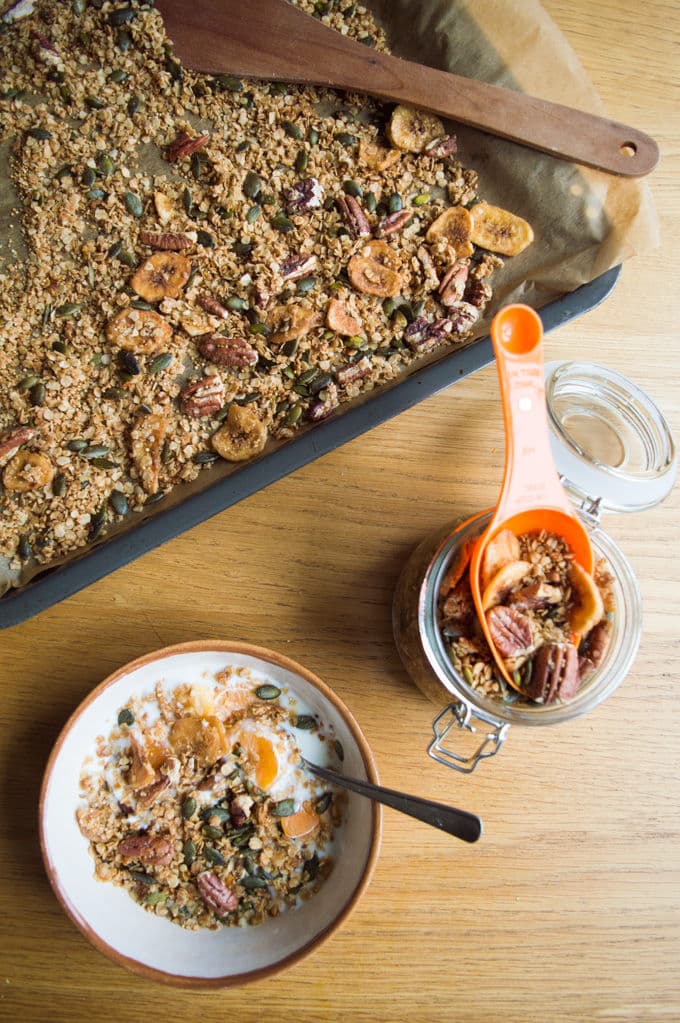 Citrus Granola
Ingredients
2 cups/ 200gr gluten free rolled oats
2 tbsp/ 20gr uncooked quinoa
2 tbsp/20gr flax seeds
1 cup/100gr pecans
½ cup/ 75gr pumpkin seeds
¾ cup/ 60gr dried banana (30 banana chips)
Zest of 2 small tangerines
1 tsp salt
½ tsp cinnamon
¼ cup/ 70ml maple syrup
2 tbsp/ 30gr brown sugar
¼ cup/ 60ml melted coconut oil (if solid, put in the microwave for 30 seconds)
Instructions
Preheat oven to 300ºF/ 150ºC.
Measure oats, quinoa, flax, pecans, pumpkin seeds, dried banana, tangerine zest, salt and cinnamon into a big bowl.
Add the maple syrup, sugar and oil and stir until well blended.
Spread out the mix on a large baking sheet lined with parchment paper.
Bake for 40 minutes or until the oats are golden brown and fragrant, and gently stir with a spatula every 10 minutes.
Let the granola cool completely in the baking tray and store it in an airtight container for up to 2 weeks.
Notes
I suggest eating the granola with lactose free yogurt or vegetable milk and a fresh tangerine.

Low FODMAP: it is advisable to eat ⅛ of the granola per meal, as the allowed quantity of oats is ¼ cup (23 grams). Even if allowed, there is a lot of low fodmapers that find oats hard to digest so I advise you to test a smaller quantity first. We are also limited to 10 (20 grams) of banana chips and the recipe calls for 30 chips, so if you stick to the recommended serve of ⅛ you´ll be fine.

If you prefer you can add in the banana chips at the end, but I find it nice to cook them as well till light brown.
 Recipe in Portuguese:
Granola de Tangerina
Ingredients
2 xícaras / 200gr flocos de aveia sem glúten
2 colheres de sopa / 20gr quinoa
2 colheres de sopa / 20gr sementes de linhaça
1 xícara / 100gr nozes pecã
½ xícara / 75gr sementes de abóbora
¾ xícara / 60gr de banana desidratada (30 chips de banana)
Raspas de 2 tangerinas pequenas
1 colher de chá de sal
½ colher de chá de canela
¼ xícara / 70ml de xarope de ácer
2 colheres de sopa / 30gr de açúcar amarelo
¼ xícara / 60ml de óleo de coco derretido (se estiver sólido, colocar 30 segundos no micro-ondas)
Instructions
Pre-aqueça o forno a 150ºC/ 300ºF.
Numa tigela grande misture a aveia, quinoa, linhaça, nozes, sementes de abóbora, banana desidratada, raspas de tangerina, sal e canela.
Adicione o xarope de ácer, açúcar e óleo e mexa até ficar tudo bem misturado.
Espalhe a mistura num tabuleiro forrado com papel vegetal.
Leve ao forno durante 40 minutos ou até que a aveia esteja dourada e perfumada, misturando delicadamente com uma espátula a cada 10 minutos.
Deixe a granola arrefecer completamente no tabuleiro e coloque-a num recipiente hermético. Consumir nas próximas 2 semanas.
Notes
Sugiro que coma a granola com um iogurte sem lactose ou leite vegetal e com uma tangerina.

Low FODMAP: é aconselhável comer ⅛ da granola por refeição, pois a quantidade permitida de aveia é ¼ de xícara (23 gramas). Mesmo sendo a aveia permitida, há pessoas que a encontram difícil de digerir. Assim, aconselho que teste primeiro uma quantidade reduzida. A quantidade de banana desidratada recomendada é de 10 chips (20 gramas). A receita utiliza 30, por isso, uma porção de ⅛ é segura.

Se preferir pode adicionar a banana apenas no final. Eu considero, porém que ao tosta-la o seu sabor é mais agradável.
You Might Also Like