Let´s put our hands into the dough!
"Hands into the dough" is a translation from the portuguese expression "mãos na massa" which means something like "get your hands dirty" with a culinary twist.
As this is my first post, my gut feeling tells me that there is no better way to start than with a healthy, gluten free bread loaf that you can experiment and recreate according to your taste.
This is by far my favorite bread recipe and it just keeps surprising me all the time!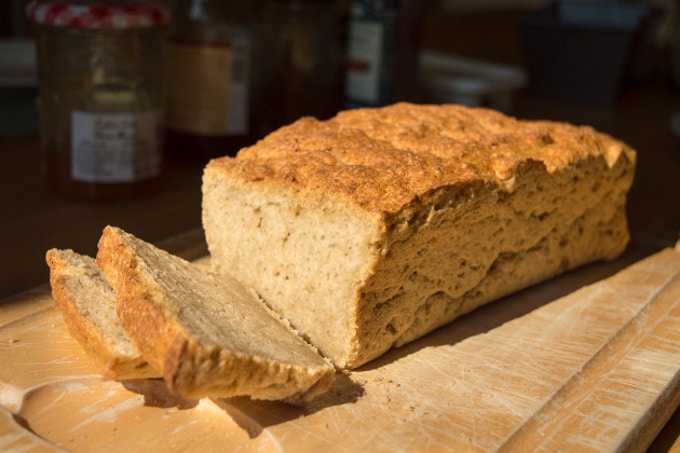 Gluten Free Oven Baked Bread
Ingredients
2 tbsp golden flaxseeds (20gr/0.7oz) + 6 tbsp warm water
1 cup (140gr/4.9oz) brown rice flour
1 cup (150gr/5.3oz) tapioca
½ cup (70gr/2.45oz) One of these flours: millet, buckwheat or oat
½ cup (70gr/2.45oz) One of these flours: millet, buckwheat or oat
1 tbsp (8gr/0.3oz) xanthan gum
1 tsp (6gr/0.2oz) fine sea salt
3 tbsp (42gr/1.48oz) brown sugar
2 ¼ (8gr/0.3oz) tsp quick yeast
1 ½ cups warm water
4 tbsp olive oil + more to grease the tin
Instructions
Combine flaxseeds and warm water, allow to sit for about 5 minutes and mix in the blender.
Lightly grease a 0,5kg/1lb loaf tin (25cm*11cm*7,5cm / 10inch*9inch*4,5inch) with olive oil and dust with brown rice flour.
Weigh the dry ingredients into a bowl and mix thoroughly.
In a separate bowl blend together the warm water and the flaxseeds mix with a spatula.
Add the dry ingredients slowly and blend to form a sticky dough.
Spoon the oil over the mixture and bring it together with a spatula into a ball of dough.
Put the dough into the tin and leave to rise covered with a kitchen cloth in a warm place for about 1 hour.
Preheat the oven to 180ºC/350ºF. Put a tray of water at the bottom of the oven to create a moist environment while baking.
Bake for 1 hour and 10 minutes.
Let the loaf rest for 10 minutes on a cooling rack before slicing.
Notes
The flaxseeds mix is also called "flax egg". 1tbsp flax+3tbsp warm water sustitutes one egg. So this recipe can be done with two eggs if not egg intolerant or sensitive.

The flour combination is entirely up to you (except for the base ingredients: rice flour and tapioca). You can either choose two different flour mixes like millet + oat (my personal favorite) or just one cup of buckwheat flour, for example. These possibilities have all been tested successfuly. Even if it is the same recipe it is capable of creating different breads with distinctive flavours. Just try and pick your favorite mix.

Low FODMAP diet: buckwheat flour, even if well tolerated by many, is limited to ⅛ cup. Also oat flour, even if low FODMAP, is not well digested by many. ½ a cup should be ok but I advise you to try one of these flours at a time to better evaluate your personal tolerance.
 Recipe in Portuguese:
Pão sem Glúten no Forno
Ingredients
2 colheres de sopa de sementes de linhaça dourada (20gr / 0,7oz) + 6 colheres de sopa de água morna
1 xícara (140gr / 4,9oz) de farinha de arroz integral
1 xícara (150g / 5,3 oz) polvilho azedo (tapioca)
½ xícara (70gr / 2,45oz) Uma destas farinhas: millet, trigo sarraceno ou aveia
½ xícara (70gr / 2,45oz) Uma destas farinhas: millet, trigo sarraceno ou aveia
1 colher de sopa (8gr / 0,3oz) goma de xantana
1 colher de chá (6gr / 0,2oz) de sal fino
3 colheres de sopa (42gr / 1,48oz) de açúcar amarelo
2 ¼ colheres de chá (8gr / 0,3oz) de fermento de padeiro seco (sem glúten)
1 ½ xícaras de água morna
4 colheres de sopa de azeite
Instructions
Misture as sementes de linhaça com a água quente, deixe descansar durante cerca de 5 minutos e triture num processador de alimentos ou liquidificador.
Unte levemente a forma de pão (25cm*11cm*7,5cm / 10inch*9inch*4,5inch) com azeite e polvilhe com farinha de arroz integral.
Coloque os ingredientes secos numa tigela e misture bem.
Noutra tigela envolva 1 e ½ xícaras de água morna com a mistura de linhaça, utilizando uma espátula.
Adicione os ingredientes secos e misture lentamente até formar uma massa pegajosa.
Por fim adicione o azeite à mistura e mexa com a espátula até obter uma bola de massa.
Coloque a massa na forma e deixe repousar num lugar morno e coberta com um pano de cozinha durante aproximadamente 1 hora.
Pré-aqueça o forno a 180ºC / 350ºF. Coloque um tabuleiro de água na parte inferior do forno para criar um ambiente húmido ao cozer.
Coza durante 1 hora e 10 minutos.
Retire o pão do forno e deixe arrefecer durante 10 minutos numa grelha antes de cortar.
Notes
A mistura de sementes de linhaça também é chamada de "ovo de linhaça". 1 colher de sopa de sementes de linhaça + 3 colheres de sopa de água morna sustituem um ovo. Sendo assim, caso não seja intolerante ou sensível, esta receita pode ser feita com dois ovos.

A combinação de farinhas é inteiramente ao seu critério (exceto para os ingredientes básicos: farinha de arroz e polvilho). Pode escolher duas misturas diferentes da farinha como millet+ aveia (o meu favorito) ou apenas uma xícara de farinha de trigo sarraceno, por exemplo. Estas possibilidades foram todas testadas com sucesso. Mesmo tratando-se da mesma receita, ela é capaz de criar diferentes pães com sabores distintos. Basta experimentar e escolher o seu favorito.

Dieta pobre em FODMAP: a farinha de trigo sarraceno, mesmo se normalmente bem tolerada, é limitada a ⅛ xícara. Também a farinha de aveia, mesmo que low FODMAP, pode não ser bem digerida por muitas pessoas. ½ xícara deverá ser bem tolerada, mas aconselho a que experimente uma destas farinhas de cada vez para melhor avaliar a sua tolerância pessoal.
You Might Also Like