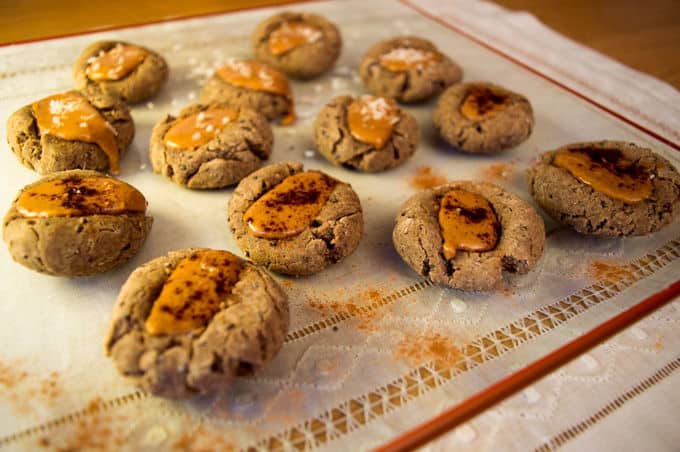 Sometimes the unnexpected happens. You idealise a recipe, bake it and it comes out just like the way you´ve imagined! Lucky me because I have a dinner party to attend to and this is what I will be taking 😉
These cookies are very easy to make and perfect for those moments when you don´t have much time to bake a dessert. Plus they are gluten, dairy and egg free and will make your house smell like Xmas!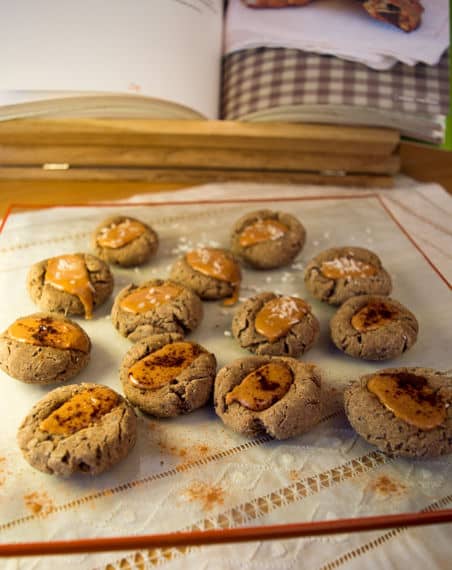 I would also like to share with you my favorite cookbooks, in case you are looking for ideas to gift your loved ones. You can find the list here.

Gingerbread Thumprint Cookies with Peanut Butter (gluten, dairy and egg free)
Ingredients
½ cup warm water
2 tbsp chia seeds
½ cup dark muscovado sugar
2 tbsp coconut oil
3 tbsp ground ginger
1 tbsp cinnamon, more to sprinkle
1 cup buckwheat flour
1 cup brown rice flour
peanut butter for filling (or dark chocolate spread)
Shredded coconut to sprinkle (optional)
Instructions
Preheat the oven to 180ºC/350ºF and line a small baking sheet with parchment paper.
Combine chia seeds and warm water and allow to sit for about 5 minutes.
In a large bowl combine chia seeds and water, sugar, oil, ginger, cinammon and mix thoroughly.
Slowly add the flours until well incorporated.
With your hands create little balls with the dough and place them in the baking tray.
Use your thumb to press in the dough and make a little hole halfway into the cookie.
Bake for 20 minute.
While the cookies are still hot, fill them in with peanut butter, in order for the butter to melt.
Sprinkle with cinnamon and/or shredded coconut (optional)
You Might Also Like