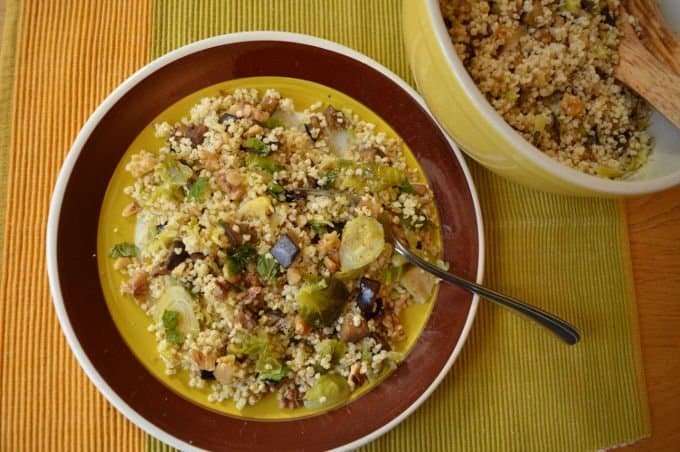 Living in Brussels is the perfect excuse to create recipes with brussels sprouts. They are everywhere!
Sounds a bit cliché, I know… but I believe it is not always easy to eat these tinny vegetables, as their flavor can be very strong and overwhelming.
My wish with this recipe was to be inspired by brussels sprouts and to bring out the best of their crunchy, nutty and earthy nature. By combining them with other similar ingredients, the result is a healthy, tasty and filling vegetarian salad.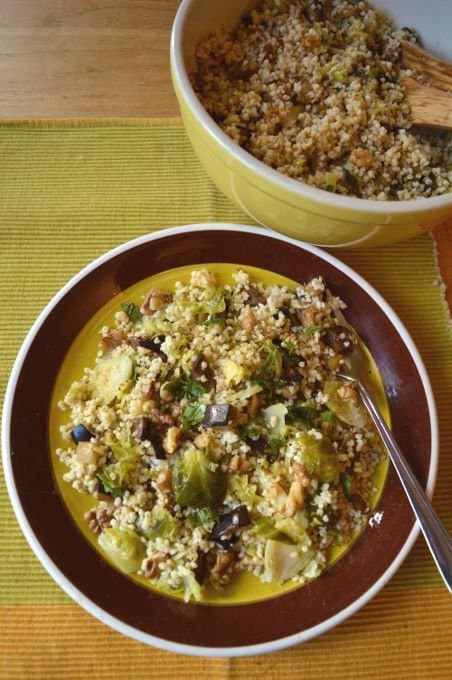 Briefly what I did was: I´ve toasted the millet and the walnuts; added balsamic glazed eggplant (last chances to enjoy them as they´re almost out of season) and aromatically enhanced the salad by adding fresh mint and a special walnut vinaigrette dressing which I am very proud of  🙂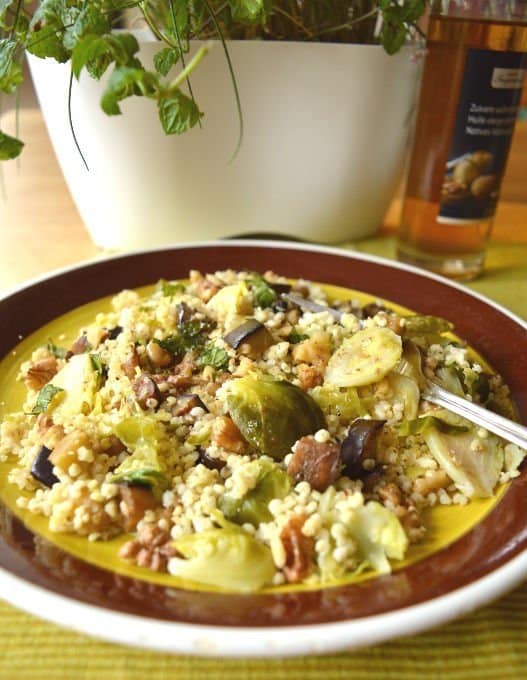 Crunchy Millet Brussels Sprout Salad with Walnut Vinaigrette
Ingredients
Millet salad
1 cup millet
2 cup water
pinch of salt
4 brussels sprouts, sliced into skinny strips
4 tbsp extra virgin oil
1 medium aubergine/eggplant, sliced into small squares
2 tbsp balsamic vinegar
pinch of salt
½ cup walnuts, coarsely chopped
small handful fresh mint, chopped

Walnut Vinaigrette
3 tbsp walnut virgin oil
1 tbsp apple vinegar
big pinch nutmeg
pinch of fine grain sea salt
Freshly ground pepper, to taste
Instructions
In a medium pan over medium heat, toast the millet, stirring frequently, until fragrant and turning golden. In the same pan, repeat the process with the walnuts and set aside.
Chop off and discard the stem end of the brussels sprouts and any discolored outer leaves. Thinly slice them in horizontal layers.
Place the millet and the brussels sprouts in a saucepan with boiling water and add a large pinch of salt. Lower the heat, cover the pot and simmer until the millet and vegetables are just cooked through, about 20 minutes.
In the meantime add olive oil to the previously used pan for toasting over medium heat for 2 minutes. Add the sliced aubergine, balsamic vinegar and salt and let cook for about 10 minutes until golden and soft, stirring frequently. Set aside.
Remove the millet pot from the heat, mix gently with a fork and let it sit, covered, for 10 minutes.
In a big salad bowl toss the millet with sprouts and glazed aubergine.
In a small bowl, whisk the vinaigrette ingredients together until well mixed. Pour the dressing over the salad and mix well.
Add the toasted walnuts and mint to the salad and toss.
Serve immediately or, if you have time, let the salad marinate for ten minutes beforehand.
Notes
Even if the secret to this vinaigrette is in this earthy flavored walnut oil, you can replace it with extra virgin olive oil.

In the low FODMAP diet, the recommended quantity is 2 brussels sprouts (38 gr.) per person. This recipe serves 4 and uses only 4 brussels sprouts (one per person), which should be perfectly safe.
 Recipe in Portuguese:
Salada Crocante de Milho-Painço e Couves de Bruxelas com Vinagrete de Nozes
Ingredients
Salada de Milho-Painço
1 xícara de milho-painço
2 xícaras de água
pitada de sal
4 couves de Bruxelas, cortadas em tiras finas
4 colheres de sopa de azeite virgem extra
1 beringela média, cortada em quadrados pequenos
2 colheres de sopa de vinagre balsâmico
Pitada de sal
½ xícara de nozes, picadas grosseiramente
Uma mão cheia de hortelã fresca picada

Vinagrete de Nozes
3 colheres de sopa de óleo de noz virgem
1 colher de sopa de vinagre de cidra
Grande pitada de noz-moscada
Pitada de sal fino marinho
Pimenta preta a gosto
Instructions
Toste o painço numa frigideira em lume brando, mexendo frequentemente, até ficar dourado e perfumado. Na mesma frigideira, repita o processo com as nozes e reserve.
Descarte o talo das couves de Bruxelas e as folhas externas descoloradas e corte-as horizontalmente em fatias finas.
Coloque o painço e as couves de Bruxelas numa panela com água a ferver e adicione uma generosa pitada de sal. Reduza o lume, tampe a panela e deixe cozinhar durante aproximadamente 20 minutos ou até que o painço e os legumes estejam cozidos.
Entretanto coloque o azeite na frigideira utilizada anteriormente em lume médio durante 2 minutos. Adicione a beringela cortada aos quadrados pequenos, o vinagre balsâmico e o sal e deixe cozinhar durante cerca de 10 minutos ou até estas ficarem douradas e macias, mexendo frequentemente. Reserve.
Retire a panela de painço do lume, mexa delicadamente com um garfo e deixe repousar com a tampa durante cerca de 10 minutos.
Numa saladeira grande coloque o painço, as couves e a beringela
Numa tigela pequena, adicione os ingredientes do vinagrete até ficarem bem misturados. Deite o molho sobre a salada e misture bem.
Adicione as nozes torradas e a hortelã e misture.
Sirva imediatamente ou, se tiver tempo, deixe marinar durante dez minutos.
Notes
Mesmo que o segredo para este vinagrete esteja neste óleo de noz com sabor intenso, pode substituí-lo por azeite extra virgem.

Na dieta com baixo teor de FODMAPs, a quantidade recomendada é de 2 couves de Bruxelas (38 gr.) por pessoa. Esta receita serve 4 pessoas e usa apenas 4 couves de Bruxelas (uma por pessoa) sendo por isso perfeitamente segura.
You Might Also Like