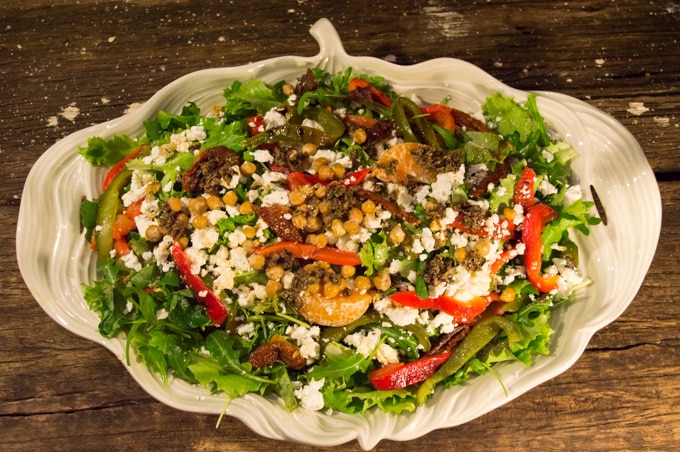 Got a crowd coming over for New Year´s Eve? This big-batch salad makes a great starter or an accompaniment to any main dish you prepare.
An all-star, easy-to-follow Mediterranean Salad recipe that is also healthy!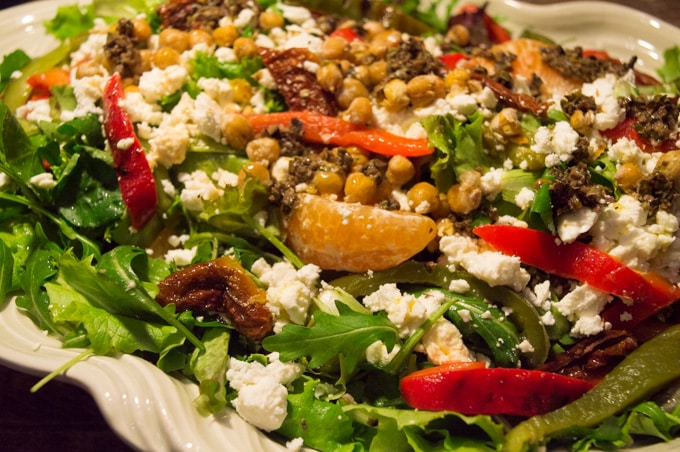 After the Xmas season feast, nothing better than a fresh, detox and healthy salad to put our bodies back on track. Even with food restrictions, and like many of you, I ate too much! What our bodies need now is a bit of a pause from all the traditional food we shared with family and friends. And because this is a festive season, I´ve invited my dear friends São and Pedro, to join me in this creation and taste the final result. I thank them for their patience, tips, kitchen and beautiful Bordalo Pinheiro Portuguese design dish. Thanx, guys 🙂
The result of our inspired cooking was this mediterranean salad loaded with fresh vibrant flavors of sun-dried tomatoes, bell peppers, chickpeas, feta cheese and tangerine. All this on a bed of salad greens and drizzled with a tangy tapenade (a popular french dip with olives and capers) and citrus dressing.
I wish you a happy and inspiring 2015! My gut feeling tells me it´s going to be awesome! 🙂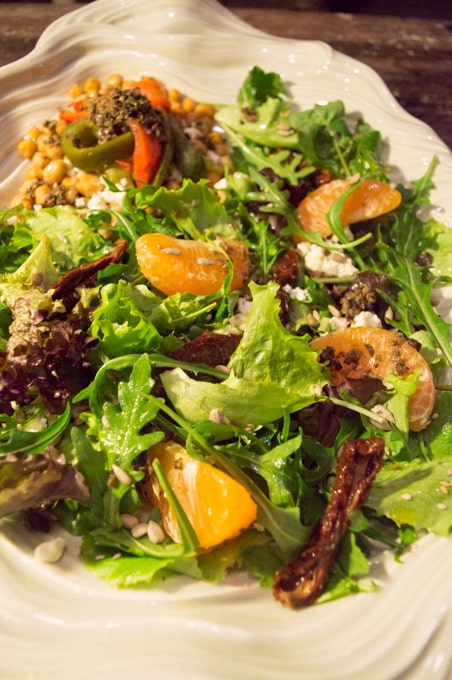 Crowd-Pleasing Mediterranean Salad
Ingredients
For the Salad
Mixed greens (lettuce, arugula, watercress)
1 roasted or sautéed red bell pepper, thinly sliced
1 roasted or sautéed green bell pepper, thinly sliced
Handful (8) sun-dried tomatoes
1 cup feta cheese, crumbled (omit if vegan)
1 cup canned chickpeas (for crunchiness, sautée in a non-stick pan for 5 minutes or until golden)
1 tangerine (or clementine), peeled and split into segments
Small handful sunflower seeds
2 tbsp toasted sesame seeds (optional)

For the Tapenade Dressing
1 cup black or kalamata olives, pitted
1 tbsp capers
5 tbsp olive oil
2 tbsp lemon juice
1 tbsp water
1 tbsp fresh thyme
1 tsp dried oregano
1 tbsp tangerine (or clementine) zest
Pinch of salt
Instructions
For the dessing, place the olives, capers, olive oil, lemon juice and water in a blender or food processor and blend until it turns into a soft paste. Add the rest of the ingredients and whisk together until emulsified. Set aside.
Place a generous portion of greens in a big bowl and add all the other ingredients. Just before you are ready to serve, toss the salad with the tapenade dressing.
Notes
If you are following a lowFODMAP diet, please note that you should limit the intake of chickpeas to ¼ cup, of sun-dried tomatoes to 2 pieces and of feta cheese to ½ cup. This corresponds to ¼ portion of the whole salad.

For vegan option, please omit the feta cheese
Salada Mediterrânica para Gregos e Troianos
Ingredients
Para a Salada
Verduras (alface, rúcula, agrião)
1 pimento vermelho assado ou salteado, cortado em fatias finas
1 pimento verde assado ou salteado, sem caroço, cortado em fatias finas
Uma mão cheia de (8) tomates secos
1 xícara de queijo feta, desfeito (omitir, caso seja vegan)
1 xícara de grão de bico em lata (para ficar crocante, saltear numa frigideira antiaderente por 5 minutos ou até dourar)
1 tangerina (ou clementina), descascadas e dividido em segmentos
Uma mão cheia pequena de sementes de girassol
2 colheres de sopa de sementes de sésamo torradas (opcional)

Para o Vinagrete estilo Tapenade
1 xícara de azeitonas pretas ou Kalamata, sem caroço
1 colher de sopa de alcaparras
5 colheres de sopa de azeite
2 colheres de sopa de sumo de limão
1 colher de sopa de água
1 colher de sopa de tomilho fresco
1 colher de chá de orégãos secos
1 colher de sopa de raspa de tangerina (ou clementina)
Uma pitada de sal
Instructions
Para o vinagrete, coloque o azeitonas, alcaparras, azeite, sumo de limão e água num liquidificador ou processador de alimentos e bata até obter uma pasta mole. Adicione o restante ingredientes e misture até emulsionar. Reserve.
Coloque uma porção generosa de verduras numa tigela grande e acrescente todos os outros ingredientes. Antes de servir, misture a salada com o vinagrete.
Notes
Se estiver a seguir a dieta lowFODMAP, por favor, note que deve limitar a ingestão de grão de bico para ¼ de xícara, de tomates secos para 2 unidades e de queijo feta para ½ xícara. Isto corresponde a ¼ de toda a porção da salada.

Para opção vegan, por favor omita o queijo feta.
You Might Also Like