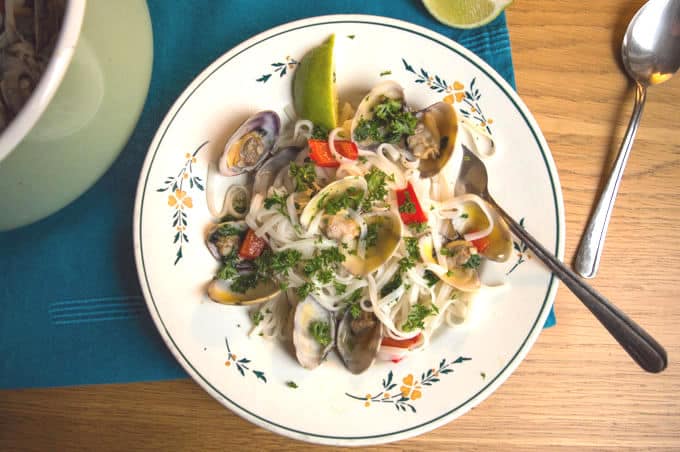 What do clams, parsley and red peppers have in common? The first two are great sources of iron and the last one helps its absorption. Iron deficiency is very common in women and sporadic consumers of red meat. So, if you need to maintain or increase your iron levels, try this easy and delicious pasta dish, full of fresh flavours.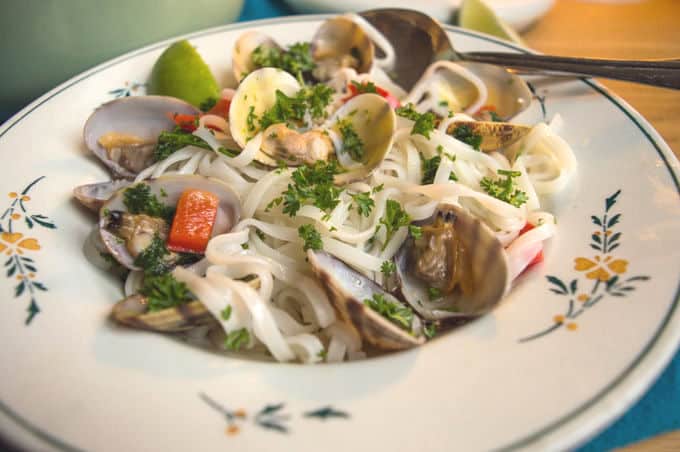 After almost a year avoiding red meat due to malabsortion, I started having an iron deficiency. So when I read that clams were the number one source of iron, I rushed to go and buy them.
I wanted to make something between Spaghetti alle Vongole Veraci and Amêijoas à Bolhão Pato (Portuguese Style Clams) that would be also gluten free and low FODMAP.
This is what I´ve cooked: delicious sea tasting clams over rice noodles with the sweet flavor of peppers and the fresh citrus scent of lime. Good for the body and for the soul 😉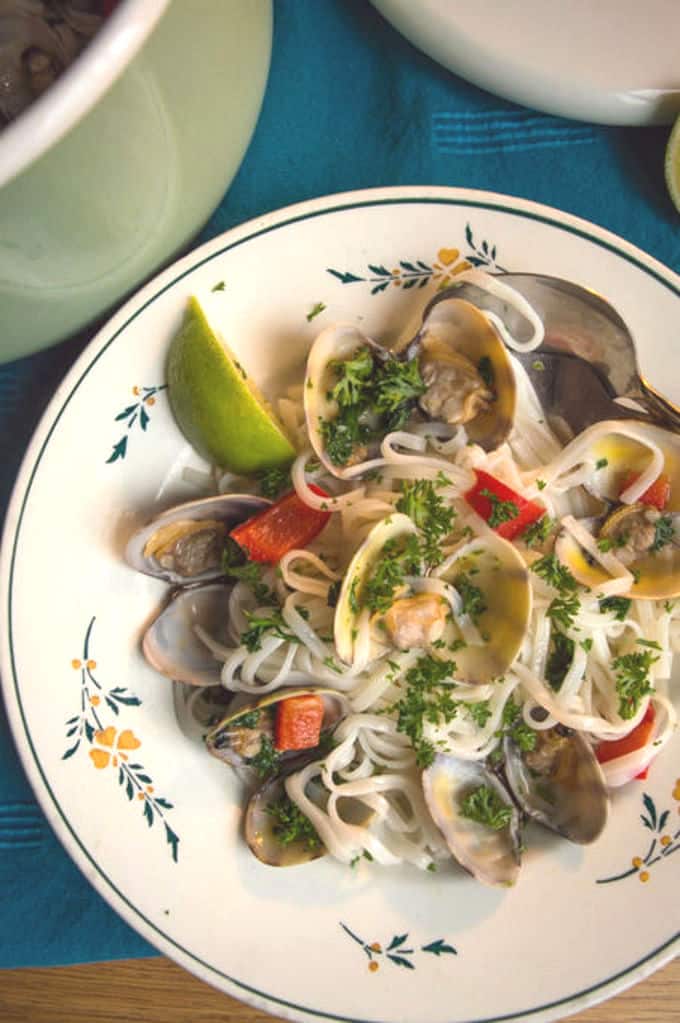 Clams with Peppers over Rice Noodles
Ingredients
18oz/500gr clams
7oz/200gr rice noodles
½ cup red bellpeppers, diced
4 tbsp olive oil
1 garlic clove (to infuse)
¼ cup white wine
¼ cup water
Pinch of salt
1 bunch of parsley, chopped
1 tbsp lime zest
Lime juice to serve
Instructions
Soak the clams in a large bowl of cold water with sea salt for at least 15 minutes (this will help to get rid of any leftover sand). Clean and rinse them and set aside.
Cook the noodles according to package directions.
Heat the olive oil with the garlic clove in a large deep pan over medium–high heat. Remove the garlic clove and reduce heat to medium.
Add the bellpeppers and fry gently over a low heat for about 10 minutes.
Add the wine and water and bring to a boil.
Place the clams, salt, parsley and lime zest. Cover and cook for a few minutes until clams open, discarding any clams that haven't opened.
Add the noodles to the pan and mix, allowing the pasta to soak up the juices.
Serve hot, squeezing ¼ lime on top of each noodles dish.
Receita em Português
Amêijoas com Pimentos sobre Massa de Arroz
Ingredients
500gr amêijoas
200gr massa de arroz
½ xícara pimentos vermelhos, cortados em cubos
4 colheres de sopa de azeite
1 dente de alho (para a infusão)
¼ xícara de vinho branco
¼ xícara de água
Uma pitada de sal
1 ramo de salsa picada
1 colher de sopa de raspas de lima
Sumo de lima para servir
Instructions
Mergulhe as amêijoas numa bacia de água fria com sal durante pelo menos 15 minutos (para retirar a areia). Lave-as e reserve.
Coza a massa conforme as instruções da embalagem.
Aqueça o azeite com o dente de alho numa panela grande em lume médio-alto. Retire o dente de alho e reduza o lume para médio.
Adicione o pimento e frite ligeiramente em lume brando durante aproximadamente 10 minutos.
Adicione o vinho e a água e deixe levantar fervura.
Coloque as amêijoas, o sal, casca de lima e salsa. Cozinhe com a tampa durante alguns minutos até as amêijoas abrirem. Descarte as amêijoas que permaneceram fechadas.
Adicione a massa e misture para absorver o molho.
Sirva quente e esprema ¼ de lima em cima de cada prato.
You Might Also Like