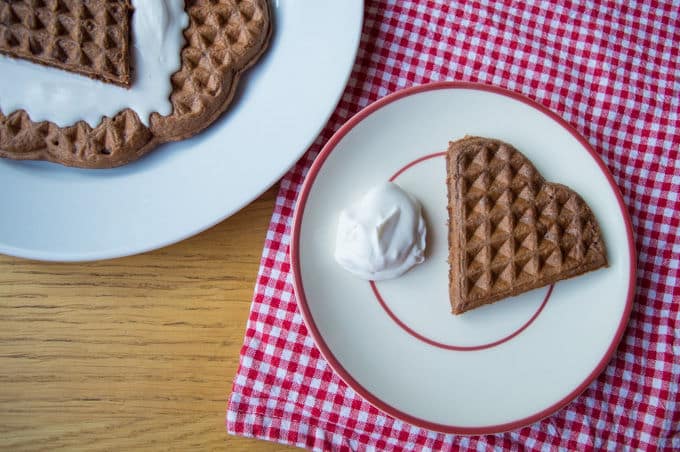 Living in Belgium and not being able to eat waffles is like going to Rome and not eat pizza – there are great gluten free ones, in case you´re wondering 😉
So I finally decided to adventure myself in the wonderful world of gluten free, vegan and low fodmap gaufres. I think I´ve nailed it but I leave it up to you to decide 😉
And if you´re looking for a good excuse to eat them, I give you some ideas…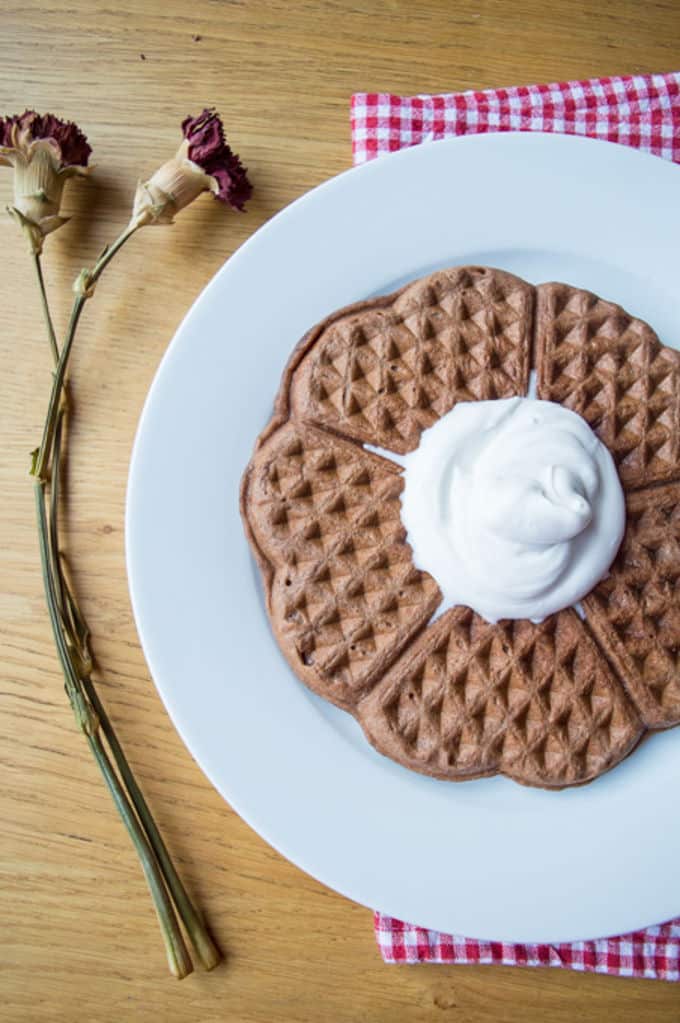 … because there is some romantic event coming up next weekend, why not make a heart-shaped waffle? I couldn´t resist this beautiful waffle maker…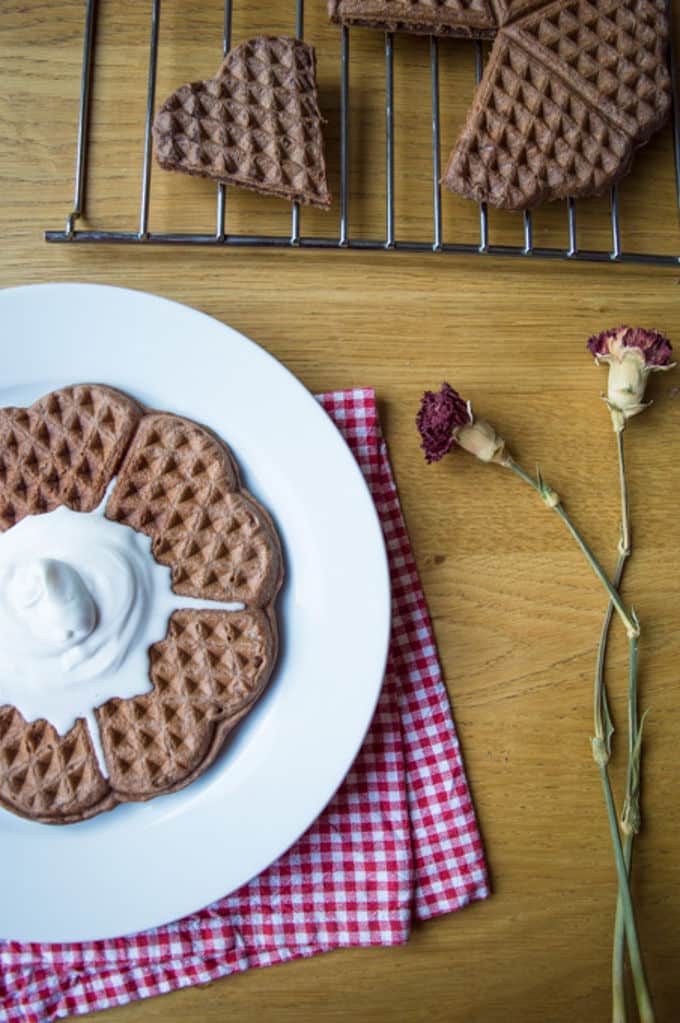 … because Belgium is also the land of great chocolate, why not make these waffles a bit more Belgian?
I added 3 heaped teaspoons of good quality Belgian cocoa power to the batter. This is the maximum we can have in the low fodmap diet.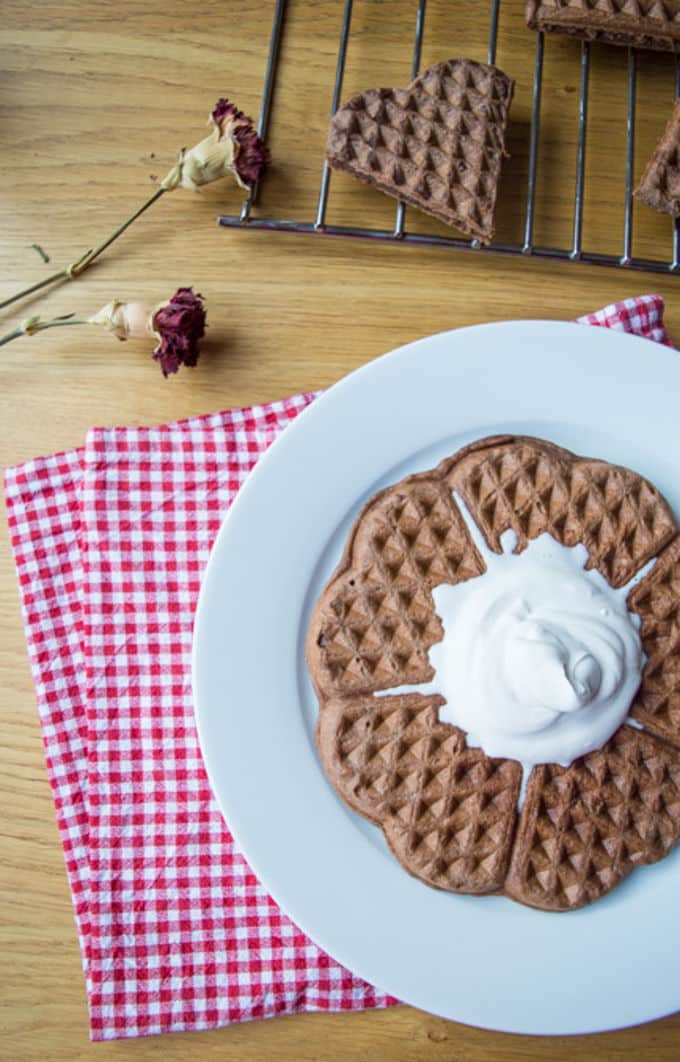 … because I also cannot eat the most common gauffres topping – cream, why not make my own dairy free delicious whipped cream? I´ve already used it on top of mini bundt cakes and with a lot of success 🙂 You can check the recipe here.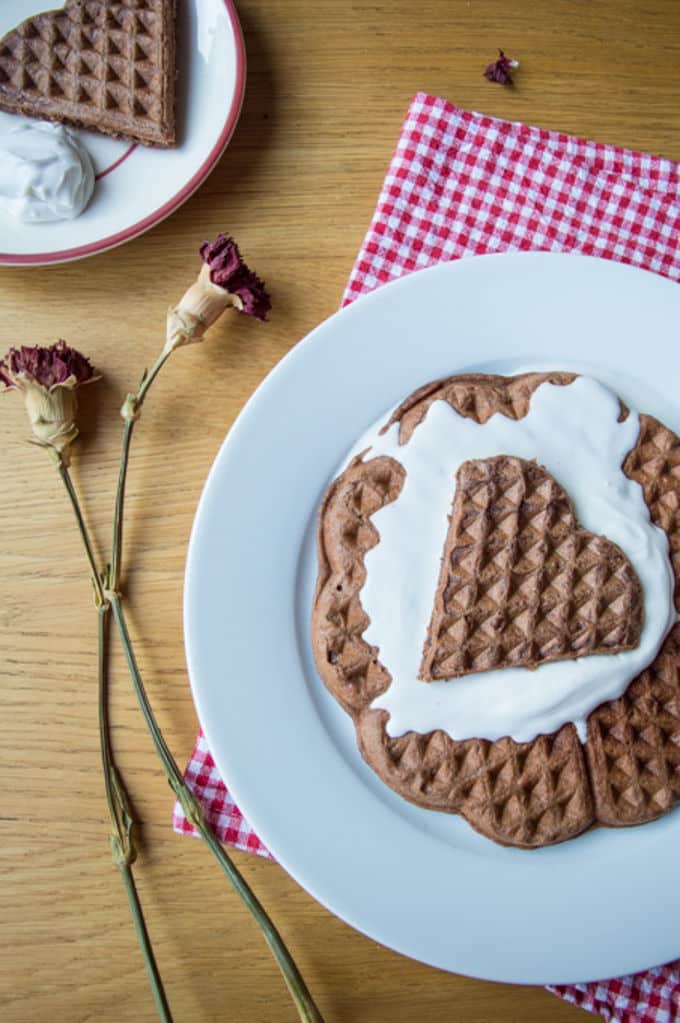 … and because there are so many talented chefs/ bloggers who inspire me daily, I got the inspiration and know-how from Kate and her wonderful Easy Gluten Free Waffles recipe! Thank you, Kate for making this recipe possible and for agreeing with the adaptations 🙂
All we need is love and waffles everyone can eat 🙂

Chocolate Oat Waffles with Coconut Whip
Ingredients
¼ cup gluten free rolled oats OR oat flour*
2 tbsp flaxseeds OR flaxseed meal*
¾ cup brown rice flour
½ cup potato starch
3 heaped tsp cocoa powder
½ tsp salt
1½ tsp baking powder
2 tbsp brown sugar
1+1/4 cup room temperature rice milk (or almond milk, if tolerated)
1tsp apple cider vinegar
¼ cup melted coconut oil
2 tbsp maple syrup
1 tsp vanilla extract
Whipped coconut cream
½ can full-fat coconut milk, refrigerated for minimum 2 hours
1 tbsp maple syrup
½ tsp vanilla extract
½ tsp lemon juice
Instructions
In a mixing bowl, combine milk and vinegar and let set for a few minutes to activate. Then add the rest of the wet ingredients: melted coconut oil, maple syrup, vanilla extract and whisk.
In another bowl, whisk together the dry ingredients: flours, starch, cocoa powder, salt, baking powder and sugar.
Pour the wet ingredients into the dry ingredients. Stir with a big spoon until just combined (the batter will still be a little lumpy). Let the batter rest for 10 minutes so the flour has time to soak up some of the moisture. Plug in your waffle iron to preheat now.
Once 10 minutes is up, give the batter one more swirl with your spoon. Pour batter onto the heated waffle iron, enough to cover the center and most of the central surface area, and close the lid. Once the waffle is crisp, transfer it to a cooling rack or baking sheet. Don't stack your waffles on top of each other, or they'll lose crispness. If desired, keep your waffles warm by placing them in a 200 degree oven until you're ready to serve.
Repeat with remaining batter. Serve waffles with ...
Whipped coconut cream
Scoop out half of the coconut cream from the refrigerated can. Choose the hard cream, leaving the more liquid coconut milk in the can (reserve for other recipes).
Place it in a bowl and add the maple syrup, vanilla extract and lemon juice.
Beat with an electric mixer until stiff and fluffy.
Spoon the cream on top of the waffles and serve.
Notes
* To make oat flour and flaxseed meal simply blend old-fashioned or quick-cooking oats with the flaxseeds in a food processor or blender until they are ground into a fine flour. You'll need to blend about ¼ cup oats to make ¼ cup flour; and 2 tbsp of flaxseeds to make 2 tbsp of flaxseed meal.

Low FODMAP diet: the recommended dose of oats is ¼ cup and of cocoa powder, 3 heaped teaspoons. Feel free to eat all the waffles, as the recipe is low fodmap proof 😉 Please note that, even if the dose is safe, there are some people who don´t tolerate oats. I suggest trying a bit first to see how you feel.
 Recipe in Portuguese:
Waffles de Chocolate e Aveia com Natas de Côco (vegan, sem glúten, baixo teor de FODMAP)
Ingredients
¼ xícara flocos de aveia sem glúten ou farinha de aveia *
2 colheres de sopa de sementes de linhaça ou de farinha de linhaça *
¾ xícara de farinha de arroz integral
½ xícara de fécula de batata
3 colheres de chá rasas de cacau em pó
½ colher de chá de sal
1½ colher de chá de fermento em pó
2 colheres de sopa de açúcar amarelo
1 + ¼ de xícara de leite de arroz à temperatura ambiente (ou leite de amêndoa, se tolerar)
1 colher de chá de vinagre de maçã
¼ de xícara de óleo de coco derretido
2 colheres de sopa de xarope de ácer
1 colher de chá de essência de baunilha
Natas de côco
½ lata de leite de côco cremoso, no frigorífico durante pelo menos 2 horas
1 colher de sopa de xarope de ácer
½ colher de chá de essência de baunilha
½ colher de chá de sumo de limão
Instructions
Numa tigela, misture o leite e vinagre e deixar repousar durante alguns minutos para ativar. De seguida, adicione o restante ingredientes líquidos: óleo de coco derretido, xarope de ácer, extrato de baunilha e misture bem.
Noutra tigela, misture os ingredientes secos: farinhas, fécula, cacau em pó, sal, fermento em pó e açúcar.
Verta os ingredientes líquidos nos ingredientes secos. Mexa com uma colher grande até incorporar (a massa tem um aspecto irregular). Deixe repousar a massa durante 10 minutos para que a farinha absorva os líquidos. Ligue a máquina de waffles e deixe pré-aquecer.
Passados 10 minutos coloque uma concha de sopa de massa sobre a máquina de waffles aquecida, o suficiente para cobrir o centro e a maioria da área da superfície central, e feche a tampa. Uma vez que o waffle esteja crocante, transfira-o para uma grelha. Não empilhe os waffles em cima uns dos outros para não amolecer. Se desejar, mantenha os waffles quente, colocando-os num forno a 200 graus até servir.
Repita o processo com o resto da massa. Sirva os waffles com...
Natas de côco
Retire metade do creme de côco da lata previamente refrigerada. Escolha o creme duro, deixando o leite de côco mais líquido na lata (reserve para outras receitas).
Coloque o creme numa tigela e adicione o xarope de ácer, a essência de baunilha e o sumo de limão.
Bata com uma batedeira até ficar firme e cremoso.
Coloque no topo dos waffles e sirva.
Notes
* Para fazer farinha de aveia e de linhaça simplesmente misture os flocos de aveia com as sementes de linhaça num processador de alimentos ou liquidificador e moa até obter uma farinha fina. Vai precisar de ¼ xícara de aveia para fazer ¼ xícara de farinha; e 2 colheres de sopa de sementes de linhaça para fazer 2 colheres de sopa de farinha de linhaça.

Dieta com baixo teor de FODMAP: a dose recomendada de aveia é de ¼ de xícara e de cacau em pó, 3 colheres de chá rasas. Pode assim comer todos os waffles, pois a receita é garantidamente low FODMAP 😉 Por favor, note que, mesmo que a dose seja segura, há pessoas que não toleram aveia. Sugiro que experimente um pouco para ver como se sente.
You Might Also Like