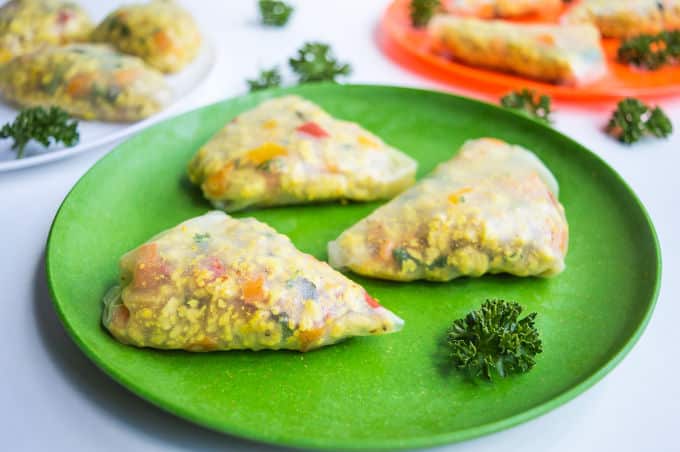 How I love Chicken Samosas… and how I missed them!
You can find Chicken Samosas or Chamuças de Galinha in every Portuguese cafe menu. It´s the result of our hybrid Indian-Portuguese cuisine, due to Portuguese presence in Goa in the 16th Century, where Chicken Samosas are hugely popular. We eat them cold as a quick snack and they are addictive so I definitely had to create my own gluten free and low FODMAP version! I was facing two big challenges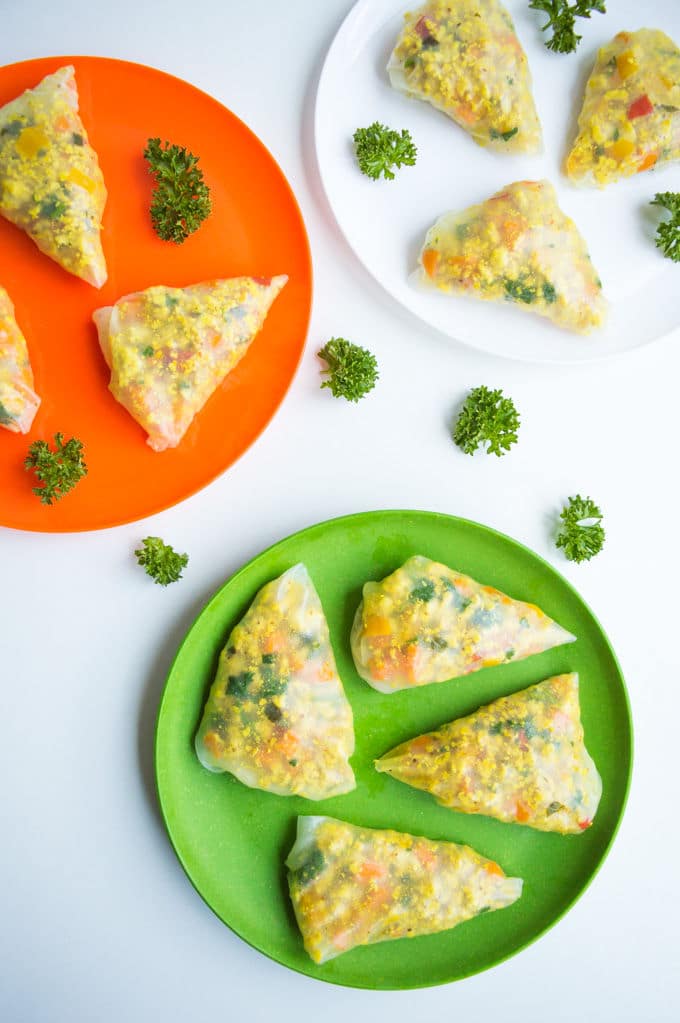 First challenge:
The dough is usually hand made with regular flour and deep fried or replaced with filo pastry and baked in the oven. Needless to say that both options are a no-no for gluten intolerants such as myself. So, to be able to enjoy them this summer, I got the inspiration from Sarah´s Spring Samosas, where she substitutes the pastry for rice paper wrappers. Genious!
Second challenge:
Traditionally, samosas are doused with curry powder (which normally contains garlic) and loaded with onions and peas (both high FODMAP vegetables). So I´ve carefully selected the spices to create a low FODMAP curry and the veggies to create a gut friendly filling.
I am quite pleased with the final result, even if I do miss the chunchiness of the original pastry. One point in favor of this version is that, because they are much healthier, you can eat half a dozen with no guilt 😉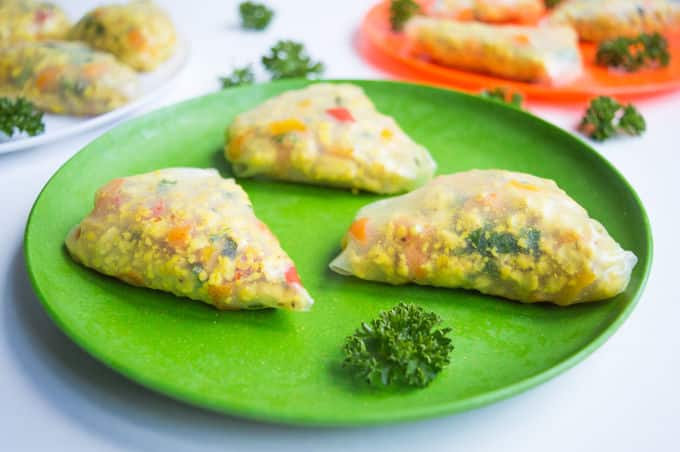 Chicken Summer Samosas (Gluten Free, Low FODMAP)
Ingredients
8 round rice paper wrappers (for spring rolls) 8.5" / 22cm
10 oz/ 300 gr. lean ground chicken
2 tbsp ghee (clarified butter) or olive oil
1 garlic clove with skin, crushed (for infusing)
1 tsp ginger
Big pinch of salt
½ tsp cumin seeds
½ tsp turmeric
½ tsp mustard
1 chili pepper, seeds and membrane removed and minced
1 tbsp olive oil or ghee
1 medium carrot, diced in small cubes
1 small red or yellow bell pepper, seeded and diced in small cubes
½ cup/ 15 gr. fresh parsley, chopped
1 tbsp fresh mint, chopped (optional)
1 tbsp lemon juice
Instructions
In a medium sauce pan, infuse the crushed garlic with skin in the ghee (or olive oil) on a fairly low hear for 2 minutes. Remove the garlic clove.
Add ground chicken and saute for 8-10 min until chicken is dry and cooked through, stirring occasionally and breaking up lumps. Add ginger and salt and saute for 5 minutes more.
For the curry, start by adding the cumin seeds and sizzle them for 30 sec. Add in the turmeric, mustard and chili, give everything a good stir and reduce heat to medium-low.
In the meantime, warm olive oil (or ghee) in a deep non stick skillet set over medium-high heat.
Add in the diced carrot and bell pepper and sautée for 5-10 minutes, or until cooked and still crunchy.
Place the vegetables in the pan where the chicken has been cooking and mix until just combined.
Fold in fresh parsley, mint and lemon juice, stir and remove from heat.
Pour 2 inches/ 5 cm of warm water into a large shallow dish. One at a time, place a rice paper wrap in the water and let soften, just until it becomes pliable (this step is important! Do not let the paper become completely soggy or the rice paper will split. There should still be some pattern visible on the surface). Remove from water and place rice paper on a clean, flat surface. Using a very sharp knife or a pizza cutter, slice the rice paper circle in half. On each half, place a generous scoop of the filling. Carefully fold it, creating a triangle. Fold the top of the package to seal it, and flip it over. Repeat steps with the remaining rice paper and filling.
 Recipe in Portuguese:
Chamuças de Galinha (Sem Glúten, Low FODMAP)
Ingredients
8 folhas redondas de papel de arroz (para rolos de primavera) de 22 cm/ 8,5 "
300 gr./ 10 oz frango picado
2 colheres de sopa de ghee (manteiga clarificada) ou azeite
1 dente de alho com pele, esmagado (para a infusão)
1 colher de chá de gengibre
Boa pitada de sal
½ colher de chá de cominhos
½ colher de chá de açafrão
½ colher de chá de mostarda
1 pimenta malagueta, sementes e membrana removidas e picada
1 colher de sopa de azeite ou ghee
1 cenoura média cortada em cubos pequenos
1 pequeno pimento vermelho ou amarelo, sem sementes e cortado em cubos pequenos
15 gr./ ½ xícara de salsa fresca picada
1 colher de sopa de hortelã fresca picada (opcional)
1 colher de sopa de sumo de limão
Instructions
Numa panela média, faça a infusão do alho esmagado no ghee (ou azeite) em lume brando durante 2 minutos. Retirar o dente de alho.
Adicione o frango e refogue durante 8-10 min mexendo ocasionalmente e desfazendo a carne em pedaços até estar cozinhada e com um aspecto seco. Adicione o gengibre e o sal e refogue durante mais 5 minutos.
Para fazer o caril, comece por adicionar os cominhos e deixe cozinhar durante 30 segundos. Adicione o açafrão, mostarda e pimenta, misture tudo muito bem e reduza o lume para médio-baixo.
Ao mesmo tempo, aqueça o azeite (ou ghee) numa frigideira em lume médio-alto.
Adicione a cenoura e o pimento em cubos e deixe saltear durante 5-10 minutos, ou até que os legumes estejam cozidos e ainda crocantes.
Adicione os legumes à panela com o frango e misturar bem os ingredientes.
Adicione a salsa, hortelã e o sumo de limão, misture e retire do lume.
Encha um prato de sopa com água morna. Uma a uma, coloque as folhas de papel de arroz na água e deixe amolecer, até que estas se tornem flexíveis (este passo é importante! O padrão deve estar ainda visível e não deve deixar o papel demasiado tempo na água senão irá romper). Retire a folha de papel da água e coloque-a numa superfície lisa e limpa. Usando uma faca bem afiada ou um cortador de pizza, corte o círculo de papel de arroz pela metade. Em cada metade, colocar uma colher generosa do preparado. Dobre com cuidado, criando um triângulo. Dobre a parte superior para selar a chamuça. Repita o processo com o restante preparado.
You Might Also Like