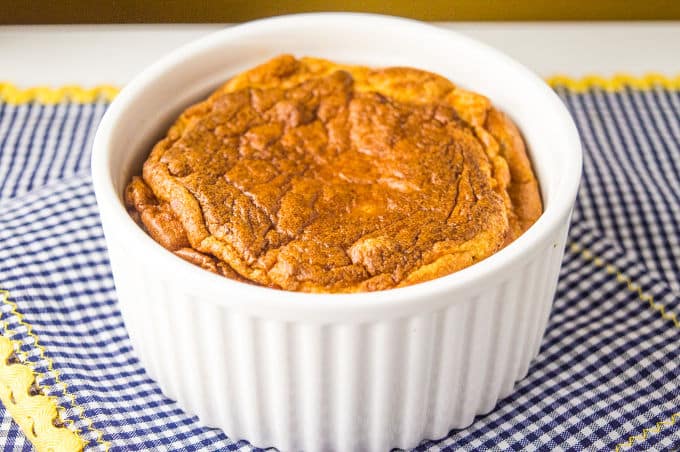 Soufflé is a french culinary wonder named after the verb souffler which means both to breathe and to puff.
This breathtaking, melt-in-the mouth side dish is perfect for your holiday table. Plus is easy to digest, as it's gluten free, lactose free and low FODMAP!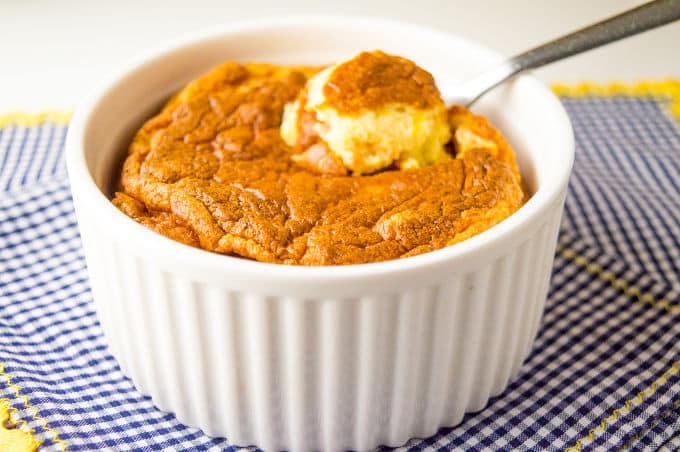 As overwhealming as this side dish might look, I assure you it's not difficult to make. You just need a bit of time and four ingredients: eggs, homemade béchamel sauce, carrots and spices. The recipe is easy to follow and absolutely delicious! You can serve it with your favorite holiday main dish.
And if you're looking for the perfect dessert to follow the main course, I suggest these carrot and chocolate marble cakes with candied almonds. Yum!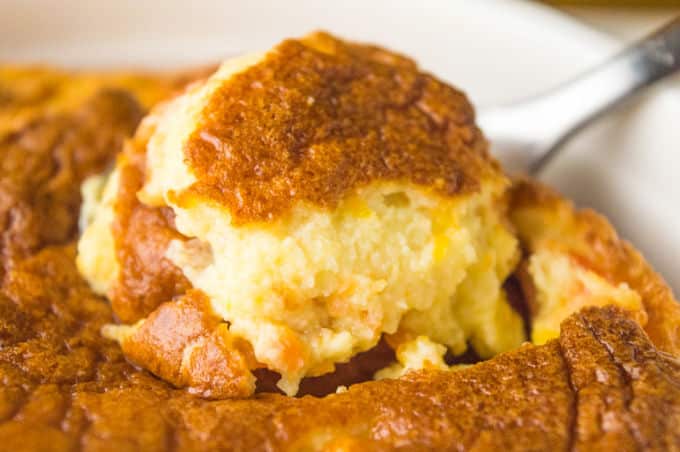 Carrot Soufflé (Gluten Free, Low FODMAP)
Ingredients
2 medium (122 gr.) carrots, peeled
2 eggs
2 tbsp lactose free butter + more to grease
2 tbsp corn starch
1 cup/ 200 ml lactose free milk
1 tsp of salt
Pinch of nutmeg
Pinch of black pepper
Instructions
Start by steaming the carrots until cooked, purée them with a fork and set aside.
For the béchamel, use a medium saucepan to heat the butter over medium-low heat until melted. Add the corn starch and stir until smooth. Cook until the mixture turns light golden, about 5 minutes.
Meanwhile, heat the milk and add it to the butter mixture in three times, whisking continuously until very smooth. Bring to a boil. Cook for 5 to 10 minutes, stirring constantly, then remove from heat. Season with salt, nutmeg and pepper. Set aside to cool completely.
Preheat oven to 350ºF/ 180ºC, with rack in lower third.
Separate the yolks from the whites and beat the egg whites to a soft peak.
Add the carrot purée along with the yolks to the cooled-off béchamel.
Gently fold in the egg-white mixture just until combined.
Grease 2 ramekins (or a small soufflé dish) and pour in the mixture, gently smoothing the top.
Transfer ramekins to oven, and bake for 45 minutes, or when puffed and golden brown on top and center is set (while baking, the soufflé might pour out of the ramekins, which is normal)
After cooked, the soufflé is puffed up and fluffy, and it will generally fall after 5 or 10 minutes as risen dough does. When this happens, it´s time to serve and enjoy 🙂
Notes
The low FODMAP save serving per meal is 1 medium carrot (61gr), so it´s safe to eat half of the soufflé.
Recipe in Portuguese:
Soufflé de Cenoura (Sem Glúten, Low FODMAP)
Ingredients
2 cenouras médias (122 gr.), descascadas
2 ovos
2 colheres de sopa de manteiga sem lactose + para untar
2 colheres de sopa de maizena
200 ml de leite sem lactose
1 colher de chá de sal
Pitada de noz-moscada
Pitada de pimenta preta
Instructions
Comece por cozer as cenouras ao vapor, desfaça-as em puré com um garfo e reserve.
Para o béchamel, derreta a manteiga numa panela em lume brando. Adicione a maizena e mexa durante cerca de 5 minutos até obter uma consistência homogénea e amarelada.
Entretanto, aqueça o leite e adicione-o lentamente à mistura, mexendo constantemente até engrossar (5 a 10 minutos). Tempere com sal, noz-moscada e pimenta e deixe arrefecer.
Preaqueça o forno a 180ºC, colocando a grelha na parte inferior do forno.
Separe as gemas das claras e bata as claras em castelo.
Adicione o puré de cenoura, e as gemas ao béchamel e misture bem.
Por fim adicione as claras em castelo ao preparado, envolvendo gentilmente.
Unte dois ramekins (ou uma travessa redonda) e adicione o preparado, alisando ligeiramente a parte superior.
Leve ao forno durante 45 minutos, ou até dourar e o centro estiver firme.
Retire do forno e sirva.
Notes
A dieta low FODMAP recomenda 1 cenoura média (61gr) por refeição, por isso pode comer até metade do soufflé.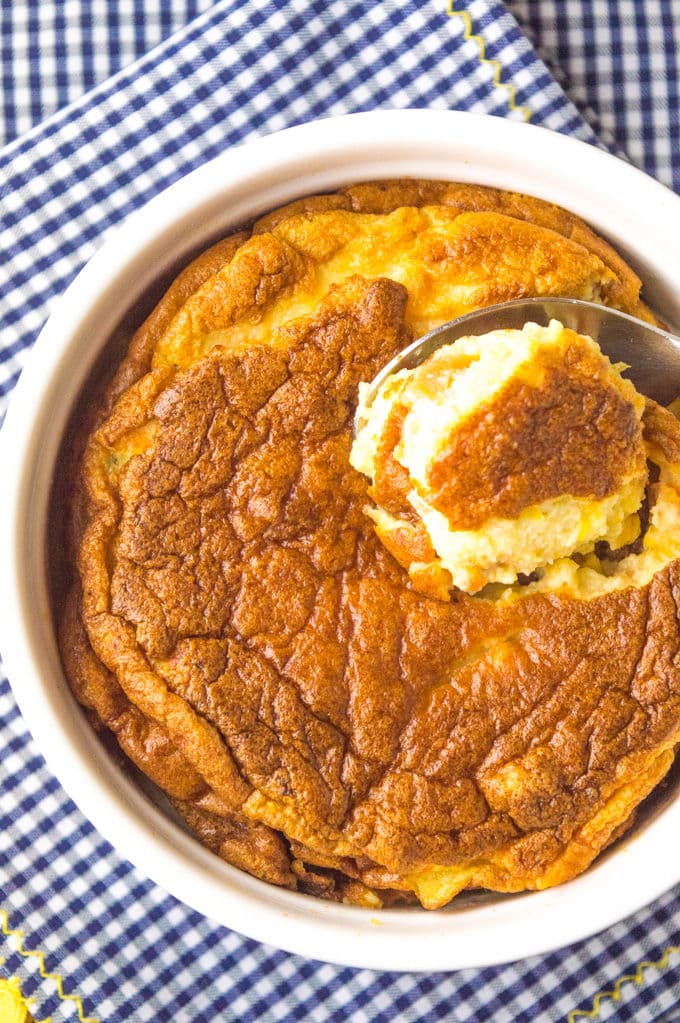 You Might Also Like