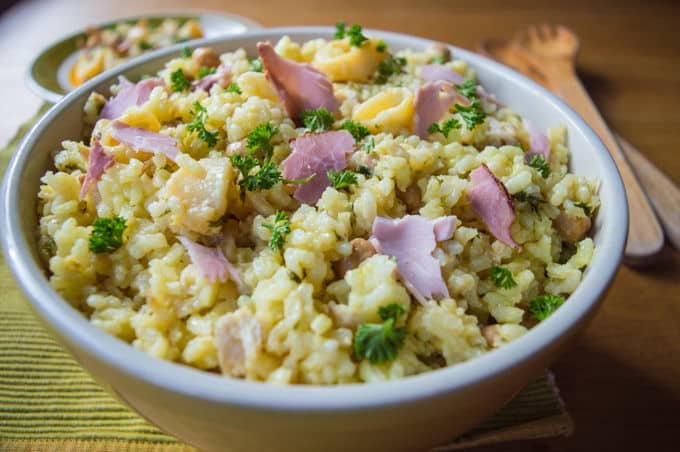 Today I bring to you a rich and easy one-pot mediterranean style pilaf featuring a surpring combination of flavors.  A low FODMAP and healthy meal for everybody to enjoy.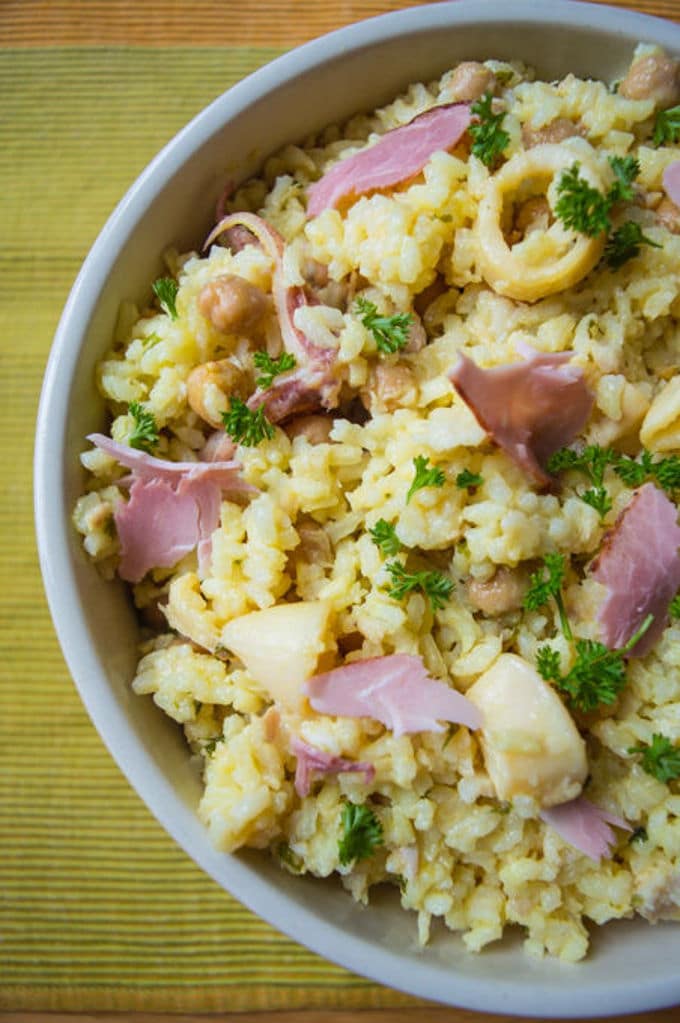 This rice pilaf´s main ingredients are calamari and ham. It is quite unusual to see pork paired with seafood in a recipe but we Portuguese do it often. I´m thinking carne de porco à Alentejana, a traditional dish with marinated pork and clams and arroz à Valenciana, a Portuguese style paella with chicken, chorizo and seafood. A match made in heaven 🙂
But what is a pilaf? A pilaf is a popular dish from the Middle East in which rice is cooked in a seasoned broth and fragranced with aromatics and spices. For this healthy version, the natural broth is made with water from cooking the calamari plus white wine. Turmeric and parsley perfume the dish, while white fish and chickpeas add consistency. I also use short grain rice to absorb more flavor.

Even if it looks challenging, you´ll see how easy it is to cook all in one pan. Just follow the step below and enjoy your pilaf 🙂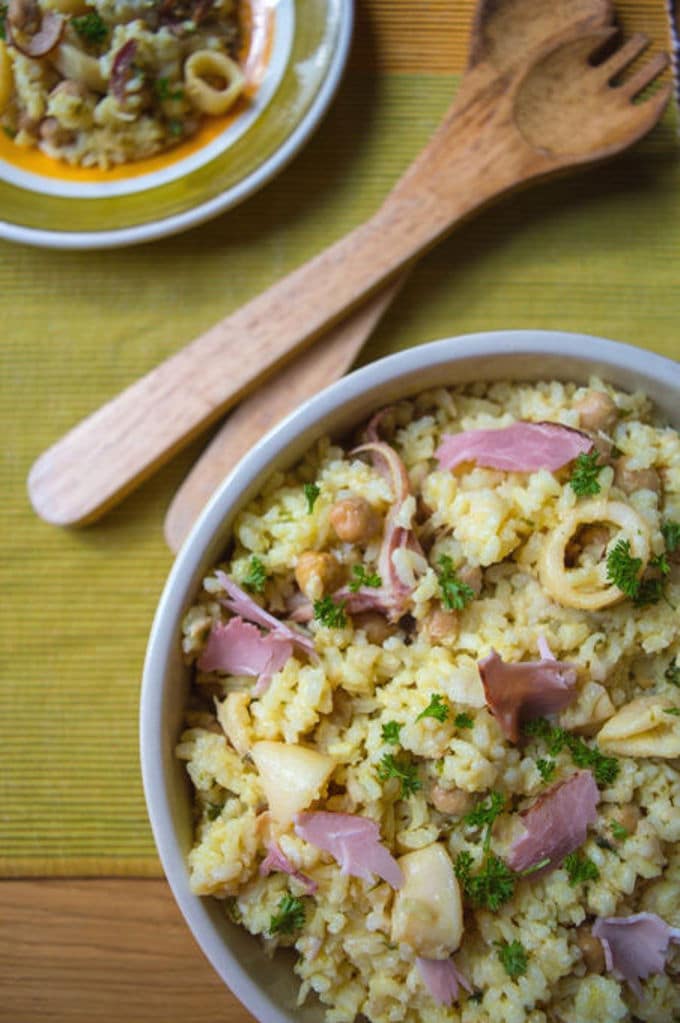 Calamari Rice Pilaf with Ham
Ingredients
7oz/200gr calamari (squid), cut into round strips
7oz/200gr white fish fillet, cut into big squares
4 slices of good quality ham, cut into small pieces
1 cup of short grain rice
1 cup canned chickpeas
1 garlic clove (to infuse)
3 tbsp olive oil
2 cups water
1 cup white wine
Pinch of salt
2 tbsp turmeric
½ cup freshly chopped parsley (plus more to sprinkle on top)
Instructions
Heat the olive oil with the garlic clove in a large deep pan over medium–high heat. Remove the garlic clove and reduce the heat to medium.
Add the calamari and cook for 5-10 minutes or until squid turns white/pink, stiring frequently.
Add the water and wine and bring to a boil. Let cook for 30 minutes in medium heat.
Add the rice, fish, salt, turmeric, parsley, chickpeas and ham.
Bring to the boil, then reduce the heat to low.
Simmer for 30 minutes or until water is almost absorbed and rice is tender. Give everything a good stir and season to taste, if necessary.
Remove from the heat and serve with freshly chopped parsley sprinkled on top.
Notes
If you are following a low FODMAP diet, canned chickpeas are safer because they have less FODMAP´s. Also be careful with the quantity you eat: the recommended amount is ¼ cup (44 gr.). The recommended serve is therefore ¼ of the pilaf.
Recipe in Portuguese:
Pilaf de Arroz com Lulas e Fiambre
Ingredients
200gr/7oz lulas, cortadas em tiras redondas
200gr/7oz filete de peixe branco, cortado em quadrados grandes
4 fatias de fiambre de boa qualidade, cortado em pedaços pequenos
1 xícara de arroz carolino (de grão curto)
1 xícara de grão de bico enlatado
1 dente de alho (para infusão)
3 colheres de sopa de azeite
2 xícaras de água
1 xícara de vinho branco
Uma pitada de sal
2 colheres de sopa de açafrão
½ xícara de salsa picada (mais para servir)
Instructions
Numa panela grande aqueça o azeite com o dente de alho em lume médio-alto. Retire o dente de alho e reduza o fogo para médio.
Adicione as lulas e cozinhe durante 5-10 minutos ou até que as lulas fiquem brancas/rosa, mexendo com frequência.
Adicione a água e vinho e deixe ferver. Cozinhe durante 30 minutos em lume médio.
Adicione o arroz, peixe, sal, açafrão, salsa, grão de bico e fiambre.
Deixe ferver e reduza o lume para mínimo.
Cozinhe durante 30 minutos ou até que a água seja quase totalmente absorvida e o arroz estiver cozido. Mexa bem e tempere a gosto, se necessário.
Retire do lume e sirva com salsa fresca picada.
Notes
Se está a seguir uma dieta com baixo teor de FODMAP, é aconselhável utilizar grão de bico enlatado, pois tem menos FODMAP's. Tenha também atenção que a quantidade recomendada de grão de bico é de ¼ xícara (44 gr.). A porção recomendada é de, portanto, ¼ do pilaf.
You Might Also Like