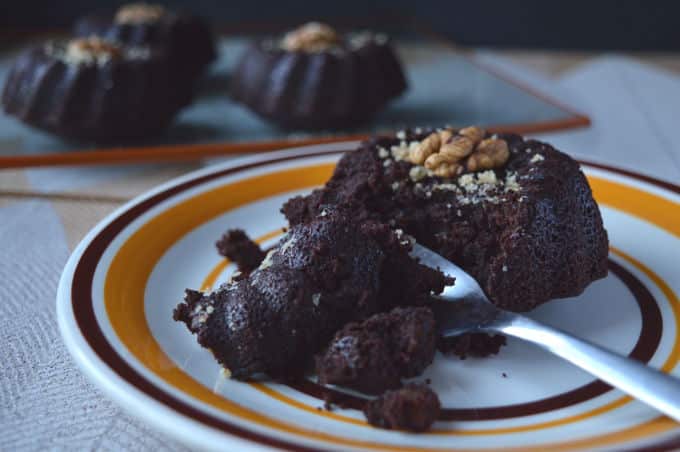 Halloween, día de los muertos (day of the dead in Mexico), dia de todos os santos (all saints day in Portugal) countdown began and to celebrate it I´ve decided to come up with my first gut feeling cocoa recipe.
There is something magical about this night of trick or treating, where you also honor your ancestors and celebrate life! And what a better way to do it than with a decadent fudgy treat that is also gluten free, dairy free and egg free? For that I had to use some magic tricks…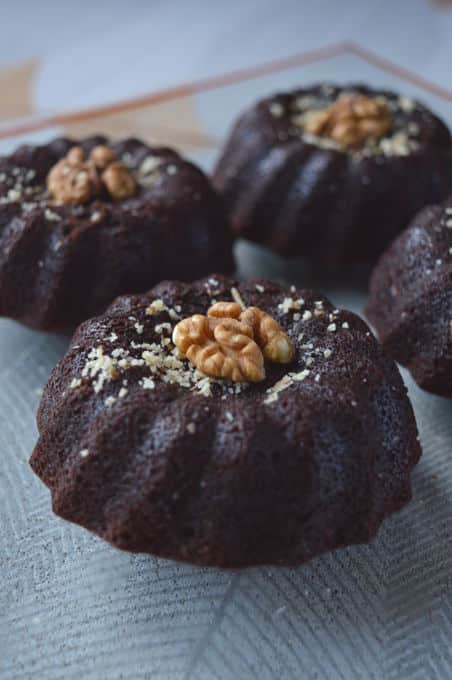 And so this black mini cakes potion recipe was challenging but totally worth it! And I cannot begin to describe you how good it tastes! 😀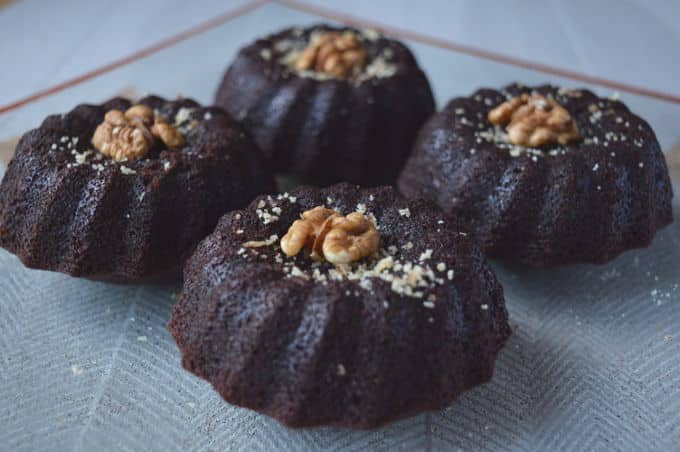 Black Magic Mini Cakes (Gluten Free)
You will need:
a stand or hand-mixer and 4 mini cake molds
Ingredients
½ cup rice flour
½ cup brown sugar
¼ cup cocoa powder
1 tsp baking powder
2 tbsp virgin coconut oil (more for greasing)
100 gr/3,5 oz pumpkin, steamed and puréed
1 regular black espresso coffee
¼ cup finely chopped walnuts
Instructions
Preheat oven to 180ºC/350ºF and grease the molds with coconut oil.
In a large bowl, combine the rice flour, sugar, cocoa powder and baking powder. Stir in the coconut oil, pumpkin and coffee and mix until well incorporated. Add the chopped walnuts, saving some for the topping.
Fill in ⅔ of the cake molds with batter.
Bake for 25 minutes. Cool before unmolding.
Sprinkle remaining walnuts on top.
Low FODMAP notes:
If you can tolerate cocoa and coffee, one mini cake is suitable for most of us low FODMAPers. All quantities have been carefully studied in order to make the cake perfectly safe for you. Let´s do the maths: each mini cake has 1 tablespoon of cocoa powder (1/4 cup= 4 tbsps and 1 tbsps equals 3 tsp, the safe portion, according to Monash researchers); all four cakes have 1/4 cup of coffee which equals one regular black espresso – the recommended daily dose; and finally the recipe calls for 100 gr. of pumpkin purée, which represents 25 gr. per cake, below the daily 60 gr. dose. Don´t hesitate to comment below, in case you have any further doubts.
You Might Also Like